Vacation Like a Royal at These Summer Hot Spots
These luxurious vacation spots truly are fit for royalty.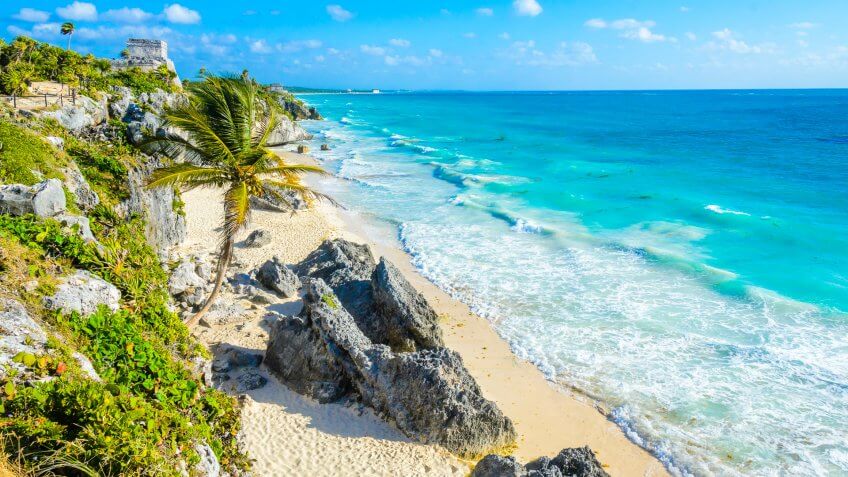 Simon Dannhauer / Getty Images/iStockphoto
People generally achieve royal status in one of two ways — they're born into the life or they marry a monarch. Fortunately, you don't have to be an actual king or queen to vacation like a ruler.
The daily lives of royals might be unpredictable — Queen Elizabeth's responsibilities include nebulous tasks like "model behavior" — but their holiday travel plans are a lot more concrete. If you want to have a royal vacation experience, hit up one of these gilded hot spots favored by castle-dwellers worldwide.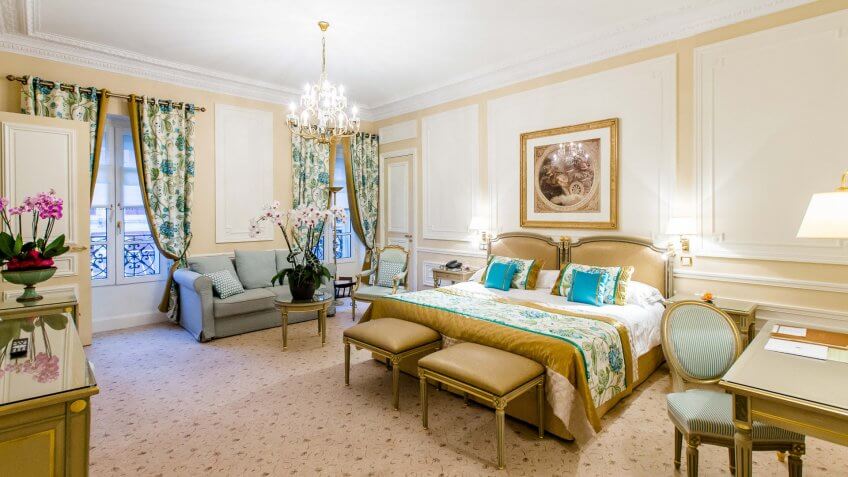 ©Hotel du Palais
Biarritz, France
Royal Hot Spot: Hotel du Palais
Though you might not arrive on the island in a private, eight-seater jet costing $15,300 per day — which is exactly what the Duke and Duchess of Cambridge did with kids George and Charlotte in tow last summer — you can still vacation like a prince in Biarritz.
The retro-chic beach town favored by William and Kate boasts a combination of classical cathedral architecture, a beautiful harbor and — due to its location just 22 miles from the Spanish border — lots of Bay of Biscay charm. To enjoy a truly royal experience, book your stay at the Hotel du Palais. Built by Empress Eugenie of France in 1855, the monarch-friendly hotel offers rooms from around $560 per night.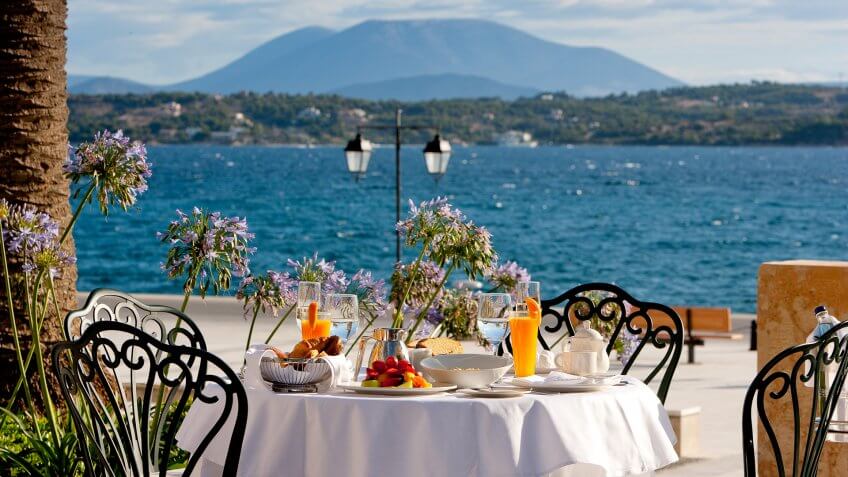 ©Poseidonion Grand Hotel
Spetses, Greece
Royal Hot Spot: Poseidonion Grand
Greece might be the birthplace of democracy, but it 's also a favorite among the monarchy. In fact, Prince Nikolaos of Greece and Denmark actually hosted his wedding on the beach-speckled island of Spetses. Moreover, traveling European royals love to stay at the Poseidonion Grand, where deluxe garden rooms start at just $175 per night. However, if you want to follow in princely footsteps, book the aptly named Royal Suite, a three-bedroom affair complete with a private terrace, for about $1,200 per night.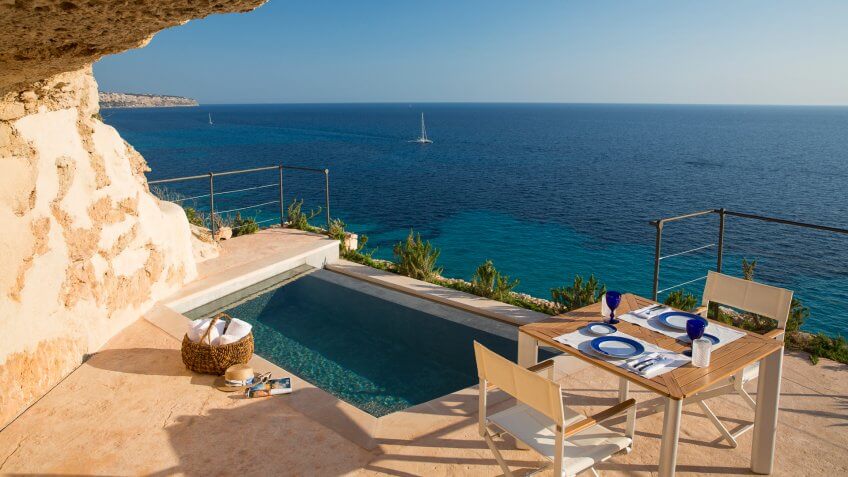 ©Cap Rocat
Mallorca, Spain
Royal Hot Spot: Marivent Palace
Every summer, the impeccably styled King Felipe VI and Queen Letizia of Spain spend a month on picturesque Mallorca with their daughters, Princesses Sofia and Leonor.
Along with coordinating nautical wardrobes and hosting private villa engagements, this fabulous family visits the island's gardens and even pops into the visitor center at the Tramuntana Mountains. While the Spanish royals stay at their private Marivent Palace getaway, you can bed down at the nearby Cap Rocat, a historic seaside hotel. Summer rates start at about $900 per night.
Don't Miss: Beautiful Beaches That Are Ridiculously Expensive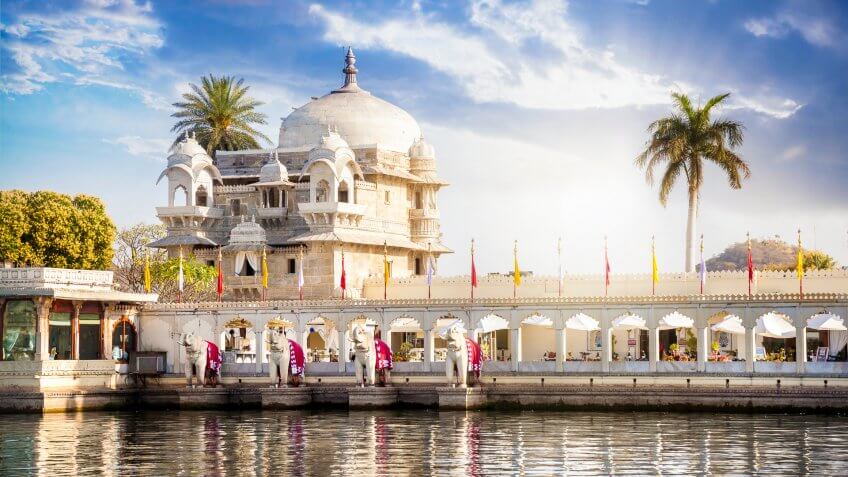 Pikoso.kz / Shutterstock.com
Udaipur, India
Royal Hot Spot: Taj Lake Palace
Building hotels seems to be a popular hobby among the ruling class. Like Empress Eugenie, Maharana Jagat Singh II Udaipur constructed Taj Lake Palace, an 83-room castle frequented by royals. You can stay at this Lake Pichola estate, too, if you have $300 a night to spare for a budget room. If you do visit the "Venice of the East," you 'll be in good company. Everyone from Queen Elizabeth to Mick Jagger has vacationed here. Charter a speedboat to experience this hot spot like the celebrities do.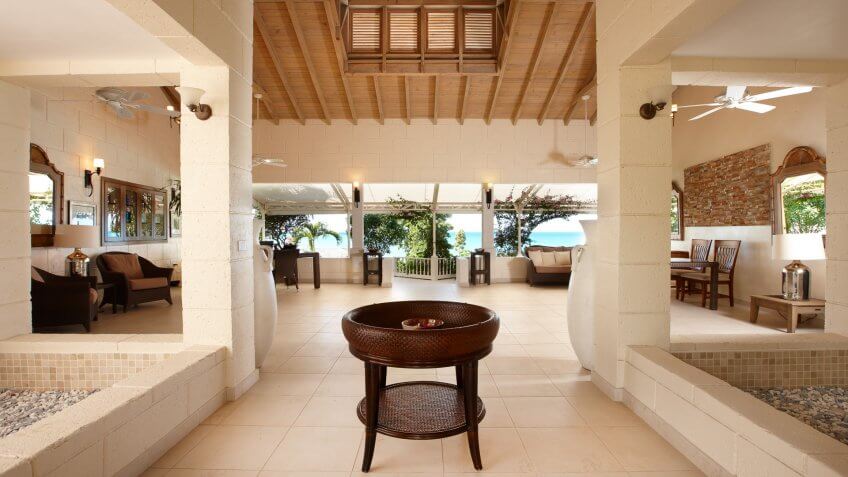 ©Blue Waters Resort & Spa
Antigua, West Indies
Royal Hot Spot: Blue Waters Resort and Spa
Royal vacation destinations don't have to be obscure. Known as one of the best holiday destinations worldwide, the Caribbean is also a favorite relaxation spot for Prince Harry. The royal recently crashed at Antigua's Blue Waters Resort and Spa, which boasts tennis, on-site water sports, 17 acres of tropical gardens and a seeming infinity of infinity pools. Value rates for an overnight stay in the summer start at around $2,300 per night.
Need a Vacation? Recharge at These Affordable Retreats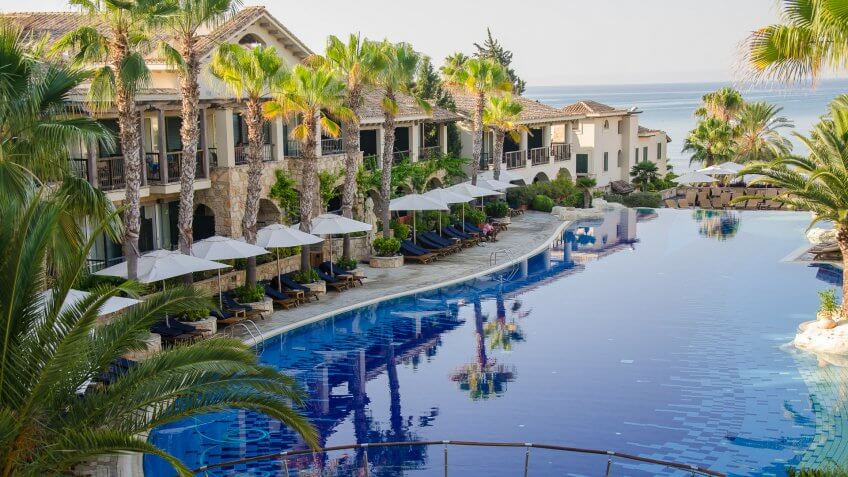 ©Columbia Beach Resort
Cyprus, Greece
Royal Hot Spot: Columbia Beach Resort
Luckily, you don't have to spend thousands to vacation like the ruling class. When Queen Elizabeth's granddaughter Zara Tindall and her husband Mike Tindall travel, they prefer to keep things low-key. Just a few years back, they opted for a vacation package at Columbia Beach Resort, a five-star hotel on Pissouri Bay that can be booked for about $500 nightly. If you truly want to live it up like these royals, charter a boat to the Greek island of Sifnos to round out your experience.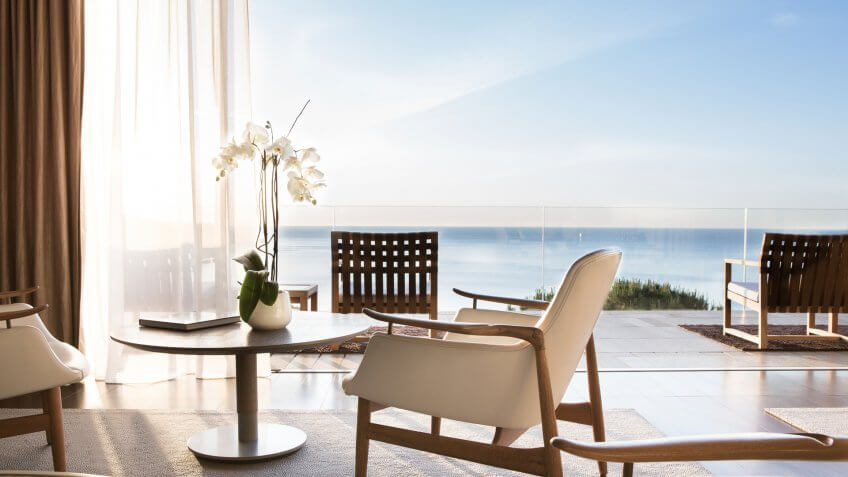 G. Gardette / La Réserve Ramatuelle
St. Tropez, France
Royal Hot Spot: Le Club 55
It's not just European royalty who trek to the south of France for vacations. Queen Rania and King Abdullah of Jordan hit this seaside spot regularly, as well. Though it's unknown where the Jordanian royals stay on their vacations, the pair does enjoy yachting along the coastline and hanging with former French President Nicolas Sarkozy. Additionally, the royals shared a meal with Naomi Campbell at Le Club 55, one of the world's most exclusive hangouts, where lunch for two can easily exceed $400.
In light of the high food prices, you might want to spend more modestly on accommodations. Book a stay at La Bastide du Port for around $200 per night. Or you can sleep in style at La Reserve Ramatuelle, which costs around $4,000 per night, according to TripAdvisor.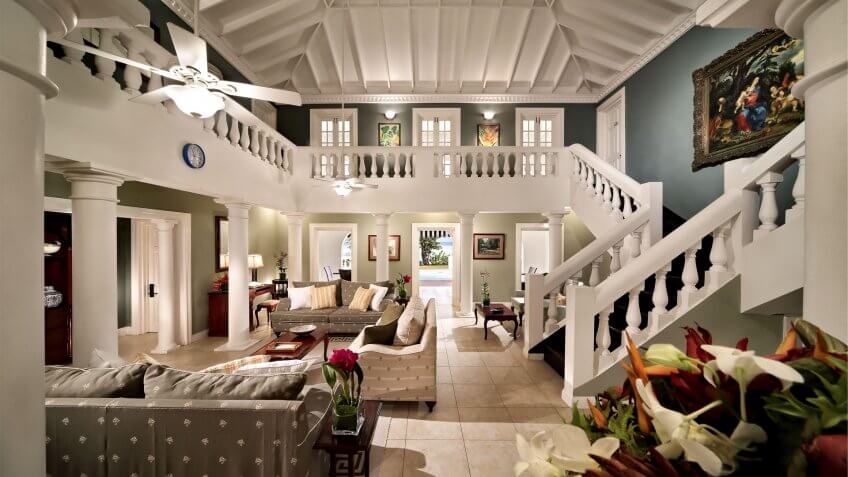 ©Half Moon Resort
Montego Bay, Jamaica
Royal Hot Spot: Half Moon Resort
The reputation of the Half Moon Resort in Montego Bay is likely due in part to its impressive guest list. Open since 1954, the resort has hosted the likes of Queen Elizabeth, Prince Philip, Princess Margaret and the Prince of Wales. This gorgeous island paradise features an 18-hole golf course, an equestrian center equipped with 28 horses and the largest spa in Jamaica. Royalty-friendly villas, some of which sport six bedrooms, run well over $2,500 a night, but you can always opt for a garden-view room for $260.
Check Out: 15 Fairy Tale Travel Destinations Worth the Price Tag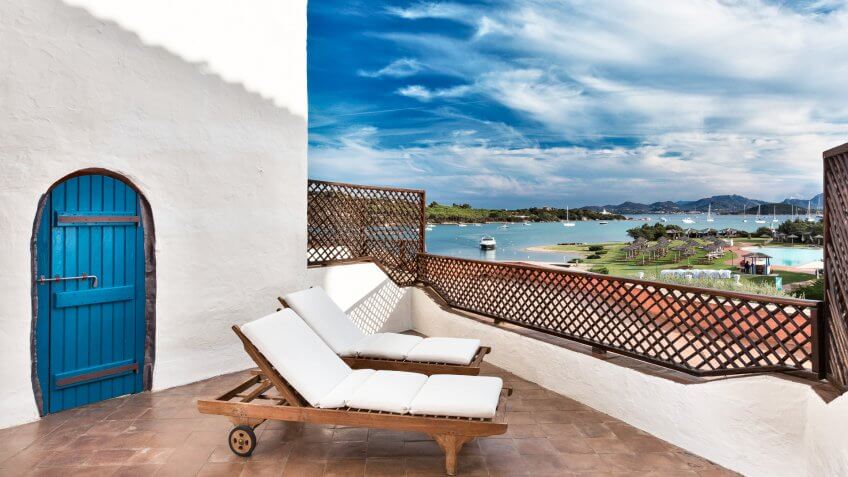 ©Cala di Volpe
Costa Smeralda, Sardinia
Royal Hot Spot: Cala di Volpe
The site of Princess Diana's last summer vacation, Costa Smeralda in Sardinia is a destination truly befitting this style icon. During her stay, the late princess likely enjoyed the sea views while traveling on a famed Al Fayed yacht.
Developed by Prince Karim Aga Khan IV in the early 1960s, today the destination boasts a number of villas owned by Saudi princes on its cobblestoned shorelines. Royals without their own accommodations often stay at Cala di Volpe, where rooms range from about $1,000 to $2,400 per summer night.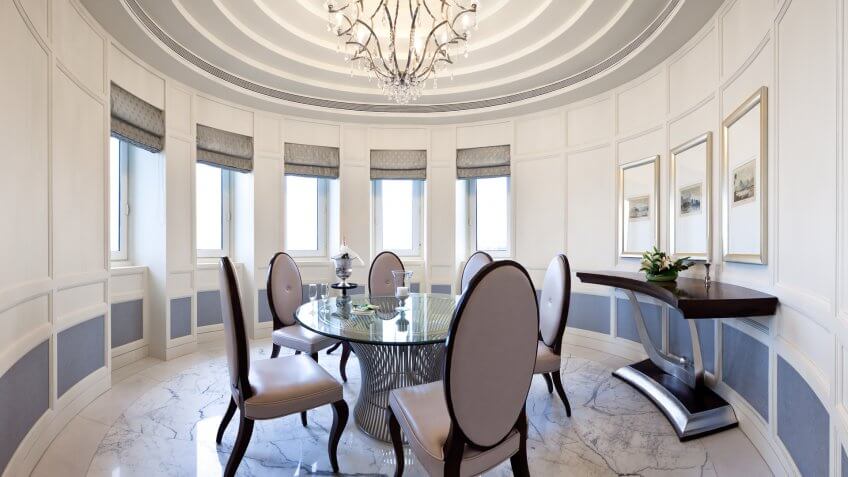 ©Taj Mahal Palace
Mumbai, India
Royal Hot Spot: Taj Mahal Palace
On a 2016 trip to Mumbai, William and Kate stayed at the luxurious Taj Mahal Palace. The duo reportedly preferred the Rajput Suite, a 1,500-square-foot space outfitted in white and ivory accented by zardozi embroidery and golden filigree. The room also boasts a personal butler.
The Rajput's rate isn 't publicly available. But for about $1,300 a night, you can live out your royal fantasies in one of the Taj's Grande Luxury suites.
Don't Miss: Hotels Around the World Only the Super Rich Can Afford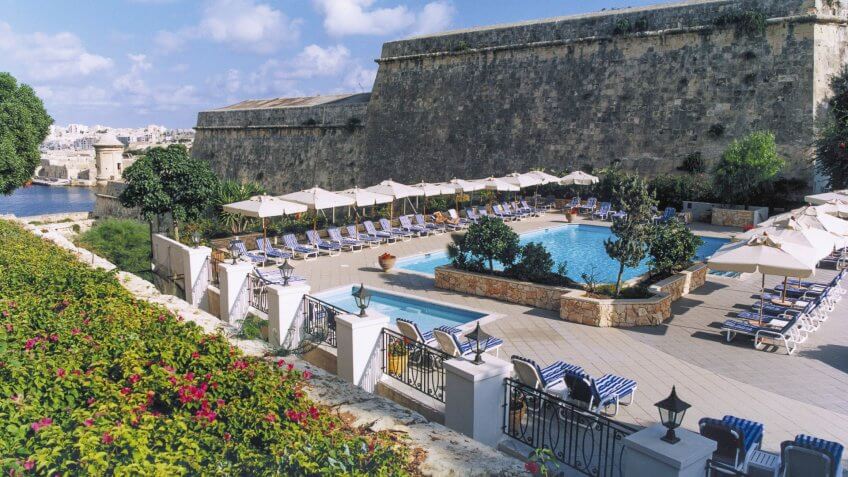 ©The Phoenicia
Valletta, Malta
Royal Hot Spot: Hotel Phoenicia
Queen Elizabeth and the Duke of Edinburgh are regular summertime visitors to Valletta, a town rife with Baroque castles and Renaissance cathedrals. Home to some of the oldest man-made structures on Earth, Valletta dubs itself "an open-air museum."
When the royals visit this neoclassical paradise, they often stay at the Hotel Phoenicia. If you want to revel in the beautiful architecture and lounge at the site's pool bar, you'll likely spend a minimum of $260 a night for the privilege.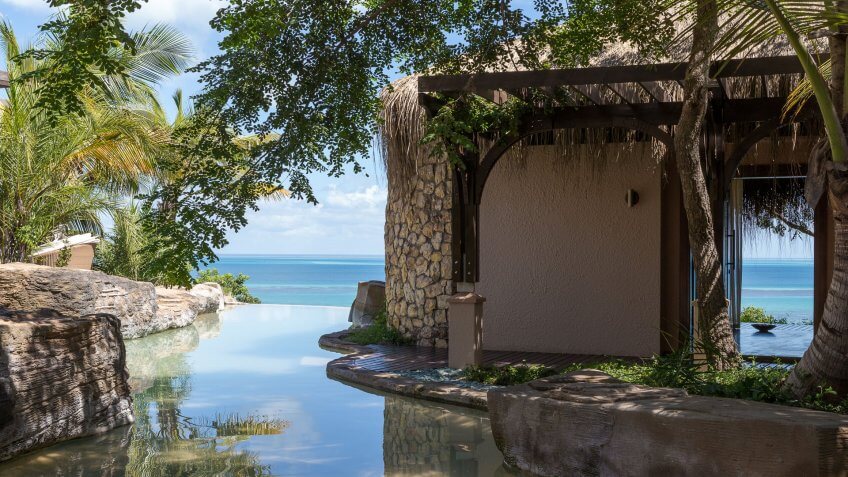 ©Anantara Bazaruto Island Resort
Southern Africa
Royal Hot Spots: Wherever the adventure is
You don 't have to be as rich as a royal to travel like one. Famous for going against the grain, Prince Harry enjoys summering in Southern Africa, where he's rambled through locales as diverse as Botswana, South Africa, Namibia and Tanzania. One of his favorite lodging options is Anantara Bazaruto Island Resort off the Mozambique shore, where you can grab a royal-sized, 3,330-square-foot villa with a private plunge pool for $1,800 nightly.
If that's too rich for your blood, Harry also embarked on a three-month African conservation tour. Take a style cue from this rebellious royal and ramble through a Cape Town hostel for just over $20 a night, according to Hostelworld.
Next Up: 15 Celebrities Who Vacation Like You and Me
Lodging prices were taken from individual hotel websites for stays in June 2017 unless otherwise indicated. Rates are valid as of June 14, 2017.