Vacation Season: 7 Essentials You Should Buy at the Thrift Store for Your Next Trip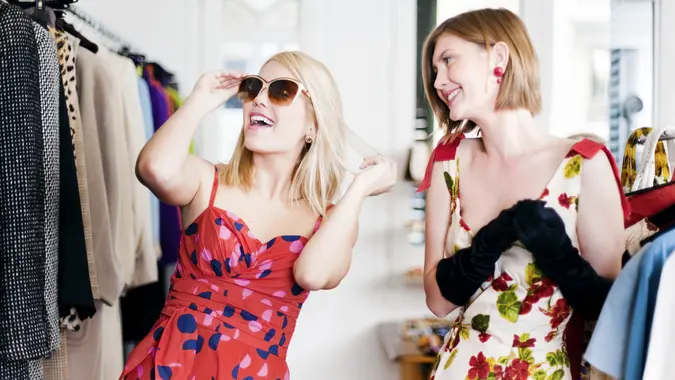 Orbon Alija / iStock.com
Are you gearing up for an exciting vacation? Whether you're jetting off to a tropical paradise, embarking on a thrilling adventure or simply planning a relaxing getaway, there's one place you shouldn't overlook when it comes to packing: your local thrift store. From practical travel gear and stylish clothing to unique finds and budget-friendly options, thrift stores offer a treasure trove of items that can enhance your vacation experience while saving you money and making you more eco-friendly.
Here's a dive into how thrift stores can become your go-to destination for finding those must-have essentials for your upcoming journey.
Photography Equipment
According to Doug Ash of Doug Ash Photography, one essential item you should consider purchasing at thrift stores for your next trip is photography equipment. Not only can it help you save money, but it also presents an opportunity to discover unique items that add a special touch to your photography experience.
Thrift stores often offer significantly lower prices compared to buying brand-new equipment, allowing you to explore your passion for photography and spend less than $50 for a camera. Doug himself has stumbled upon incredible lenses and vintage cameras in excellent condition during his thrift store adventures across America.
Shoes
Guillaume Drew, a Shopify Expert and the Founder of Or & Zon, says one vacation essential you should consider purchasing at thrift stores for your next trip is shoes.
Make Your Money Work for You
When traveling, you may need shoes that are specific to the country or activities you'll be engaged in, such as hiking boots or summer espadrilles. These shoes may not be suitable for everyday wear in your regular life, so investing a significant amount of money in them doesn't make sense. By visiting a thrift store, you'll find a wide range of footwear options at affordable prices — think as low as $2 a pair.
Luggage
According to William Farris, an expert in sustainability and travel who is currently preparing for the Elcano Challenge, one item worth thrifting for your vacation is luggage. When searching, focus on finding durable suitcases, backpacks or duffel bags that are in good condition. The prices can range depending on the size and quality, but you can typically find a reliable piece for around $20 to $80.
Clay Cary of CouponFollow agrees, sharing that on a trip to London, he found a well-loved Louis Vuitton suitcase at a quaint thrift store. "Cost me about about seventy dollars, a steal for something that would usually cost ten times more."
Travel Accessories
When thrift shopping for your next trip, keep an eye out for various useful travel gear, such as travel pillows, eye masks, packing cubes or toiletry bags. Farris shares that thrift stores often offer these items at affordable prices, ranging from as little as a dollar to over $20, depending on their condition and brand.
By browsing through thrift stores, you can find practical travel accessories that will enhance your travel experience without having to buy brand new.
Make Your Money Work for You
Guidebooks
Farris shares that when visiting a thrift store for your next trip, be sure to search for travel guidebooks, language phrasebooks or novels set in your destination. These resources can provide valuable insights into the area you'll be visiting and offer engaging reading material for moments of leisure during your trip.
Thrift stores often offer these items at budget-friendly prices, with paperback books starting below a dollar and maps available at a similar or slightly higher cost.
Camping Equipment
If you're planning a camping trip or any outdoor adventure, thrift stores can be a great resource for finding equipment, says Cary. You can often come across items like tents, camping chairs and coolers at affordable prices, typically ranging from $10 to $40.
However, it's important to thoroughly inspect these items for any signs of wear and tear before making a purchase.
Outdoor Gear
According to Farris, thrift stores are a great place to find essential items for your outdoor activities during your next trip. You can discover a variety of items such as backpacks, hiking boots, camping equipment and rain jackets.
The prices for these items can range from as low as five dollars to around fifty dollars, depending on their quality and condition. 
More From GOBankingRates