What $1, $10, $100 Can Buy You Around the World

9 min Read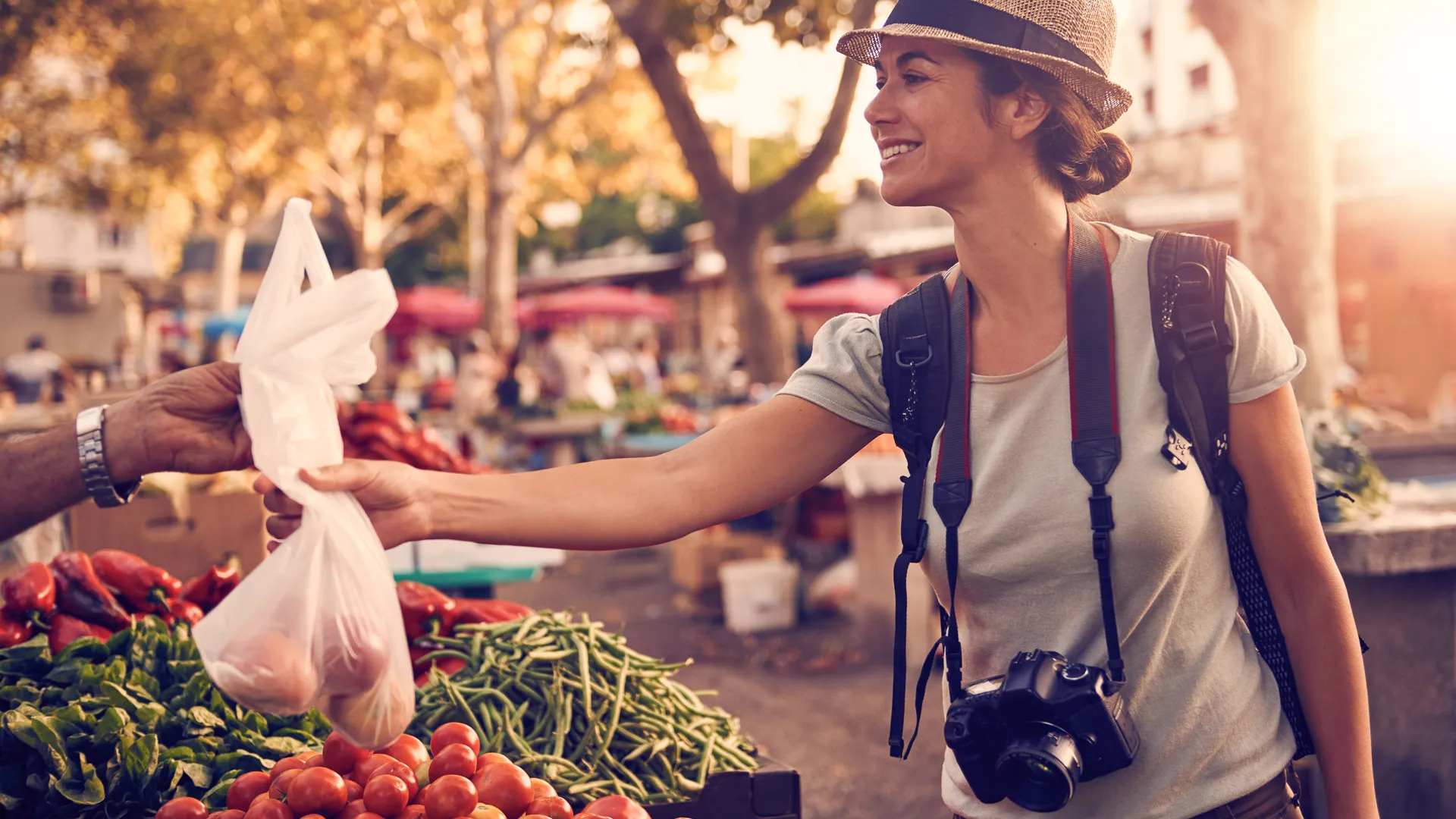 Whether traveling abroad or staying local, it's always satisfying to score a savvy bargain. In some countries, your money will go further than it does in the U.S. While it's hard to match the Zimbabwean exchange rate in 2015 — when one U.S. dollar was worth 35 quadrillion old Zimbabwe dollars — cheap destinations like Brazil, Ghana and Thailand roll out three to 33 more units of local currency per U.S. dollar. Your money in these countries might also deliver more bang for the buck. Check out what your cash will buy around the globe, whether you have a Benjamin, Hamilton or even a lonely buck.
Make Your Money Work for You
In the United States, $1 Will Buy You …
A pound of red or Russet potatoes
As you might guess, Idaho is the top potato producer in the U.S., rolling out more than 14.2 billion pounds of spuds per year. However, you'll also find thriving potato industries in Colorado, North Dakota, Oregon, Washington and Wisconsin, each of which produces more than 2 billion pounds per year of the tuber.
At just 90 to 94 cents per pound, red or russet potatoes pack a cost-effective nutritional punch, with more vitamin C than a tomato, more potassium than a banana and 10 percent of the recommended daily allowance of B6. Red potatoes and Russets have the lowest glycemic indexes of American potato varieties. You can reduce the glycemic index even further by chilling and reheating the potato before eating it to alter its starch structure, according to a 2017 report by Washington State University Labs.
In Brazil, $1 Will Buy You …
A pound of Brazilian apples
Brazil's apple industry provides more than 150,000 jobs and boasts about 4,500 producers covering nearly 89,000 hectares. Enjoy the Brazilian twist on favorites such as Fuji and Gala, which are grown in Brazil's southern regions. Aided by a subtropical climate and altitudes of over 3,300 feet, the flavors of crisp Brazilian apples are said to be among some of the best in the world. Brazilians can buy apples for 91 cents per pound. In the U.S., you'll pay more than twice that amount.
In France, $1 Will Buy You …
The main ingredient for French onion soup
August through February is the time to pick up varieties of French onions in France, including Roscoff pink French onions and French Breton shallots. At a cost of 90 cents per pound, you can pick up the 1.1 pounds of onions called for in French onion soup at exactly $1. In the U.S., red onions will cost you an average of $1.04 per pound.
Make Your Money Work for You
In Thailand, $1 Will Buy You …
Rice is one of Thailand's most valuable commodities, pouring over $4.7 billion into the annual economy and comprising 29 percent of the country's agricultural exports alone. Most of the country's rice isn't exported at all, however. The Thai people consume more than 50 percent of the crop as a dietary staple. A pound of rice costs an average of 52 cents, so a dollar's worth makes 64 1/4-cup servings. You'll pay $3.50 in the U.S. for the same amount.
Also Read: How I Traveled to 8 Countries for Less Than $3,000
In Ghana, $1 Will Buy You …
More than half of Ghana's workforce makes a living in the country's agricultural industry. Citrus fruits are among the country's top cash crops, along with tropical fruits like bananas, pineapples and coconuts; tobacco; cocoa and oil. Spend a dollar on oranges in Ghana and you'll come away with four baseball-sized fruits. In the U.S., you'll only get with a single orange.
In the United States, $10 Will Buy You …
Pump 4.3 gallons of gas into your tank at $2.32 per gallon — the average in the U.S. on Aug. 21 — and your Hamilton will buy the average car enough gas to get 106 miles out of town. In Arizona, that's enough to get you from the blistering summer heat of Phoenix to comparatively cool, cheap destinations like Prescott or the White Mountains. In Denver, a sawbuck will get you to the tony town of Aspen.
Ready, Set, Go: The Ultimate Guide to Spending Your Money Around the World
Make Your Money Work for You
In Brazil, $10 Will Buy You …
A bottle of mid-range wine
Discover a hidden treasure in Brazil's wine regions with a mid-range bottle of wine costing an average of $9.47. Although Brazil ranks third in South American wine production, most of the product is consumed within the country. Take a taste of this exclusive treat on your next Brazilian vacation — make sure to book it at the right time. In the southern part of the country, head to the Vale dos Vinhedos located in Rio Grande do Sul to savor Chardonnay and Merlot. Or, head north to steamy Vale do São Francisco, which reaps more than one wine harvest per year. In contrast, you'll pay an average of $12 per mid-range bottle of wine in the U.S.
In France, $10 Will Buy You …
A combo meal at McDonald's
A vacation in France can pinch your pocketbook, so when you're trying to save a few bucks, you might want to head to the Golden Arches. A McDonald's combo meal will run you about $9.40 on average, compared to a $54 meal for two at a mid-range French restaurant. Pass on the American favorites like the Big Mac and Big and Tasty for novel French menu items like Le Croque McDo. The McDonald's take on the classic French sandwich le croque monsieur, this sandwich snuggles a slab of ham between Emmental cheese slices, sitting inside two slices of toasted bread. Round out your meal with healthy sides like cherry tomatoes or a mini-salad and add in melon slices for dessert.
More Ways to Save in Europe: 40 Free Things to Do on Your Vacation
In Thailand, $10 Will Buy You …
An hour-long Thai foot massage
You could spend $100 or more getting an hour-long Thai foot-and-hand massage at a high-end resort in places like Sedona, Ariz. In Thailand, you'll no doubt feel even more relaxed as your vacation budget will only go down by $9.93. Baan Dalah MindBody Spa in Bangkok works on feet, legs below the knee, hands, arms, head and neck for a full hour.
Make Your Money Work for You
In Ghana, $10 Will Buy You …
A nature walk in Kakum National Park
Take a trek through virgin rainforest at Kakum National Park, located 105 miles from Accra. Hardwoods tower more than 200 feet above the forest floor. Your trained guide will explain the medicinal uses, cultural significance and economic importance of the plants in the forest. Get admission to the park plus a nature walk on the forest floor for about $9.50. For less than $2 more, you can walk over rope bridges on a tour that takes you through the rainforest canopy.
Visit: The World's Most Breathtaking National Parks for Under $100
In the United States, $100 Will Buy You …
Jeans are common throughout the world, but they could also be considered U.S. cultural dress. The reinforced denim pants were invented in 1873 by Levi Strauss and Jacob Davis for miners and other workers seeking their fortune in the American West. Pick up a pair of Levi's Original Fit 501 Jeans for as little as $40 for men's styles. Women's pants sell for $10 more for the original style and $98 for stretch denim or 501 shorts.
In Brazil, $100 Will Buy You …
A gaucho poncho or bombacha pants
Wrap up in an authentic gaucho poncho worn by traditional South American cowboys. Buy one of the traditional overgarments for as little as $84. For about a dollar more, you can take home a pair of comfy bombacha pants. These 100 percent cotton trousers have a roomy fit, making them comfortable for riding, playing polo or any other outdoor activity.
Image for illustration purposes.
In France, $100 Will Buy You …
A pair of socks or a T-shirt
If your heart longs to fill your suitcase with French fashion during your visit to France, your Benjamin will need to bring a lot of friends to the party. That doesn't mean $100 can't give you a start on your wardrobe, even at Bon Marche, the original Parisian department store where you can shop France's most prestigious designers. Grab a slick pair of Marni Pop Socks with leg-lengthening stripes and color blocks you'll want to show off with a skirt and salomé shoes. The store has a variety of designer T-shirts available within this price range as well. To stretch your fashion buck more, head to a designer depot, a high-fashion resale shop manned by fashion industry professionals.
Make Your Money Work for You
In Thailand, $100 Will Buy You …
A complete outfit at Pratunam Market
Enjoy wholesale prices when you shop at Pratunam Market — one of the best cheap places to travel in Bangkok — and buy three or more pieces. This busy fashion market features tightly packed market stalls where you can pick up an array of western and Thai clothing pieces, fashion accessories and shoes. The market is open 24 hours a day, and you can follow the sound of clattering sewing machines to watch clothing being made before your eyes.
In Ghana, $100 Will Buy You …
Feel like a fashionista when spending your money on clothing in Ghana. Pick up a dress you can wear to the office or out to dinner, like a lace-paneled or African-style dress for $135 Ghanaian Cedi — just over $37 at the current exchange rate. Look for signature materials such as Kente, a mix of silk and cotton. With a little bargaining, you might get three dresses for your $100.
Next Up: Here's What a $5 Million Home Looks Like Around the World
About the Author