What Travel Agents Say About Planning for Trips in 2021 and Beyond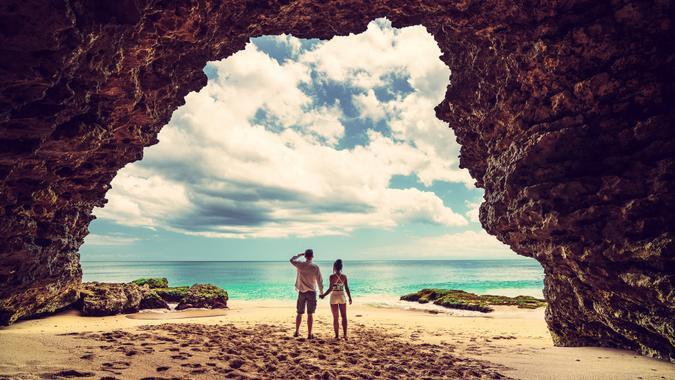 ©Shutterstock.com
Many of us have put our travel plans on pause for the past year due to a mix of safety concerns and travel restrictions. But if your wanderlust is kicking in, you may be eager to start booking your next vacation. GOBankingRates spoke to travel agents and other travel experts to get their insights on booking trips, from both a safety and financial standpoint. Here's what you need to know about planning travel in 2021 and beyond.
COVID's Financial Impact After 1 Year: See All Our Coverage
What Types of Trips Are the Most 'Safe?'
"Heading on an outdoors trip is definitely a safer option than being stuck in an all-inclusive resort where more bodies are packed closer together, and there are many shared resources/recreational activities on the property," said Sara Sarafa, owner of the travel company Kopa Tours.
Related: How To Budget and Plan for a Vacation in 2021
Make Your Money Work for You
Jennifer Herbert, travel agent and owner of Gateway Travel VA, recommends visiting national parks — and traveling to them by car.
"For COVID-conscious travelers, the national parks are great for social distancing," she said. "Families are opting for road trips rather than group trips on a coach-style bus."
In the News: IBM and Moderna Say Their New COVID-19 Passport Is Your Ticket to Normal Life – But Some See Troubles in Privacy Paradise
For those who want to go the luxury vacation route, many are opting to stay at private villas.
"Villa rentals are on the upswing," said Wallis Fairvalley, a travel coordinator and co-founder of Red Letter Travel. "There is safety and comfort in staying apart from the general population but still being able to experience getting away."
When Do You Predict COVID-19-Cautious Travelers Will Be Able To Travel Safely?
"While traveling safely is always a personal opinion, once you're vaccinated — coupled with planning a vacation that includes the necessary precautions — travel will be safe," Sarafa said. "Now with Americans getting the vaccine, they are able to travel in a much more safe space — and hopefully by July, there will be enough travelers with the vaccine to begin traveling once again."
Make Your Money Work for You
See: 40 Pandemic Airport Secrets Only Insiders Know
Mark Whitman, founder of the adventure travel company Mountain IQ, thinks it might take longer.
"Although some people will travel this year, I predict COVID-cautious travelers will wait until 2022," he said.
Should People Start Booking Trips Now Even If They Don't Plan To Travel Just Yet?
"With the relaxed cancellation policies of both airlines and hotels coupled with the values offered to initiate traveling, there is no better time to book your trip than now," Fairvalley said. "I, along with our travel partners around the world, anticipate a huge surge in travel as soon as borders open and restrictions are eased, so it is better to have availability and options now rather than wait until the hotel or experience is sold out due to heavy demand."
Read More: 6 Simple Ways To Cut Costs on Your RV Trip
In addition to more availability, now is the best time to secure low pricing.
Book the "sooner the better in terms of getting the best deals," said Lauren Doyle, vice president at the boutique travel agency The Travel Mechanic. "There is a lot of pent-up demand for travel, so the best deals are the ones that are booked earliest. I have been booking some amazing deals for clients for future travel."
Make Your Money Work for You
However, it's important to weigh the pros and cons before booking.
Find Out: How To Plan Future Travel Without Risking Your Deposits
"The pro of booking early is cheaper prices before travel really starts to pick back up towards the end of summer," Sarafa said. "We are currently still offering COVID pricing to entice early vaccinated adventurers to get ahead of the game. The con of this can of course be that there is still some uncertainty, and if the travel agent/tour operator does not have a flexible cancellation or re-booking policy, you could find yourself losing out on some serious cash."
If you do book trips in advance, Lisa Stierwalt, a travel agent with Aggressor Adventures, recommends purchasing travel insurance.
"I recommend travel insurance for domestic and international trips because it helps create peace of mind in case restrictions are put in place or you have a last-minute change of heart," she said.
What Other Considerations Do Travelers Need To Take Into Account When Booking Travel This Year?
You may have to do more research and should ask more questions upfront when booking now as opposed to pre-pandemic.
"Ask the right questions from tour providers: Do they allow cancellation? How many days in advance? What percentage of money back will they guarantee? Is there a separate cancellation policy for COVID in particular? If so, what do you need to provide/what is acceptable in order to prove that you are unable to travel due to COVID?" Sarafa said. "Another consideration should be flexibility in tour departure dates. Our clients have been experiencing frequent flight changes, and they need to know that if they arrive a few days later than initially planned, can they still be accommodated? Finally, the United States requires COVID PCR tests in order to return from international travel. Ask your travel agent if and where can you get a PCR test while abroad. What is the cost? What is the turnaround for results? What happens if the results don't come in on time, will I be taken care of? For some locations, you are able to travel there, yet there is no capability of getting a PCR test, which would result in being stranded abroad until the technology becomes available."
Discover: Will Vaccinations Lead to Vaxications?
In general, prospective travelers need to be more flexible, said Casey Halloran, co-founder and CEO of Costa Rican Vacations.
"Travelers need to plan ahead and be ready to adapt to potential changes in rules and regulations," he said. "These have been in flux for months now, so it's reasonable to expect that they will continue to morph. So planning ahead, purchasing trip insurance and flexible airfare are no longer 'nice to haves.'"
Read: Why Now Is the Time To Spend Money on a COVID-19-Safe Getaway
Corey Determan, owner of Bella Rose Travel, adds that it's also important to consider the safety of the people in the places you will be traveling to in addition to your own safety.
"Most resorts are in economically less-developed countries than the U.S.," he said. "While the people there often depend on their tourism-based wages for survival, it is worth remembering that they also likely do not have paid sick leave or medical insurance. As we often remind our clients, the virus does not move on its own, people move it. More to the point, we need to stop moving it to communities that are not well-equipped to handle the outbreak and to people who cannot afford to get sick."
More From GOBankingRates