Why Costa Rica Is the Perfect Family Travel Destination (Plus How to Pay With Rewards)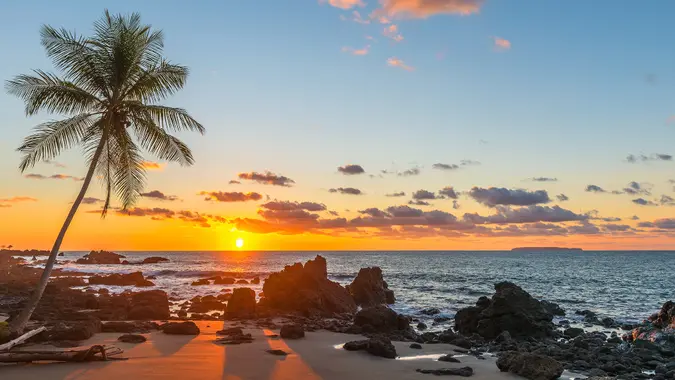 SL-Photography / Shutterstock.com
A few months ago, I traveled to Costa Rica with a group of colleagues for a work-related trip. The mountainous country was breathtaking, and the amenities and available activities were perfect for kids. The entire time I was there, all I could think of was how perfect Costa Rica would be for families seeking a vacation filled with adventure and rest.
For that reason, I'm already planning a trip back to Costa Rica with my family in tow. I can't help but want them to have the same experience I had, but with more time to explore and relax on our own terms.
Here are some of the aspects of Costa Rica I absolutely loved and cannot wait to show my kids:
Unique animal species galore: If you or your children love animals, you absolutely must visit Costa Rica this year. You'll find numerous animal sanctuaries with sloths, jaguars, wild birds, monkeys and dozens of species of butterflies. You'll see wild macaws in flight overhead, monkeys climbing through trees and forests, and wild sloths hanging from trees (if you're lucky). Heck, you can even see giant crocodiles in the wild.
Beautiful, lush landscapes: Costa Rica is more than half covered in protected rainforest and lush, green mountains. Sprawling mountain ranges (some with volcanoes) dot the landscape, and natural beauty is everywhere you look.
Activities for adventure lovers: Costa Rica is brimming with adventure activities for families who crave excitement. You can zip-line through a forest canopy, go white-water rafting, ride four-wheelers through the jungle, plan wild animal encounters or hike through the rainforest — and those are just a few examples.
Beautiful and diverse beaches on both coasts: Costa Rica also boasts beautiful beaches on both of its coasts. The Pacific side of Costa Rica features surfable waves, sea lions, whales and wild tropical beauty; and the Caribbean side features white sand beaches and clear water, perfect for snorkeling and scuba. The beaches on both coasts are also perfect for relaxing and curling up with a tropical drink or a good book.
Make Your Money Work for You
Check Out: Affordable Trips to Take With Your Kids While You Still Can
Booking a Costa Rica Vacation With Credit Card Rewards
If visiting a tropical paradise with endless opportunities for adventure and amazing animals sounds like your cup of tea, you'll be happy to know that Costa Rica is an insanely affordable destination. You could pay for all or part of your trip with rewards, making your trip "almost free."
It all starts with your hotel room. Since Marriott properties are prominent in Costa Rica, you might want to start there. Consider staying at the Los Suenos Marriott Ocean and Golf Resort to enjoy its giant pools, beachfront location and award-winning golf course. This property starts at less than $200 per night during some parts of the year, but you can also book it with 35,000 Marriott Rewards points per night, making your stay entirely free. And remember that your fifth night is free when you book four consecutive nights with points.
If you're angling to stay near Costa Rica's capital city of San Jose, the Costa Rica Marriott Hotel in San Jose is another popular option. Rates also start at around $200 per night, but you can book a free stay for just 25,000 Marriott Rewards points.
To rack up the Marriott points you need for either hotel, consider signing up for the Marriott Rewards Premier Plus Credit Card to earn 75,000 Marriott Rewards points after you spend $3,000 on purchases within the first three months of opening the account.
Worth Visiting: 25 Coolest Family Vacation Spots in the US
When it comes to booking flights to Costa Rica with rewards, you'll find that numerous frequent flyer programs provide that possibility. You can get to Costa Rica using the American AAdvantage program, Delta SkyMiles, United MileagePlus, Southwest Airlines or JetBlue, for example.
Make Your Money Work for You
With the American AAdvantage program, flights to Costa Rica can cost as little as 25,000 miles round-trip plus airline taxes and fees.
With JetBlue, on the other hand, award prices are based on fare prices, so they vary all year long.
Make sure to consider your home airport in terms of the airlines that operate there and award availability. Then, sign up for an airline credit card that can help you earn enough miles for at least one or two round-trip flights.
The Bottom Line on Costa Rica Travels With Family
Costa Rica is a magical destination that offers something for everyone — especially for kids. The best part is, you can absolutely pay for at least part of your trip with rewards, then use your savings to pay for another trip.
I plan to visit Costa Rica in 2019 with my kids, and I cannot wait to see what we discover next.
Click through to read more about how this family of nine can afford to travel the world year-round.
More on Travel
We make money easy. Get weekly email updates, including expert advice to help you Live Richer™.