Would You Pay $114,995 for the Ultimate Disney Vacation?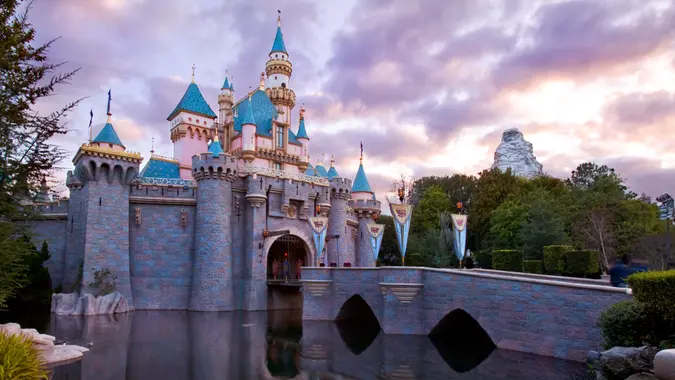 Paul Hiffmeyer / Disneyland Resort
Booking is now open for Disney's latest luxury vacation experience, a 24-day private jet adventure that will take 75 superfans on an around-the-world trip to 12 Disney theme parks as well as the Taj Mahal, Pyramids of Giza and Eiffel Tower. But this one-of-a-kind experience doesn't come cheap — prices for the 2024 Adventures by Disney private jet trips start at $114,995.
Here's a closer look at what's included in the price.
Luxury Accommodations
Guests will be traveling aboard a VIP-configured Boeing 757 complete with a dedicated flight crew, in-flight chef, dedicated staff members and a traveling physician. At each stop along the way, guests will stay in Disney's top-of-the-line hotels and resorts, including Disney's Grand Californian Hotel & Spa, Disneyland Hotel Paris and Disney's Grand Floridian Resort & Spa.
Exclusive Experiences
The jet adventure will make stops in Anaheim, San Francisco, Tokyo, Shanghai, Hong Kong, Agra, Cairo, Paris and Orlando, and guests will be treated to "extraordinary opportunities not available to the public" at each stop along the way.
These experiences include a Lucasfilm campus tour, a behind-the-scenes tour of Tokyo DisneySea, private tours of the Taj Mahal, visits to the Pyramids of Giza and Sphinx, a safari tour and a visit to the Flavor Lab, Disney's secret kitchen.
Insider Information
Aboard the jet and at each destination, guests will have access to adventure guides, Disney VIPs, Imagineers and cultural experts who can answer questions and provide facts that you might not otherwise have access to.
Make Your Money Work for You
By the Numbers
For $114,995, guests will spend 24 days and 23 nights on this Adventures by Disney experience that spans six countries, nine locations and 31 sites, including 12 theme parks and three landmarks. The price of the trip includes a whopping 69 meals — 23 breakfasts, 23 lunches and 23 dinners.
Each trip will accommodate 75 guests, and there are two planned trips for 2024: June 16 to July 9 and July 28 to August 20.
More From GOBankingRates