Your Cost to Visit the Best Winery in Every State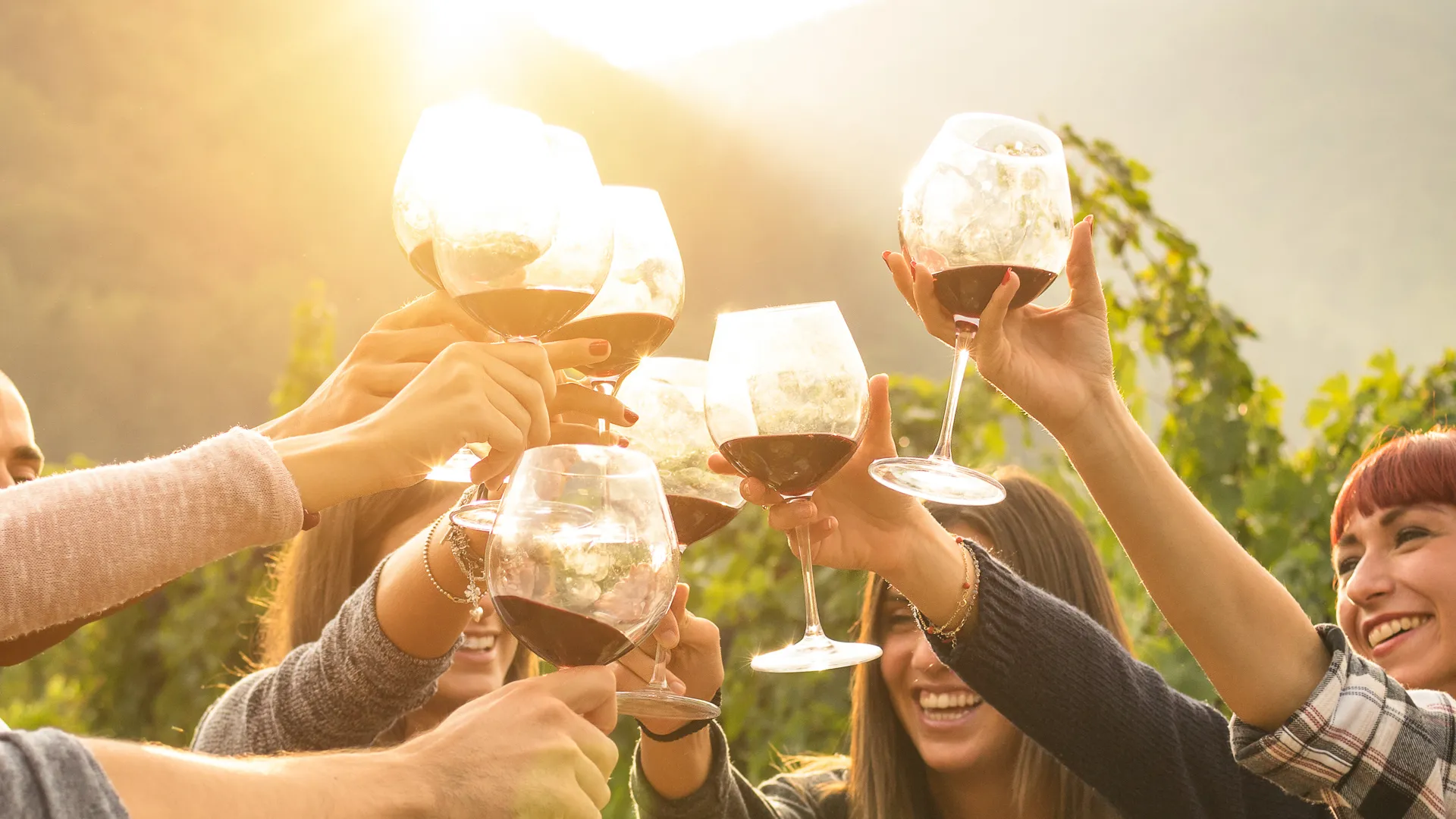 You might not realize it, but every state in the U.S. has at least a couple of wineries.
As a devoted vino lover, you know the difference between good and bad wine — and you have no time for the latter. Keep this list of the best wineries in every state — and the cost to visit them — on hand, so you always know where to find a bottle of wine to please your palate.
1. Alabama — Jules J. Berta Vineyards
Sample five wines for free, or up to 12 for $10. The $20 souvenir sampling includes a wine bottle tote and glass.
Located in Albertville, Ala., Jules J. Berta Vineyards was established in 2008. This family business harvests a variety of grapes, but largely focuses on the cabernet, merlot, sylvaner and chardonnay varieties. Stop by the tasting room, or if you prefer to shop online, save 10 percent on one case or 12 percent on two cases.
2. Alaska — Bear Creek Winery
Wine tastings are $5 to sample six to eight varieties. The cost is refunded if you purchase a bottle.
Located in Homer, Alaska, Bear Creek Winery produces fruit wines and fruit grape wine blends. Wine tours are available Saturdays at noon, but you can also visit the tasting room and walk through the gardens. Make a night of it by booking a room at the onsite Bear Creek suites. No matter where you travel, there are one-of-a-kind hotels to explore.
Make Your Money Work for You
3. Arizona — Arizona Stronghold Vineyards
Wine tastings are $9 and offer the chance to sample five wines.
Owned and operated by the Page Spring Cellars family, Arizona Stronghold Vineyards is committed to producing 100 percent Arizona-grown wines. The winery's core focus is on cabernet sauvignon, merlot, cab franc, sangiovese, syrah, grenache, mourvedre, viognier and malvasia bianca. The Cottonwood, Ariz., tasting room also has a full kitchen, so make a day of your visit by staying for dinner.
4. Arkansas — Post Familie Vineyards
Taste five wines for free, according to comments on TripAdvisor.
Situated in the foothills of the Ozarks, Post Winery is in the town of Altus, Ark. The largest winery in the state, Post specializes in muscadine wine. Enjoy wine tours and tastings, and if you opt to buy a case of wine — you can mix and match — you'll save 10 percent.
5. California — Jessup Cellars
Taste three wines for $10 or six for $20. The fee is waived with a two-bottle purchase.
Known as one of the friendliest tasting rooms in Napa Valley, Jessup Cellars is owned by four families. Its Yountville, Calif., tasting room has an onsite art gallery you can browse while savoring the ultra-premium wines. Super exclusive, Jessup wine is only available in the tasting room, on the company website and at select local restaurants.
6. Colorado — Snowy Peaks Winery
Samples are free, and tasting flights of six wines cost $5.
Located in Estes Park, Colo., Snowy Peaks Winery offers award-winning wine and picturesque views of the Rocky Mountains. Bring the kids along for a free juice tasting and to enjoy the "No Wine-ing Zone" playroom. The tasting room is open daily year-round, and tours are available. Plus, Colorado is chock full of world-class ski resorts.
Make Your Money Work for You
7. Connecticut — White Silo Farm & Winery
Wine tastings are $8 and include four wines, a taste of sangria and a logo wine glass.
Family operated, White Silo Farm & Winery is open for wine tastings from April through December. Established in 2000, this boutique winery bottles and produces wine onsite in small batches. Rich with history, the Sherman, Conn., wine tasting room and production area are housed in a renovated dairy barn built around 1780.
8. Delaware — Harvest Ridge Winery
Enjoy a tasting flight of eight wines for $7, along with a complimentary logo glass.
A family farm winery, Harvest Ridge Winery has been open to the public since November 2013. Located in Marydel, Del., the state's fourth winery is situated directly on the Mason-Dixon Line. The tasting room is open daily, and guided tours are given Saturdays and Sundays at 1 p.m. and 3 p.m.
9. Florida — Lakeridge Winery & Vineyards
Wine tastings and wine tours are complimentary.
Opened in 1989, Lakeridge Winery & Vineyards produces a variety of wines, including chardonnay, pinot grigio, petite sirah and cabernet sauvignon. Wine tastings and tours are offered daily at the Clermont, Fla., estate, with the latter typically running every 15 minutes. The winery produces more than 100,000 cases annually.
10. Georgia — Georgia Winery
Complimentary wine tastings include five pours, but a $5 Premium Tasting is also available.
Located in Ringgold, Ga., this distinctly southern facility offers wine tastings daily. The organic family-run winery owns 15 acres of lush muscadine vines. For a $15 fee, you can enjoy a 45-minute tour of the production facility, and you'll get to sample a flight of three wines, paired with cheeses.
11. Hawaii — MauiWine
Wine tastings are $10 for a flight of five wines.
Constructed during the 1870s, the MauiWine tasting room is housed in the historic King's Cottage in Kula, Hawaii. Stop into the tasting room daily to sample a variety of options, including pineapple wine, sparkling wine and a small production of estate wine. Complimentary tours are held each day at 10:30 a.m. and 1:30 p.m.
12. Idaho — Ste. Chapelle Winery
Wine tastings are $5 for five wines, and you get to keep the glass, according to reviews on TripAdvisor. The fee is waived if you buy a bottle.
Established in 1975, Ste. Chapelle Winery has the capacity to produce 150,000 cases of Snake River Valley wine annually. Known for its popular Soft series — Soft Red, Soft White and Soft Huckleberry — this Caldwell, Idaho, winery also produces riesling, chardonnay, sauvignon blanc, merlot, cabernet sauvignon and syrah.
13. Illinois — Acquaviva Winery
Situated on sprawling farmland in Maple Park, Ill., Acquaviva Winery produces wines with a unique blend of Italian and midwestern flavors. Several options are available for touring this family-owned winery, with prices ranging from $10 to $30. This is one of the best wineries to visit, because it boasts an onsite Neapolitan-style pizza bistro.
14. Indiana — Oliver Winery & Vineyards
Taste up to eight wines for $5 and sample dessert wines for $3.
Pack a picnic and head to the kid-friendly and dog-friendly Oliver Winery & Vineyards in Bloomington, Ind. Several free 25-minute walking tours are available every Friday, Saturday and Sunday, as well as some weekdays. This employee-owned winery sits at the same latitude as California's Napa Valley, so expect the wine to be top notch.
15. Iowa — Cedar Ridge Winery & Distillery
Enjoy complimentary tastings of wine and spirits, according to Yelp reviews.
Located in the Corn Belt, Cedar Ridge Winery offers something for everyone. This Swisher, Iowa, family-owned business was also named the 2017 Distillery of the Year by the American Distilling Institute, so you have a variety of options for imbibing. Complimentary tours are available Saturdays and Sundays at 1 p.m. and 3 p.m.
16. Kansas: Prairie Fire Winery
Tastings are $5 for a flight of five wines, but bonus items are often included.
Prairie Fire Winery handcrafts all types of Kansas-grown wine, including whites and reds ranging from dry to sweet, and the first traditional method sparkling wine in Kansas history. Also home to Prairie Fire Brewing and other brands, the site is owned by Julie and Bob DesRuisseaux. The couple lives at the Bacchus Ranch in Paxico, Kan., where the grapes are produced, the wine is grown and the tasting room is located.
17. Kentucky — Elk Creek Vineyards
Wine tastings cost $6 for five, one-ounce pours or $12 for a flight of five, two-ounce pours.
Open daily, the Elk Creek Vineyards tasting room in Owenton, Ky., offers more than 20 varieties of award-winning wine. Two complimentary tours are offered every Friday and Saturday. This kid-friendly winery also boasts a cafe, free live entertainment on weekends and onsite lodging, making it the perfect spot for an uncommon vacation.
18. Louisiana — Landry Vineyards
Sample all wines for a $10 fee, which is waived with the purchase of one bottle per person.
Located in West Monroe, La., the Landry Vineyards is open Monday through Friday for a $5 tour. You can also make an appointment for a $10 tour on Saturday. Established in 1999, this family-run winery produces flavors distinctive to the region that complement the local Cajun-style fare.
19. Maine — Cellardoor Winery
Tastings are complimentary at the Lincolnville, Maine, location. You'll spend $8 for a flight of four wines at the Thompson's Point location in Portland.
Every bottle of wine bearing the Cellardoor Winery label is produced in its Lincolnville winemaking facility. Committed to giving back to the local community and the state, this charitable winery produces a wide variety of flavors, ensuring there will be something to delight your palate.
20. Maryland — Linganore Winecellars
An $8 Signature Tasting includes a selection of wines, but upgrading to the $15.50 wine and cheese plate option gets you a snack and 12 pours.
Family-operated Linganore Winecellars is located on 230 acres of land in Mt. Airy, Md., just 4.5 miles north of historic New Market. Wines are broken down into three general categories — dry, sweet and fruit — so there are plenty of flavors to choose from. Complimentary tours are offered several times per day, and concerts are frequently held onsite.
21. Massachusetts — Nashoba Valley Winery
Wine tastings are $8 for five pours and come with a complimentary tasting glass.
Nashoba Valley Winery produces 37 varieties of wine, using approximately 131 tons of fruit annually. Located in Bolton, Mass., the facility offers wine tours on Saturdays and Sundays at 11 a.m. and 4 p.m. for a fee of $12. Visits include a tasting of six wines and a commemorative wine glass.
22. Michigan — Round Barn Winery, Distillery & Brewery
Wine tasting fees start at $12 and include six pours. Take $5 off every two-bottle purchase up to $15.
Round Barn Winery, Distillery & Brewery has three Michigan locations to taste test the brand's libations — Baroda Tasting Room & Estate in Baroda, Union Pier Tasting Room in Union Pier and Round Barn Brewery & Public House in Baroda. More than just a fun place to drink, the winery offers unique events, including its Winemaking Camp.
23. Minnesota — Cannon River Winery
Wine tasting fees range from $1.25 for a one-ounce pour to $7.50 for a flight of three, two-ounce pours. Samples of reserve wines are available for an added cost.
Composed of more than 9,000 vines on 40 acres of land, Cannon River Winery is located in Cannon Falls, Minn. The award-winning wines are handcrafted by the team in the downtown production facility, and events like the Fall Harvest Experience allow you to be part of the magic for just $25.
24. Mississippi — Old South Winery
Free wine tastings and wine tours are offered to individuals and small groups.
Founded in 1979, Old South Winery is a family-run business that specializes in fruity wines. This Natchez, Miss., winery offers nine muscadine wines in red, white and rose, as well as a blueberry wine. Open Monday through Friday, the tasting room also sells a variety of other muscadine products, including jelly and hot sauce. Free wine tastings is a great way to save on drinks.
25. Missouri — Chandler Hill Vineyards
ˇMultiple wine tastings are offered, ranging from the $5 Legacy Tasting to the $18 Reserve Tasting.
Chandler Hill Vineyards is both a family-friendly and pet-friendly winery located in Defiance, Mo. Three varietals of grapes are currently grown at the vineyard — vignoles, chambourcin and norton — while vidal blanc and traminette grapes are grown offsite, though the wine is produced in house. Events are hosted regularly, including Yoga in the Vineyards and Harvest Boot Camp.
26. Montana — Montana Winery
Visit on Thirsty Thursdays for free wine tastings all day and 50 percent off select bottles.
Montana Winery sources its grapes from Washington's Columbia Valley, but the wine is produced locally in Missoula. Housed in the Missoula Winery & Event Center, the winery introduced its latest series, Last Best Red and Last Best White, in November 2015. Committed to the community, this charitable winery works with several nonprofits. Some call it Thirsty Thursday, others call it happy hour — here's how to get the best day-drinking deals.
27. Nebraska — James Arthur Vineyards
Wine tastings are $4 for four, one-ounce pours or $5 for six, one-ounce pours.
Founded in 1997, James Arthur Vineyards is the state's largest winery. Located in Raymond, Neb., the winery is open to the public daily, and all of its award-winning wines are grown and produced in state. During the summer months, enjoy live music and grilled food available for purchase on Saturday nights.
28. Nevada — Pahrump Valley Winery
Wine tastings for individuals and groups of under eight are free.
Located about an hour from the Las Vegas Strip, Pahrump Valley Winery is open daily and has an onsite restaurant. Nevada's largest producing winery has won more than 450 awards since 2004 and includes the Charleston Peak and Nevada Ridge labels. Pahrump also hosts fun events, like the annual Grape Stomp.
29. New Hampshire — LaBelle Winery
Sample five wines for $8 or 10 wines for $13.
LaBelle Winery offers a vast selection, including dry wine, semi-dry wine, semi-sweet wine, dessert wine and sparkling wine. Enjoy a guided tour of this Amherst, N.H., facility on Saturdays and Sundays from noon to 5 p.m. After working up an appetite, you can dine at the onsite farm-to-fork bistro.
30. New Jersey — Laurita Winery
Wine tastings are $7 for six pours.
Located in New Egypt, N.J., Laurita Winery produces 14,000 to 16,000 cases per year. Wines are sold exclusively at the facility and at select offsite festivals, so you'll know you're sipping something special. Buy a case of mixed or single-blend wines and get a 10 percent discount. And active military members receive a discount of 10 percent on wine purchases.
31. New Mexico — Casa Rondena Winery
Pay $10 to taste the winery's entire selection of offerings.
Handcrafted in New Mexico's Village of Los Ranchos de Albuquerque, Casa Rondena Winery currently offers a portfolio of eight wines, ranging from a 2015 Viognier to a 2012 Animante, made from cabernet sauvignon. Membership to the wine club — called the 1629 Club — comes with exclusive access to the private, swanky 1629 Club Estate House, located onsite.
32. New York — Bully Hill Vineyards
Wine tastings are $1 for one pour or $5 for five pours, plus a free souvenir wine glass.
Situated in the Finger Lakes wine region, Bully Hill Vineyards is an environmentally friendly business. This Hammondsport, N.Y., winery offers complimentary tours on the hour from 11 a.m. to 4 p.m. daily. Rich with history, the winery often includes "goat" in the name of its varieties — such as Love My Goat Wine — as a nod to its storied past.
33. North Carolina — Shelton Vineyards
A regular wine tour and tasting is $10.
Founded in 1999, the family-owned Shelton Vineyards is located in Dobson, N.C. One of the largest vineyards on the East Coast, it grows 10 varieties of vitis vinifera grapes on the estate, including chardonnay and cabernet franc. A combination of French, American and Hungarian oak barrels are used to create the wine's signature taste.
34. North Dakota — Fluffy Fields Vineyard & Winery
Wine tastings cost $10 for five pours, plus a complimentary logo wine glass.
Family-owned and operated, Fluffy Fields Vineyard & Winery is open year-round. Using varietals of cold climate grapes, the winery offers a unique selection of reds, whites and fruit wines. Located in Dickinson, N.D., Fluffy Fields hosts frequent events, including the weekly Wheel of Fortune & Wine Wednesday.
35. Ohio — Ferrante Winery & Ristorante
Take 10 percent off with the purchase of 12 bottles.
Selling wine since 1937, the Ferrante family knows a thing or two about the vino business. Located in Harpersfield Township, Ohio, the winery serves up a variety of white, blush, red and specialty wines year-round. The onsite restaurant is open for lunch and dinner, making it convenient to grab a bite during your visit.
36. Oklahoma — Woods & Waters Winery & Vineyards
Wine tastings are complimentary and include five pours.
Located in Anadarko, Okla., Woods & Waters Winery & Vineyards offers 34 varieties of wine. Choose from dry-to-sweet reds and whites, blush wines, dessert wines and specialty wines like Key Lime Pie. A fun place to visit, the winery hosts events regularly, including vineyard festivals, a Bud Break Party and a harvest festival.
37. Oregon — Youngberg Hill
Wine tastings start at $10 and include four or more wines in each flight.
Known for its pinot noir, pinot gris and pinot blanc wines, Youngberg Hill sits atop a picturesque McMinnville, Ore., hilltop. Situated in the Willamette Valley, this family-owned winery was founded in 1989 and features a quiet and romantic inn, making it the perfect spot for a weekend getaway with your sweetie.
38. Pennsylvania — Shade Mountain Vineyards
Open seven days a week, Shade Mountain Vineyards offers more than 50 different wines. The tasting room and wine-making facilities are housed in a 19th-century barn, which offers a lovely ambiance for sipping red, white, blush and fruit wines. A 10 percent discount is offered on orders of 12 bottles or more.
39. Rhode Island — Newport Vineyards
A wine tasting and tour is $12, and a wine tasting, tour and souvenir glass will run you $15.
Since it was established in 1977, Newport Vineyards has grown into a 60-acre vineyard. Located in Middletown, R.I., the facility uses a mix of traditional and modern techniques to craft its wine. Offering something for everyone, the winery has an expansive portfolio, including white, red, blush, sparkling, dessert wine, hard cider and reserve wines.
40. South Carolina — City Scape Winery
Held Thursday through Sunday, regular wine tastings are $6.95, and premium wine tastings are $12.95.
Located in Greenville County, City Scape Winery is owned by husband-and-wife team Josh and Deb Jones, the youngest winery owners in the southeast. Purchase one of the 13 varieties currently for sale — like Dark Chocolate Red — or make your own in the U Vint class at the winery's Pelzer, S.C., facility.
41. South Dakota — Prairie Berry Winery
Enjoy up to five tastings free of charge.
The only working winery in Hill City, S.D., Prairie Berry Winery is nestled in the Black Hills. Located approximately 10 miles from Mount Rushmore, the winery is operated by fifth generation winemaker Sandi Vojta, who uses old family recipes when handcrafting each wine. If you're looking for a kid-friendly vacation destination, consider visiting this winery and its onsite restaurant.
42. Tennessee — Amber Falls Winery & Cellars
Wine tastings are free, according to Yelp reviews.
Open daily, family-owned Amber Falls Winery & Cellars is located in Hampshire, Tenn. From rose to cabernet sauvignon, the winery boasts a wide array of offerings, including its new presidential series, such as The President's Choice Syrah and The People's Choice Blackberry.
43. Texas — Messina Hof Winery & Resort
Enjoy a wine tasting and tour for $25 on Fridays and Saturdays at Messina Hof Winery & Resort.
Founded in 1977, Messina Hof is a family-owned business that produces 130,000 gallons annually. The winery has won thousands of international awards and boasts several outposts, including Messina Hof Winery & Resort in Bryan, Texas. Its extensive collection includes more than 80 award-winning wines.
44. Utah — The Hive Winery
Tastings are free and include five pours, according to Yelp reviews.
A boutique winery located in Layton, Utah, The Hive Winery specializes in premium, non-grape fruit wines and honey wines. Also home to a brandy company, the facility offers products that are 100 percent natural. Owners Jay and Lori Yahne have an expansive product line spanning more than 100 varieties of wine, hard apple cider, liqueur and brandy.
45. Vermont — Shelburne Vineyard
A standard wine tasting is $8.
The creator of Capsize, Vermont's first wine in a can, Shelburne Vineyard produces award-winning wine from northern varietal grapes. Using sustainable agriculture and responsible vineyard practices, the facility makes its wine year-round. Located within a seven-mile radius of the tasting room, the winery's vineyards span 15.5 acres.
46. Virginia — The Winery at Bull Run
Wine tastings are $14 for eight pours and include a souvenir wine glass.
Established in 2012, The Winery at Bull Run sits on 225 acres of land adjacent to Manassas National Battlefield Park in Centreville, Va. The largest operating farm in Fairfax County, the site makes all of its wine from Virginia grapes. Explore the grounds while sipping wine during the $36.50 Historical Tour & Tasting, which runs $26.50 without the tasting.
47. Washington — Chateau Ste. Michelle
Wine tastings range in price from $10 to $15.
The oldest winery in Washington state, Chateau Ste. Michelle is located on 105 wooded acres in Woodinville. Learn about the wine-making process during a complimentary 35-minute tour, which ends with a sampling. The winery also hosts a popular summer concert series that has attracted big names like John Legend and The Beach Boys.
48. West Virginia — Heston Farm Winery
Sample three wines for free, six wines for $6 and all the wines for $8, according to Yelp reviews.
Primarily in the sweet wine business, Heston Farm Winery offers an expansive portfolio, ensuring there's something for everyone. Located in Fairmont, W.V., the farm is also home to Pinchgut Hollow Distillery and Pinchgut Hollow Brewery. Notably generous, the facility hosts several murder mystery events each year, with a portion of the proceeds going to charity.
49. Wisconsin — Wollersheim Winery
Tastings of featured wines are free, but there's a $5 fee for additional flights.
Deemed a historical site in 2011, Wollersheim Winery has been family-owned and operated since 1972. Situated on a pretty hillside in Prairie du Sac, Wis., the site offers several options for wine tours, ranging in price from $8 to $15. The winery is also home to the Wollersheim Distillery, so you have plenty of imbibing options.
50. Wyoming — Buffalo Jump Winery
Wine tastings cost $5 and $3 per reserve taste. The tasting fee is waived when you purchase a bottle.
The first winery in Cody, Wyo., Buffalo Jump Winery was established in 2011. This boutique winery offers up 16 varieties of reds and whites and serves lunch and dinner Wednesday through Saturday. Geyser Distilling is also housed in the building, and the winery offers Sip & Paint classes.

BEFORE YOU GO
See Today's Best
Banking Offers