Your Credit Card Might Not Be Accepted Abroad: Here's How To Pay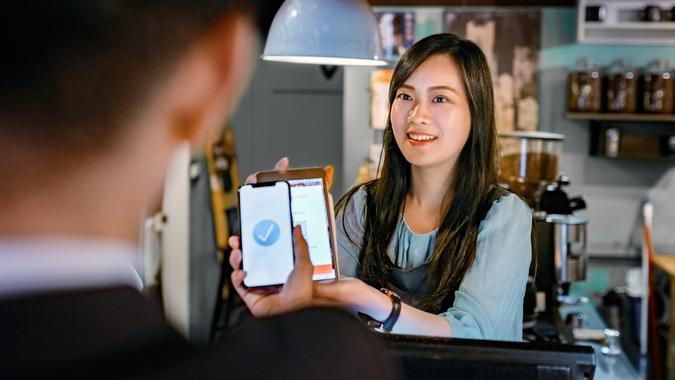 Portra / Getty Images
While many businesses across the U.S. have moved to a cashless payment system, almost all will accept a credit card swipe or tap. But this isn't the case everywhere.
Look: Surprising Things You Can Buy With Food Stamps
More: In Less Than a Decade, You Won't Be Able To Afford a Home in These Cities
"As travelers venture abroad, they may be surprised to find that people outside the U.S. rarely, if ever, touch cash or use a physical credit card," Chuck Huang, CEO of Citcon, a payment platform for businesses, told The Washington Post. "Stores and restaurants may not have a credit card reader at all."
The Rise of Digital Payments Abroad
Many countries now use QR codes to make payments.
"The pandemic accelerated the digitization of payments for both consumers and employees, with the increased movement away from credit cards," said Michael Sindicich, general manager of TripActions Liquid, a corporate card and expense solution. "There's also been an explosion in virtual cards."
Make Your Money Work for You
Digital payment options, like virtual cards, have a number of advantages.
"Virtual cards are fantastic — not just for the health and safety components of touchless tech, but also for speed," Sindicich said. "I can hold my phone over a terminal as I walk into the Tube in London or scan my phone while buying a latte in Paris. Just like that, the transaction is processed and approved. It's a reality that seemed almost fantastical even just a few years ago."
"Another key benefit of virtual cards is that they reduce the risk of fraud — a huge benefit when traveling overseas," he added.
POLL: Have Gas Prices Affected Your Driving Habits?
How To Be Prepared To Make Digital Payments
Before leaving for a trip, make sure you are set up to be able to make digital payments.
"Travelers should have their credit cards accessible from their phones and watches," said Magnus Larsson, CEO and founder of the digital bank Majority. "A perk of this is that it's one less item to bring with you. The habit of carrying cards with us will eventually fade at some point due to convenience."
Make Your Money Work for You
You Should Always Have a Backup
Although you should be ready to pay digitally, it's important to note that technology is fallible, so it's always good to have backup options.
"Bring a little cash or more than one card when traveling, in case of emergency and to make sure your payment can be accepted," Larsson said.
In the event a business does accept cash, this still may be your best option due to the foreign transaction fees your credit card may charge. However, it's best to convert cash before your trip.
"It's a good idea to keep some cash on hand at all times, just in case," said Jonathan Merry, founder of MoneyTransfers.com, a resource for international money transfer comparisons and reviews. "When converting between different currencies, it is usually advisable to plan [ahead]. While you're still in your hometown, compare conversion rates to find the [best] deal possible. Last-minute conversions at airport and train station kiosks will always be at the lowest possible rate, so avoid doing it there if possible."
More From GOBankingRates