5 Ways To Save Money on Digital Storage in Google Drive, Apple iCloud and More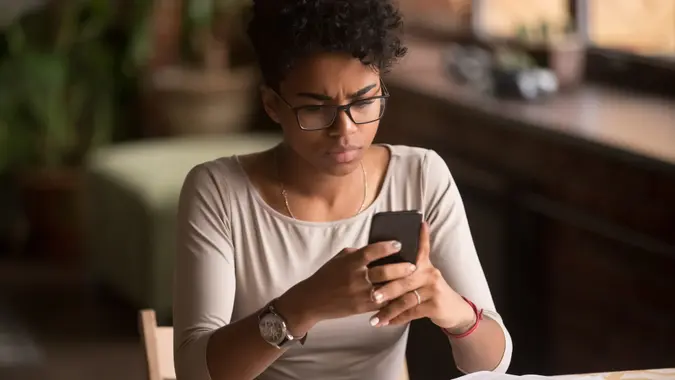 fizkes / Getty Images/iStockphoto
Without fail, right before a picture-perfect vacation or family ceremony you want to remember forever, a message pops up on your iPhone informing you that you have run out of storage space and can't take any more photos or videos.
Or, if you're an email hoarder, you might get a memo from Google that you're running out of space to save your communications just before you plan to launch a new newsletter.
Of course, there's the option to upgrade your storage, meaning you can pay to open up additional space, but it's not the only thing you can do. Here are ways you can get more digital storage space within Apple iCloud or Google Drive while saving money.
Clean Out Your Files
If you've been holding onto emails and photos since 2005, it might be time to go through the archives and clean out what you no longer need. It's important to know that video files take up more space than photos, voice-recorded messages are bulkier than regular texts and attachments add a ton of weight to emails, so you might want to start with those items. Phone apps also take up a bunch of memory, so if there are some you're not using, it's wise to delete them from your Android device or "offload" them from your iOS device. With offloading, the icons remain, and the apps reinstall automatically when you need them.
Make Your Money Work for You
Download to an External Drive
As you clean out your files, if you notice that there's still a large quantity you want to keep for posterity's sake — but maybe don't need on a daily basis — invest in an external hard drive and download your desired archives to the device. This will clear up space on your smartphone or in your email, allowing you to hold on to the memories.
Empty the Trash
If you delete something in your smartphone or email, it's not really gone forever. Apple and Google tend to hang on to it — just in case. And this of course takes up space. Before you invest in more digital storage space, save your money by making sure that you've actually emptied the trash. That goes for spam in your email, too. This could add up to a good number of bytes you can add back.
Get a Dropbox Account
Dropbox is a free way to store your files if you want to clear some space on iCloud or Google Drive. You get up to 2 GB of space before you have to lock into a paid account.
Take Our Poll: Would You Move for a Job That Paid You a $10,000 Signing Bonus?
Print Your Photos
This one goes old school, but one way to clear up a ton of space on your smartphone and cloud storage is to actually print your photos in order to hold on to them forever and then delete from your device. If you don't have a printer, you can order prints online or from local retailers for just a few cents each. You might even find a fun new hobby with scrapbooking!
Make Your Money Work for You
More From GOBankingRates
Make Your Money Work for You