Extra Paycheck Months 2013: How to Make the Most of Your Extra Paycheck in May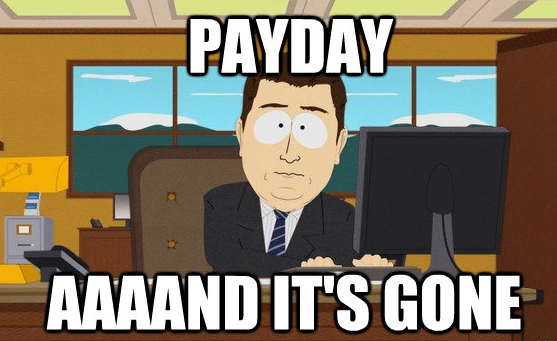 Along with the warm weather and the Memorial Day holiday weekend, there is a one more great reason to celebrate the month of May. Employees paid bi-weekly or once every two weeks sometimes receive three paychecks in one month.
During extra paycheck months 2013, there are specifically three months you can expect an extra payday. While your paychecks will depend on the schedule your employer follows, for many workers May will bring an extra paycheck. For others, extra paycheck months will fall on January, July and December.
Because most budgets are based on two paychecks per month, this extra paycheck can feel like a windfall — but that doesn't mean you should treat it like free money and let it slip through your fingers. There are wise ways to use this extra money, but between saving money, paying off debt, or making a needed purchase — which is the best use of this extra cash? GoBankingRates shares some ideas on how to put that third check to good use!
How to Budget Your Extra Paycheck
Get Out of Debt
Digging yourself out of debt is the most obvious and practical — but figuring out how to budget your paycheck is easier said than done. Before your third check hits your bank account, have your deposit account set up to automatically chip away at your debt.
This will not only reduce the principal owed, but will also reduce the amount of future interest paid, if there is any remaining principal on your debt. According to MONEY COUN$ELOR, paying down $750 toward a debt with an 18 percent interest rate will save approximately $120 annually. While it's best to pay high interest debt first (like credit cards), an extra paycheck can also be used to pay down a mortgage, a car loan or any type of debt.
Deacon Hayes of WellKeptWallet.com recommends, "Make an extra mortgage payment. If you have a 30-year mortgage, this could shave up to eight years off your mortgage." Whatever debt you use your extra check to target, it will undoubtedly help you in your long-term goals of saving money.
Invest in Your Future with a Savings Account
MONEY COUN$ELOR also recommends making your extra paycheck months work for you over the long-term. Whether you want to add to your retirement, your children's college funds or other tax-deferred accounts, using all or part of your third paycheck for these goals is the perfect idea. The minute you deposit it into your savings account, you can have it deposited into an individual retirement account (IRA), a 529 plan to help save for college or a health savings accounts (HSAs) for future medical expenses.
Regarding the 529 college saving plans, Deacon Hayes mentioned that people often lack foresight when it comes to planning for their children's future educational plans. However, as he puts it, "if you make a habit of using your extra paychecks to fund your kids' college, it will be funded before you know it." In fact, since extra paycheck months happen every year, it can become a new "set it and forget it" strategy to fund your child's education or any financial goal.
Treat Yourself, Friends or Family
Preparing for the future is always a good idea, however, we all need to have a little fun and enjoy ourselves, right? When you get your extra paycheck and are wondering how to budget your paycheck, think of spoiling your significant other or your entire family.
Deacon Hayes suggests taking your loved one out to a restaurant they always talk about, but can never afford. Other ideas include hopping in the car with your entire family and driving to a different part of your home state to see what's fun and interesting!
Combining Spending & Saving Money
When was the last time you scheduled an oil change? According to the website CarsDirect, unanticipated repairs on your car can hit your wallet hard; simple work such as replacing brake pads can cost as little as $75 to $100, but more extensive work including the replacement of rotors, drums or even calipers can quickly add up to hundreds of dollars.
Saving a little and spending a little is a great method, if you are interested in how to budget your paycheck well:
Emergency Savings: Andrea Woroch of the website Kinoli, Inc. puts it well. Woroch says, "Can you believe that only 1 in 4 Americans have set up emergency savings? From medical emergencies to car and home repairs and the unpredictable pink slip, there are so many important reasons why you need to start putting away money."
You can start your emergency fund this month with your extra paycheck and begin your own emergency fund with your existing account or open a separate savings account for this purpose.
Take Advantage of Deals: You can also live a little too and not feel guilty about it either. Woroch points out that finding deals online can let you stretch each and every extra paycheck months 2013. "Whether for everyday essentials or [specialty] purchases like replacing a faulty refrigerator, you can save more money by purchasing discount gift cards for the store you plan to shop at," Woroch says.
Make a Needed Purchase: If you are looking to buy something you need or want, you can use your extra paycheck for it. Since it's an "extra" paycheck, you won't feel bad about it, especially when you're saving money compared to traditional purchasing methods. Woroch points out that you can really make your money go far with multiple strategies.
"Use the extra paycheck to pick up gift cards at an average of 15% off from sites like GiftCardGranny.com," she says. "Pair the discount gift card with coupons and sales to save even more money."
Using a little strategy and doing your homework can really pay off and make your extra paycheck 2013 month turn into a financial boost for your savings account!