The Great Interest Rate Is Just One of the Perks to FNBO's Online Savings Account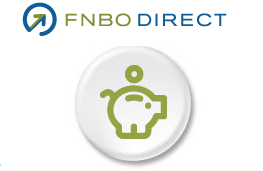 Have you ever considered what would happen if you lost your job tomorrow? What if your car broke down, or your roof needed to be repaired? If your savings account barely covers half of a month's expenses, how would you survive a financial emergency?
There is no time like the present to make saving money a priority. There are plenty of ways to save and grow your money; some people invest in the stock market, while others prefer low-risk options like money market accounts or certificates of deposit. However, if you're looking for a simple way to safely grow your money, it's hard to go wrong with an online savings account like the one offered by FNBO Direct.
Open a High-Yield Savings Account from FNBO Direct.
What Is an Online Savings Account?
An online savings account with FNBO Direct is an account that's fully managed and funded over the internet. This account is comparable to a savings account that you open with a local bank, but whereas you visit a local bank to make deposits and complete other transactions, an online bank will allow you to do everything you normally would inside a branch over your computer or phone instead.
FNBO Savings Account Review: Benefits
While most banks offer some type of interest on savings accounts in exchange for you allowing them to use your deposits, these days, this interest doesn't amount to much in most instances.
For example, open a regular savings account with a major, national and will likely receive an interest rate of only 0.01%. Maintain a $10,000 balance in your savings account and this amounts to $1 in one year! The return on a money market account is much higher, with many banks paying interest rates between 0.05% and 0.25%. Even so, these accounts don't offer the highest return on your money. If you're looking to get the most out of your savings account, an FNBO Direct savings account provides a better solution with a rate of 0.95% APY.
However, a higher interest rate is not the only reason to open account. Additional features include:
No monthly fee. Open a savings account with your local bank and fees can range between $5 and $25 a month, depending on the type of account and your balance. FNBO does not charge a maintenance fee on their online savings account.
No minimum deposit. You can open an FNBO savings account with as little as $1.
Easy access. Like a traditional bank, you can access your account 24/7. Manage your account and review your balance on your mobile device or computer, and with easy transfer options, you can move money to and from your FNBO Direct account any time. Set up online bill pay and you never have to write a check or worry about late fees.
Automatic savings options. Set up recurring weekly or monthly deposits, and funds are automatically transferred from your offline bank account to your online savings account. It's an effortless way to save and grow your money.
How to Open an FNBO Savings Account
Ready to start saving and achieve your long-term financial goals? It only takes a few minutes to open your new savings account by visiting www.FNBODirect.com. Complete an online application and receive approval from FNBO shortly after.
Once you receive notification from the bank, follow the link to activate your account. Choose a username and password to set up online account management and then access your account. You're now ready to fund your account. Transfer funds from an offline bank account into your new FNBO Direct online savings account.