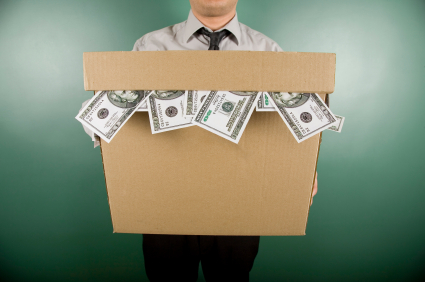 According to the most recent Forrester's annual Customer Advocacy poll, many Americans do not trust their banks. It appears that the bigger the bank is, the least trust worthy they are.
Respondents (4,500) were asked to rate the statement, "My financial provider does what's best for me, not just its own bottom line" and the answers were not favoring the nation's largest financial institutions. It is this distrust that lead to the "Move Your Money" movement.
What is the Movement?
The Move Your Money movement is simple. Depositors and borrowers are being encouraged to switch their financial activity from the banks that were "too big to fail" to smaller, local, traditional community banks. Ultimately, when enough money is moved "we, the people" will be tipping the balance of the financial system back to the growth formula of yesteryear.
In 2008 and 2009, as foreclosure rates continued to rise and more Americans were struggling to make ends meet, banking professionals rewarded themselves with bonuses exceeding bank's profits. This conflicting behavior led to the average American doubting the status quo and consumers longing for change.
The Beginnings of the Movement
The movement official began as 2009 holiday dinner conversation regarding the financial state of the union. During that meal, blogger Arianna Huffington, Director of the Economic Policy Initiative at the Franklin and Eleanor Roosevelt Institute Rob Johnson, political strategist Alexis McGill, filmmaker/author Eugene Jarecki, and Nick Penniman of the HuffPost Investigative Fund noted the toxic behaviors of the large financial institutions. They did give kudos to the local banking and credit union institutions stating that they acted honorably, helped the community and were struggling to survive. They then figured out an easy way for consumers to take action.
Since that time, there has been great progress with the Move Your Money movement. Operating solely as a grassroots campaign, the only marketing being conducted is via word of mouth and media exposure from such outlets as Time, the Nation, Newsweek and Salon. At this time, thousands of people have committed to move their money to local banks and cities such as Los Angeles and states including New Mexico are now contemplating making the switch as well.
Move Your Money to Credit Unions
Aside from encouraging people to bank locally, the Move Your Movement also encourages depositors to consider using credit unions as they are "cooperative financial institution that is owned and controlled by its individual members."
The Lower East Side People's Federal Credit Union has doubled its new account activity because of consumers seeking a more honest way to bank. Aside from being a local option, the Forrester's survey indicated that credit unions maintain a higher customer satisfaction ranking than big banks. This year alone, 70 percent of credit union customers believed that their needs, not the financial institutions needs, came first.
Before jumping on the Move Your Money bandwagon, you need to investigate whether the move to local is right for you. Travelers who find themselves out of state and on the road may actually be better off maintaining their relationship with a big bank because of the huge network of facilities they have.
However, if you are local and in the need of a savings, checking, money market or CD investment, then opting to bank within your community may be your best bet.