PNC Bank Offers the Best Savings Account Rate in Pittsburgh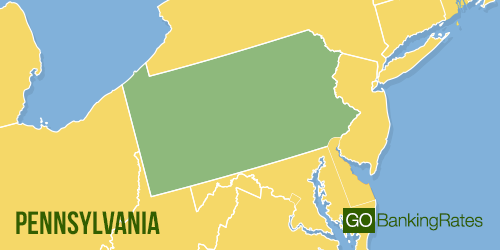 Historically, Pittsburgh residents have struggled to find high-yield savings accounts, which is one of the reasons GOBankingRates ranked Pittsburgh No. 54 out of the 100 best and worst cities for saving money.
This financial middle ground should not deter locals from investing in their futures however, as a number of local financial institutions are offering competitive deposit rates.
GOBankingRates conducted a study to determine the best savings account rates in every state to help depositors across the country find the greatest return on their money. The study consulted a comprehensive database of savings and money market rates nationwide to unearth the best rates, including information from Informa Research Services Inc. Rates for deposits up to $10,000 were considered.
In Pittsburgh, GOBankingRates determined that PNC Bank, with a 1.35% promotional APY rate, offers the best savings account rate for the Steel City. This rate is significantly higher than the average rate of 0.05% APY for Pittsburgh savings accounts earlier this year.
>> Click here to see the complete study.
Best Savings Account Rate in Pittsburgh
PNC Bank offers promotional rates when customers link a savings product to a checking account.
A PNC Bank Statement Savings account offers interest with a minimum opening deposit of $25. To avoid a $4 monthly service fee, customers need a minimum balance of $400, or to sign up for an automatic savings transfer of at least $25 each month from a PNC checking account.
If the average balance remains at or above $1,500, depositors will also avoid a $3 fee for each withdrawal after the permitted three withdrawals per month.
Since it's never too soon to start learning how to spend responsibly, depositors under the age of 18 enjoy no withdrawal fees and no minimum balance requirements.
About PNC Bank Savings Accounts
Pennsylvania residents now have more incentives than ever to save for the future and for financial success. PNC Bank in Pittsburgh provides deposit, lending, cash management and investment services across 19 states and the District of Columbia.