Study: Local Banks and Credit Unions Kill Big Banks When It Comes to Savings Account Rates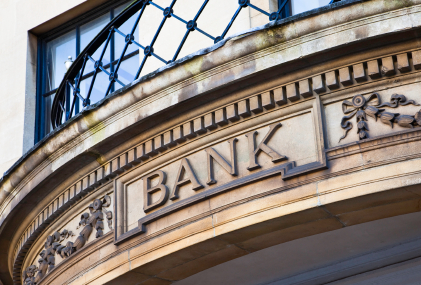 Depositors are told time and again that local institutions, particularly credit unions, beat big banks in terms of customer service, fees and interest rates. But how great is the difference, really? And is it enough to make switching banks worth the trouble? According to our most recent study, if you're looking to earn better savings account rates, the answer is yes.
We examined the average savings account interest rate offered by the 10 biggest banks in the U.S., then compared it against average rates from 3,510 local financial institutions across the country to find out if a bigger bank really means paltry rates. The findings suggest that big banks are not for savers, and those who are looking to grow their savings accounts should turn to community institutions with more high-yield options.
The Biggest Banks
"Big banks" are classified as such by their asset size — the biggest banks in the U.S. hold trillions of dollars in assets. JP Morgan Chase & Co., for instance, is the biggest bank in the country with total assets of close to $2.3 trillion. Branches for these massive banks are about as ubiquitous as Starbucks, and offer a huge range of investment services.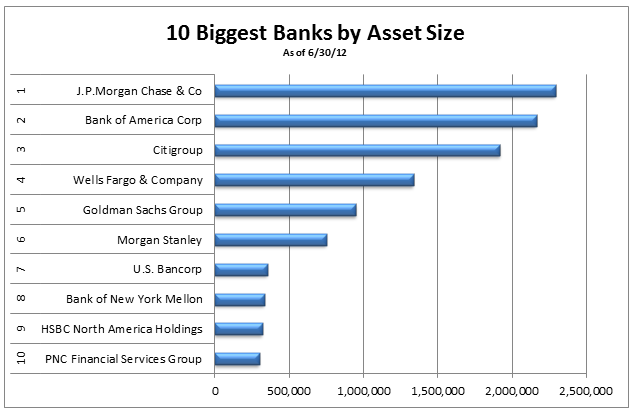 (Source)
However, bigger isn't necessarily better for the typical customer. In fact, when comparing savings account interest rate offered by a major bank with the best savings account rates from local institutions, the difference is almost laughable.
Savings Account Interest Rates from Top 10 Banks
We investigated the current savings account interest rates offered by the top 10 biggest banks — some are financial holding groups and operate separate retail banking divisions, while a couple do not offer a traditional savings account product that's applicable to the qualifications used in this study.*
Alarmingly, the highest savings account rate turns out to be a measly .10% APY from Citibank, while a majority of the top 10 banks provide depositors just .01% APY — a rate so low, the only real benefit to even having a savings account with them is the FDIC insurance.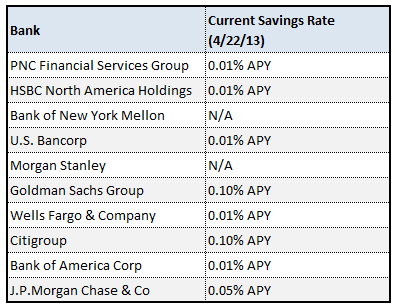 There's no reason for depositors to subject their savings to such low rates, however, as the average savings account rate from community financial institutions is five times that of the 10 biggest banks.
Average Savings Account Rate: National Vs. Local
According to our assessment of the 3,510 local savings accounts in the GoBankingRates database, the average interest rate is .20% APY. But here's what may surprise you: Though credit unions usually take the limelight when speaking of interest rates, local banks and credit unions were about on par with each other in terms of average rates.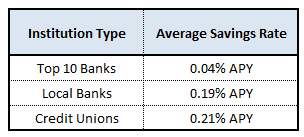 Local depositors should keep this in mind as they shop for better rates — credit unions may be the best on average, but local banks prove they are working just as hard to provide the community high yield options.
*About This Savings Account Rate Study
Rates assume an individual, retail banking customer with a $10,000 deposit, at brick-and-mortar branch located in zip code 90245. Interest rates are accurate as of March 31, 2013 and may have changed since this date.
Keep in mind that consumers should examine a variety of factors when choosing a savings account and not just the interest rate. Savings account fees, terms and conditions should also be considered.