GOBankingRates maintains editorial independence. While we may receive compensation from actions taken after clicking on links within our content, no content has been supplied by any advertiser prior to publication.
3 Things You Must Do If You Want to Buy a Home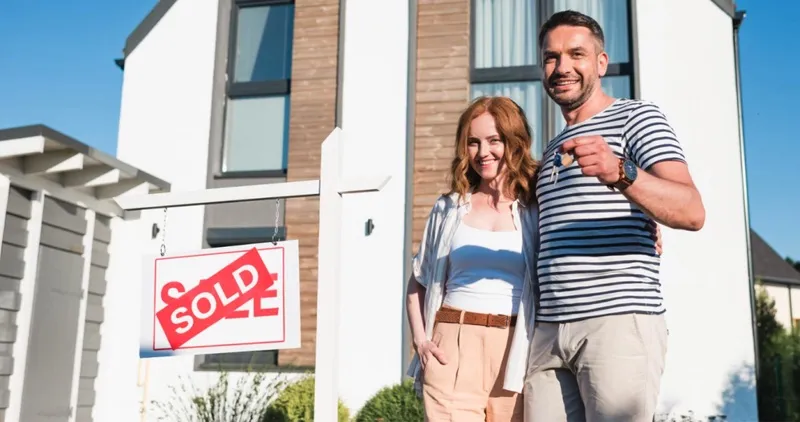 Looking for a new home? With sky-high prices in many real estate markets and mortgage rates that remain elevated from a year ago, you may be wondering whether you should wait to buy.
But just as financial advisors will warn against trying to time the stock market, many of those in the real estate industry say waiting for the perfect time to purchase a home is also often a losing strategy.
"There's no perfect time to buy or sell property," HouseCashin founder Marina Vaamonde told GOBankingRates in June. "In the long run, real estate trends upwards, so it's never good to wait in order to beat the market."
While the housing market periodically experiences short-term downturns, such as during the 2008 financial crisis, historical trends show that home prices tend to rise over time. Over the past 30 years, the average home price in the U.S. has risen from $145,300 to $525,000, according to data from the Federal Reserve Bank of St. Louis. In 2021 alone, prices increased by nearly 19%.
Yes, prices are high and will likely continue to rise in the years to come. But that may present a stronger case to buy now rather than take a wait-and-see approach.
There are several steps any prospective buyer should take to put them in an advantageous position in this housing market.
Here's what you need to do now so that when the time is right, you're ready to act fast.
Get Pre-Qualified By A Trusted Lender
It's fun to browse a wide range of house listings and dream of endless possibilities, but the first step to becoming a serious home shopper is figuring out how much house you can afford.
Getting pre-qualified for a mortgage will give you an estimate of how much you'll be able to borrow. This is also your chance to research and choose the right lender with both a solid reputation and competitive options.
Chase Home Lending is a great choice as they offer a variety of loan options with down payments as low as 3% and the option to earn $2,500 toward your purchase with their exclusive Chase Homebuyer Grant℠. They even have a $5,000 Closing Guarantee, giving you the confidence you need to plan your move. They promise an on-time closing in as soon as three weeks or you'll get $5,000.
Get pre-qualified now so you're ready to move fast.
Bulk Up Your Credit Score
Next, it's time to focus on your credit. Your credit score is an important factor in getting a mortgage and determining the type of loan you'll qualify for. You generally need a credit score of at least 620 to qualify for a conventional loan, although the higher your score, the better your rate will be.
The last thing you want is to find out from your lender there's a problem with your credit so it's important to know ahead of time how things are looking and if you have work to do to improve your score. You'll also want to keep tabs on things throughout your entire homebuying journey. Using a service like ImportantScore.com helps in these areas.
ImportantScore.com can help you be better at credit by recognizing what's hurting your score. You can check your FICO® credit score when you sign up for a 7-day trial for just $1. Credit monitoring continuously watches for changes and suspicious activity on your three credit reports from TransUnion, Experian and Equifax.
Check your score now and see where you can improve.
Lower Your Debt-To-Income Ratio
An important factor that can affect the price of the home you qualify to buy is your debt-to-income ratio. To calculate this, divide your total monthly payment liabilities (think credit cards, auto loans, student loans, etc.), along with your estimated mortgage payment, by your monthly gross income (divide your annual salary by 12). So, if your monthly income is $5,000 and your monthly expenses are $1,000, your debt-to-income ratio is 20%.
A debt-to-income ratio of less than 43% is a good number to aim for because it's the highest ratio a borrower can have and still get approved for a qualified mortgage, according to the Consumer Financial Protection Bureau.
If your debt-to-income ratio needs some work, consider tapping into a secondary income stream that requires minimal time and effort. Neighbor is a website where you can list your extra storage space for others to rent. This could include a garage, shed, driveway, parking spot, closet and more. Becoming a Neighbor host is fast and easy, and many hosts bring in hundreds of dollars a month. Plus, you always decide what can be stored in your space and how long you want to rent it out.
You don't need to write up contracts or collect payments. In fact, Neighbor even covers you in case someone doesn't pay, and you're protected by up to $1 million in liability coverage.
Turn your extra space into extra income.