What You Need To Know About the Child Tax Credit in Spring 2022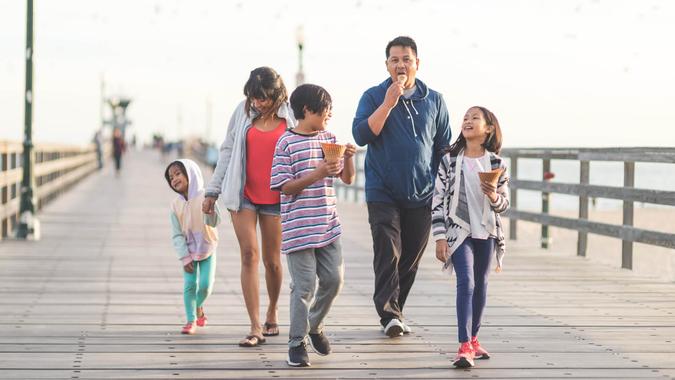 FatCamera / Getty Images
The Child Tax Credit has long assisted American families with children, but Congress enhanced it significantly in 2021. This expansion was part of The American Rescue Plan, which probably received the most press for the $1,400 stimulus payments made directly to Americans. However, for those with kids, the changes made to the Child Tax Credit were perhaps even more helpful in staving off poverty.
Discover: 9 Bills You Should Never Put on Autopay
More: 10 Reasons You Should Claim Social Security Early
Here's a look at the details of the standard Child Tax Credit, what enhancements were made for 2021, what effect those changes had and what may lie ahead for the credit.
What Is the Standard Child Tax Credit?
Before 2021, the standard Child Tax Credit amounted to $2,000 per child under age 17 claimed as a dependent on your tax return. Children had to qualify based on a number of factors, including living with a taxpayer for at least six months. 
Taxpayers with higher income were eventually phased-out of the credit. Phaseouts began at $400,000 of modified adjusted gross income (MAGI) for joint filers, or $200,000 for single or head-of-household returns. Credits were reduced by $50 for every $1,000 of MAGI above the threshold.
For lower-income households, up to $1,400 of the credit was fully refundable, but at least $2,500 of earned income was required.
Take Our Poll: Does April's Stock Market Dip Concern You?
How Did the Tax Credit Change in 2021 and Into 2022?
In 2021, Congress expanded the Child Tax Credit. Half of the credit was paid out monthly from July through December, 2021, with the remaining 50% available when qualifying taxpayers filed their 2021 tax returns.
The tax credit was changed in three other key ways:
Children as young as 17 become eligible.
The credit was increased to $3,000 per child, or $3,600 for children under age 6, for many families.
The credit was fully refundable for families living in the U.S. for more than six months in 2021, and the $2,500 earnings floor was removed.
Other traditional restrictions on the Child Tax Credit remained in force. For example, eligible children still had to be claimed as dependents and had to be U.S. citizens, national residents or aliens with a Social Security number.
What Were the Effects of the Expanded Child Tax Credit?
According to the Center on Budget and Policy Priorities, the enhanced Child Tax Credit assisted more than 65 million U.S. children — or roughly 90% of all American children. This enhancement lowered the number of children in poverty by roughly 40%.
An analysis by Columbia University indicated that 3.4 million more children lived in poverty by February 2022, after the monthly Child Tax Credits payments ended, when compared with December 2021.
A global working paper issued by the Brookings Institution in April 2022 seemed to agree, noting that families receiving the enhanced credit families generally used the monthly payments "to cover routine expenses without reducing their employment. Eligible families experienced improved nutrition, decreased reliance on credit cards and other high-risk financial services and also made long-term educational investments for both parents and children."
Potential Future Updates
As of mid-April, 2022, both Democrats and Republicans seemed confident that an additional tax credit will get passed in the upcoming budget. While details can always change during a Congressional negotiation, tentative plans include a $250 per-child tax credit, up to a maximum of three children per family and with income-based means testing included.
President Joe Biden cited some of the data presented above about the effectiveness of the expanded Child Tax Credit when he urged its extension "so no one has to raise a child in poverty." Thus, the push behind an additional or continued expansion of the Child Tax Credit seems to have strong backing in Washington. Of course, nothing is guaranteed.
More From GOBankingRates