10 Common Tax Deductions You Shouldn't Miss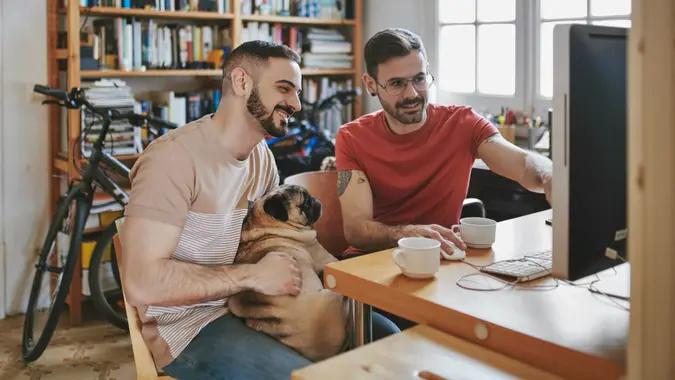 xavierarnau / Getty Images
If you're used to filing your taxes, you know that there are a lot of options when it comes to taking your deductions. There are deductions that you could take advantage of in the adjusted gross income section, as well as some that are available if you choose to itemize your deductions.
In the adjusted gross income section you find more of the common tax deductions that you could skim right over if you're not careful. So to make sure you don't miss them, here is a list of some of the common tax deductions you shouldn't miss.
Exclusive: Americans' Savings Drop to Lowest Point in Years
1. Alimony Paid Tax Deduction
If you paid alimony or separated maintenance to your ex-spouse within the current tax you, you may be eligible for an Alimony Paid Tax Deduction. You can deduct these payments whether or not you itemize your deductions.
A few qualification guidelines for the deduction include that you paid the alimony in cash, you and your former spouse do not file a joint return, and your payment is not treated as child support. You and your former spouse also cannot be members of the same household at the time of payment.
Note that the recipient spouse must report the alimony payments as income.
Important: Biden Wants to Shut Down Credit Bureaus – What Would That Mean for You?
2. Self-Employment Tax Deduction
If you are self-employed, or have net earnings from self-employment of $400 or more, you have the major obligation of paying your own quarterly self-employment taxes, which can get pretty hefty. To help alleviate the sizable cost, you can take advantage of several self-employment tax deductions to help offset your payments.
These include "ordinary and necessary" business expenses, such as rent, advertising, employee payroll, and office supplies. You may also take deductions for education costs for brushing up on related professional skills, use of your personal vehicle, and $5 for every square foot of a dedicated home office, up to 300 square feet. Just make sure you keep your receipts.
Avoid: 30 Things You Do That Can Mess Up Your Credit Score
3. Self-Employment Health Insurance Tax Deduction
Another deduction you may be able to benefit from is the Self-Employment Health Insurance Deduction that allows you to deduct up to the full cost of premiums for medical, dental and qualifying long-term care insurance coverage for yourself, your spouse, and/or your dependents.
You do not have to itemize to take this deduction. You may reduce it from your adjusted gross income on your Schedule 1 form.
This is only available for self-employed workers who do not participate in a group health plan.
Don't Forget: The 6 Most Important Tax Deductions You Need to Claim
4. Self-Employed SEP, SIMPLE, Retirement Plan Deduction
If you are self-employed, you could receive a deduction for contributions you've made to an SEP, SIMPLE or other qualified retirement plans.
The amount you can deduct depends on your type of plan and is subject to annually-adjusted limitations. There is a circular calculation necessary to determine your deduction — see the IRS page on retirement plan deductions here for detailed instructions.
Find Out: How Do Your Stimulus Payments Affect Your Taxes?
5. IRA Deduction
Contributing to your IRA allows you to take what's called an above-the-line tax deduction for your contribution, meaning it does not need to be itemized in order to be deducted. Taking this deduction allows you to reduce your taxable income dollar-for-dollar.
You may also be eligible for a tax credit based on your IRA contribution. To determine your eligibility for Retirement Savings Contributions Credit, complete this interview on the IRS website.
Think About This: Never Got Your Stimulus Check? Claim It on Your Taxes
6. Educator Expenses Deduction
Eligible educators can deduct up to $250 of their unreimbursed expenses paid or incurred for books, supplies, computer equipment (hardware, software and services), equipment and supplementary materials that are used in the classroom.
For 2020, educators may also deduct any expenses incurred after March 12 for personal protective equipment, disinfectant, and other supplies used for the prevention and spread of coronavirus.
Whoa: 9 Successful Money-Making 'Schemes' That Are Actually Legal
7. Tuition and Fees Deduction for Education Expenses
Two education credits are available for enrolled students: the American Opportunity Tax Credit (AOTC) and the Lifetime Learning Credit (LLC).
AOTC is available to students pursuing a degree or other recognized education credential and who have not completed four years of post-secondary education before 2019. It provides an annual maximum credit of $2,500 for up to four years.
The LLC, with a maximum credit of $2,000, applies to all years of post-secondary education for courses to acquire or improve job skills. It does not require students to be pursuing a degree or other recognized credential, as the AOTC does, and there is no limit on the number of years it can be claimed.
You'll need the Form 1098-T Tuition Statement from your educational institution to file either of these claims.
Learn More: Here's How Much Teachers Make in Every State
8. Student Loan Interest Deduction
If you are a current or former student paying on a qualified student loan, you may be able to deduct the interest you pay. A few ways to qualify for this deduction is to make sure that you've paid interest on a qualified student loan within the current tax year and that your filing status is not married filing separately.
You are allowed to deduct either $2,500 or the amount of interest you actually paid during the year – whichever is less. This deduction can be claimed as an income adjustment and does not require itemizing your deductions.
9. Health Savings Account Deduction
Contributing to a qualified health savings account (HSA) could get you this deduction. You are allowed to claim contributions you or another person (but not your employer) made on your behalf to your account as an income adjustment. However, in order to qualify, you must be covered by a high-deductible health insurance plan and cannot be covered by any other health insurance plan.
All contributions to your HSA should be reported on Form 8889, and filed with your Form 1040, 1040-SR, or 1040-NR.
What You Need To Know: Just How Rich Are President Joe Biden and These Other Big Names?
10. Charitable Donations
Deductions for charitable donations have previously only been available for those itemizing their deductions. In 2020, the CARES Act changed that to encourage charitable giving. Taxpayers who don't itemize their deductions may now take a deduction of up to $300 for cash contributions made in 2020 to qualifying organizations.
More From GOBankingRates
Stacey Bumpus contributed to the reporting for this article.
Last updated: Feb. 17, 2021