What Is the Standard Tax Deduction?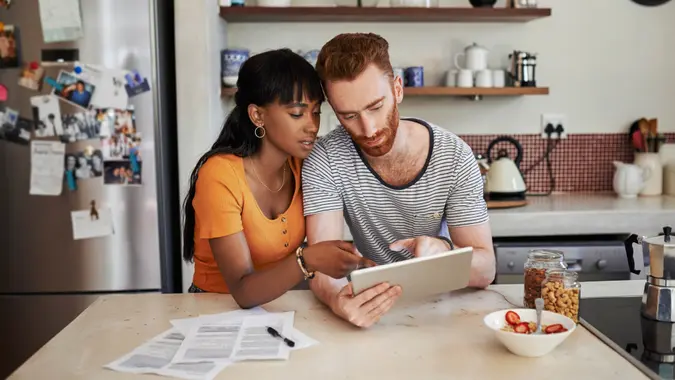 mapodile / Getty Images
Every year, filing your taxes can be a daunting — and pricey — task. The federal government requires you to pay taxes, but there are ways to minimize how much you owe. One of those ways is by taking the standard tax deduction, which is a set amount of money that reduces the total amount of taxable income you need to pay taxes on. Keep reading to learn how the standard deduction affects what you pay.
What Is the Standard Deduction?
The government collects federal income tax each year, but only some of that income is taxable. Your gross income is the sum of all the earnings you made in one year. Your adjusted gross income is what you are actually taxed on, and that is the total amount of all your earnings for the year minus deductions.
The standard deduction is a predetermined amount that reduces your taxable income. The amount of the standard deduction changes every year for inflation and is determined by your filing status, age and whether you're blind.
Learn: 8 New or Improved Tax Credits and Breaks for Your 2020 Return
How Tax Reform Affected Standard Deductions
As part of the Tax Cuts and Jobs Act that Congress passed in 2017, the standard deduction for all filers increased by at least $5,000 for 2018 through 2025.
These are the standard deduction rates for tax year 2020:
Single or Married Filing Separately: $12,400
Head of Household: $18,650
Married Filing Jointly or Qualifying Widow(er): $24,800
See: Most Popular Things To Do With Your Tax Refund — and How To Do It Smarter
Who Is Eligible for the Standard Tax Deduction?
As a tax filer, you have two general options: Take the standard deduction or itemize your deductions. You can't do both. Your tax preparation software or accountant will tell you which option lowers your tax bill more.
Don't Miss the Deadline: These Are the Penalties for Filing Taxes Late
What Are Itemized Deductions?
Itemized deductions are expenses that aren't a part of your taxable income but that you can claim and use to reduce your tax bill. Expenses like mortgage payments and charitable donations are common costs that most taxpayers itemize. The IRS recommends that you itemize deductions if you aren't entitled to a standard deduction or if the sum of your itemized deductions is greater than the standard deduction applied to you.
Who Can Take the Standard Deduction and Who Can't?
There are exceptions to who can take advantage of the standard deduction. For instance, if you file under the status "married filing separately" but your spouse itemizes their deduction, you can't cash in on the standard deduction. Or, if you're a nonresident alien or dual-status alien during any part of the year, the standard deduction doesn't apply to you.
Related: How To Legally Cheat Your Tax Bracket
Is the Standard Deduction Best for Me?
The Tax Cut and Jobs Act changed itemized deductions a lot. For instance, taxpayers can now contribute up to 60% of their adjusted gross income. Also, medical expenses are deductible if they exceed 10% of your adjusted gross income. Other itemized deductions have been eliminated completely — such as personal casualty and theft losses except if the loss was due to a federally declared disaster area.
Since the standard deduction has been increased, it's likely that more people will bypass itemizing deductions and choose to use their respective standard deduction instead.
More From GOBankingRates