Does Gen Z Think They Pay Too Much in Taxes?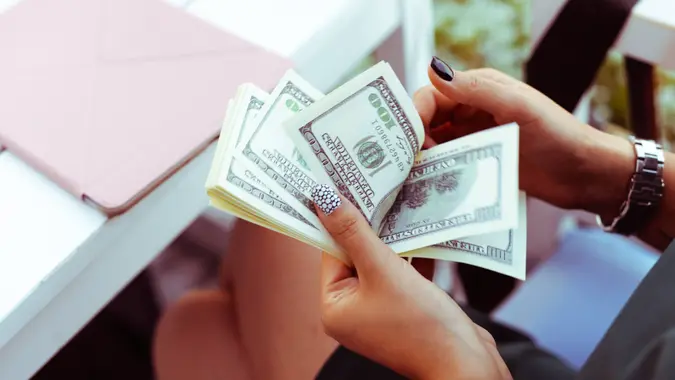 Sheviakova kateryna / Getty Images/iStockphoto
As Generation Z (born 1997-2012) joins the workforce, they're taking a closer look at how much they're paying in taxes and whether or not that dollar amount is a fair contribution. And it turns out that the majority of Gen Z is comfortable with what they're paying.
According to a recent survey by GOBankingRates, 57% of 18- to 24-year-olds believe they are paying a fair share in taxes — a much higher percentage than any other age group. Further, this generation is also most happy with where their tax dollars are going.
See: The IRS Has Refunded $15.7B as of Feb. 3 — Here's How Much the Average Taxpayer Is Getting Back
The Future of Finances: Gen Z & How They Relate to Money
Here's a deeper dive into the survey data, as well as expert insight on why Gen Z is more satisfied than older generations with how much they're paying Uncle Sam.
Most of Gen Z Thinks They're Taxed Fairly 
Out of all Americans, Gen Z is by far the generation that feels they are being taxed most fairly.
When asked if they believe they're paying "a fair share" in taxes, 57% of Gen Z adults aged 18-24 said yes. From the data, it's clear older generations don't hold the same opinion. A mere 38% of respondents aged 25-34 answered the same. From the Gen X and older crowd, 39% of 55- to 64-year-olds said they're taxed fairly and just 36% of Americans over 65 share that sentiment.
Gen Z is also the happiest generation when it comes to how their tax dollars are being spent. An impressive 69% of Gen Z adults believe their tax dollars are spent effectively. Gen X and baby boomers, on the other hand, are less inclined to say so with a mere 32% of 55- to 64-year-olds selecting this answer. Further, only 45% of Americans aged 65-plus believe their taxes are spent wisely. 
Take Our Poll: How Much of a Tax Refund Do You Expect in 2023?
Gen Z Is Willing To Be Taxed for Environmental Causes 
Gen Z is a very passionate generation and are more inclined to financially support causes they believe in. One reason why they might find their taxes to be fair is that they are an environmentally conscious group in favor of the government using this money to help the planet. 
"I'm seeing Gen Z taxpayers who are generally more socially and environmentally conscious than previous generations," said Varsha Subramanian, CPA at FlyFin. "They're interested in tax incentives like the EV Credit that benefit the environment. They seem more willing to pay taxes if they believe the money is being used to address critical issues such as climate change or social inequality."
They'll Pony Up for Government Services, Too
Generation Z grew up during a very trying economic climate (see: the Great Recession and COVID-19), and they may not mind their taxes when they're put toward government programs and resources that helped them out.
"​​I am seeing younger clients who grew up during or after the 2008 economic nosedive and saw its impact on the job market, the economy and their families," Subramanian said. "Those financial struggles gave them a greater appreciation for the importance of government services and the role of taxes in funding them."
Gen Z's Tax Contributions Are Small Compared to Other Gens
While Gen Z workers still have to pay taxes, they're a young generation and their contributions are, on average, smaller than those in older age groups. So it makes sense they're not as upset by their tax bill. When looking at the numbers more closely, this generation is more likely to be unhappy with their housing costs than their taxes.
"If Gen Z is earning an average [salary] of $30,000, they are paying roughly 14% of [their] wages on taxes each year," said John Wayman, personal finance expert at Personal Finance Guru. "That's around $350 a month. However, the average monthly rent cost in the U.S. is close to $1,300 for a one-bedroom apartment."
From this perspective, rent and cost of living — and how quickly they're inflating — is a much bigger worry for Gen Z than the amount withheld from their paychecks.
More From GOBankingRates
Methodology: GOBankingRates surveyed 1,002 Americans aged 18 and older from across the country on between January 30 and February 1, 2023, asking fourteen different questions: (1) How do you plan on filing your taxes for this year?; (2) When do you expect to file your taxes this year?; (3) How much do you expect to receive in a tax refund?; (4) What do you plan to do with your refund?; (5) Do you feel confident you are receiving all the deductions you feel qualified for?; (6) Do you believe your tax dollars are being spent effectively?; (7) Do you believe you are paying too much, too little, or a fair share in taxes?; (8) Have you ever been audited before?; (9) Who will/would use your tax dollars the best?; (10) How much is the standard deduction for a single filer (and married filers) in 2023?; (11) What concerns you the most about Tax Day?; (12) Do you expect your tax refund this year to be more or less than last year?; (13) What do you understand the least about your taxes?; and (14) What would you rather be doing than your taxes? (Select all that apply). GOBankingRates used PureSpectrum's survey platform to conduct the poll.