2023 Tax Tip: Get IRS Help Without Having To Wait on the Phone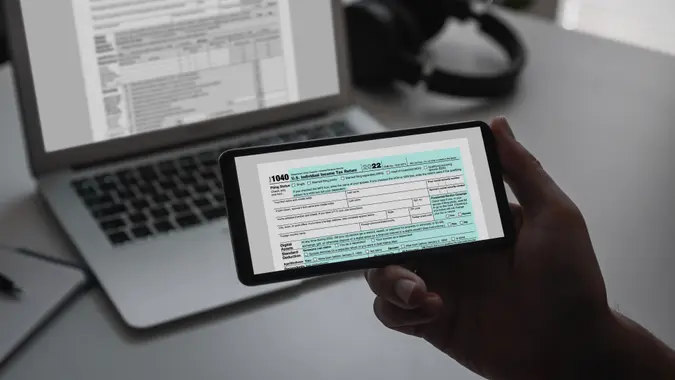 simpson33 / Getty Images/iStockphoto
The only thing that may be more painstaking than trying to put together your tax return is trying to reach a representative at the IRS regarding any questions you may have.
The Future of Finances: Gen Z & How They Relate to Money
Find: 3 Ways Smart People Save Money When Filing Their Taxes
According to the national Taxpayer Advocate Service (TAS), the IRS had large gaps in processing telephone calls in 2022. TAS found that just 15% of calls to the agency were answered by live assistance. Furthermore, enQ, a service which promises expedited telephone connection to a live IRS agent, reported that average wait times can top 70 minutes for the general public.
Things may ease a bit going forward as the IRS has now hired 5,000 new agents specifically for helping people with telephone inquiries, but there may be a better way to get the information you need.
The IRS strongly suggested first going to the agency's official website — irs.gov — which has a wealth of resources that may answer your questions.
"Many of the questions we receive can be answered online, providing faster answers for people than calling," said IRS commissioner Chuck Rettig in a statement.
On the "Tools" section of the IRS website, you can find links to the Free File option, methods of making direct payments, calculators, info on tax credits and more e-services. There's also the very popular "Where's My Refund Tool." The IRS has noted that many of the calls they get are to check on refund payment statuses. By using this tool, which requires you to enter your Social Security number, tax filing status and exact amount owed, you can get the info instantly, without waiting on the phone.
As well, the IRS website now has an interactive tax assistant — when the window pops up, you can ask general questions and be directed to relevant information.
Take Our Poll: How Much of a Tax Refund Do You Expect in 2023?
More: What Are Progressive Taxes and How Do They Work?
If you still have questions and need to call the IRS, H&R Block provided some tips on the best time to do so. "A good rule of thumb: Call as early in the morning as possible," the tax experts noted. IRS phone lines are open from 7 a.m. to 7 p.m. local time, Monday through Friday. H&R Block also noted that wait times are longer at the beginning of the week, as well as certain times of the year — including Presidents' Day weekend as well as in April, as the filing deadline gets closer.
More From GOBankingRates