Been a While Since You've Itemized Deductions? You Might Be In for Some Surprises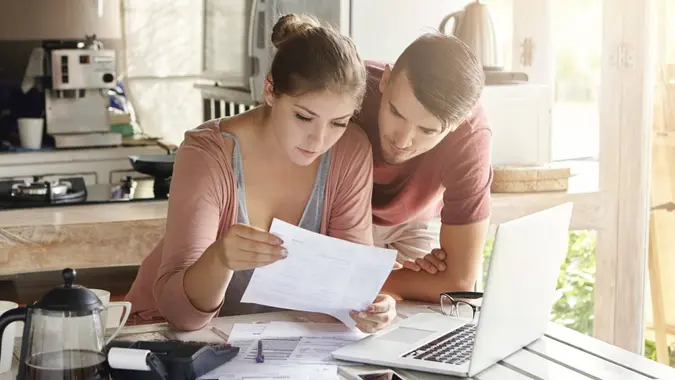 For average taxpayers, one of the best parts of the Tax Cuts and Jobs Act (TCJA) of 2017 was the raising of the standard deduction, which nearly doubled from $6,350 for single filers in 2017 to $12,000 in 2018. For tax year 2021, the standard deduction is $12,550 or $25,100 for married couples filing jointly.
Learn: Taxes 2022: Are Face Masks and Hand Sanitizer Deductible?
Explore: Tax Filing 2022: How To Set up ID.me for the IRS
It's much easier to take the standard deduction than it is to itemize deductions, which is a tedious process that requires taxpayers to keep meticulous expense records and file away receipts. The jump to $12,000 allowed the vast majority of Americans to leave the frustrating and complicated process of itemizing behind and take the easy, breezy standard deduction instead starting in 2018.
If you've been taking the standard deduction since then, but you think you have enough itemized deductions to reduce your taxable income by an even greater amount for tax year 2021, you might be unpleasantly surprised to learn that several fan-favorite deductions are no longer on the table.
Here's what you need to know.
See: Why You Should Line Up a Tax Preparer Now — and What Paperwork You'll Need
The Last Few Years Have Waved Goodbye to Lots of Big Deductions
If you stopped itemizing and started taking the standard deduction in 2018 and you're primed to switch back in 2021, you should expect a much different tax landscape than the one you left behind. While the TCJA nearly doubled the standard deduction, it eliminated several other important deductions that millions of taxpayers had been using to write off expenses and lower their taxable income for years. If you're a newly minted telecommuter, don't worry — the home office deduction is still intact.
Find Out: Most Popular Things To Do With Your Tax Refund — and How To Do It Smarter
The TCJA eliminated or reduced the following deductions, some of which could be reinstated when the legislation expires in 2025:
SALT: People who live in high-tax states like New Jersey and California used to be entitled to unlimited state and local tax (SALT) deductions. The TCJA capped SALT deductions at $10,000.
Personal exemptions: The benefit of the higher standard deduction was dampened by the loss of personal exemptions, which had allowed taxpayers to write off $4,050 per dependant. The TCJA eliminated personal exemptions.
Mortgage interest deduction: This deduction remains, but taxpayers can now deduct interest only on mortgages up to $750,000 instead of $1 million.
Unrestricted home equity loan deduction: The TCJA restricted this deduction only to interest on loans taken out for home renovations, but only when the loan and the mortgage equal no more than $750,000 for married couples filing jointly. In previous years, there was no cap and the loan could be for any purpose.
Alimony deduction: Alimony is no longer considered taxable income for those who receive it so it can no longer be written off by the spouses who pay it. Legal fees incurred while setting up an alimony agreement can no longer be written off, either. Those who finalized their divorces before Dec. 31, 2018, can continue to deduct these payments.
Unrestricted casualty loss deduction: Disaster victims used to be able to write off damage and losses not covered by insurance after events like house fires. Now, only those in presidentially declared disaster zones can take the deduction.
Deduction for moving expenses: This deduction is now available only to military personnel who are required to move as part of their service.
Unreimbursed work expenses deduction: Taxpayers had long been able to deduct work expenses that were greater than 2% of their AGI. The TCJA did away with that.
More on Deductions: Best and Worst Ways To Itemize Your Taxes
There Are a Few Silver Linings in Deduction-Land
For anyone who gives to charity, 2021 was a year like no other. If you've been taking the standard deduction, you might have put all your charitable giving out of mind since only those who itemize can write off donations. In 2021, and 2021 only, however, the IRS is allowing a special write-off up to $600, even for those who don't itemize and take the standard deduction instead.
Also, the IRS will stop punishing people who got help with their student loans in 2021. Before, any portion of a student loan that was forgiven by a lender was treated as taxable income, but thanks to COVID-19-relief legislation, that rule has been removed. The exemption will last through at least 2025 and could become permanent. It's not technically a deduction, but it reduces your taxable income, so it serves the same purpose. If you received assistance from your employer in paying down student debt, you can exclude up to $5,250 of that money. That benefit also came from pandemic legislation and is also expected to continue through 2025.
More From GOBankingRates