These Are the Penalties for Filing Taxes Late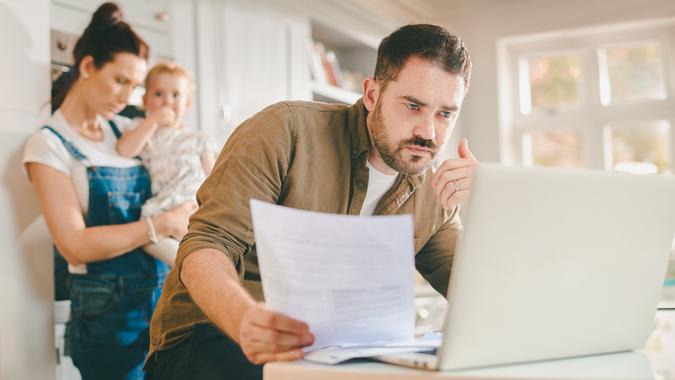 sturti / Getty Images
Penalties for filing taxes late are deliberately set high enough to encourage taxpayers to file in a timely manner. On top of that, the IRS can impose additional penalties and interest to any unpaid taxes, increasing your bill even further.
Small Biz: Don't Miss Out on Nominating Your Favorite Small Business To Be Featured on GOBankingRates — Ends May 31
It's important to make an effort to file your taxes on time or file for a tax extension. Either way, make sure you know the penalties you might face and seek help for filing taxes late.
Penalties for Filing Your Taxes Late
Taxpayers who do not file their taxes on time are subject to a failure-to-file penalty. In addition, taxpayers who file taxes on time but do not pay the taxes they owe will also be fined. Here are a few penalties for being late on your taxes.
How Much You'll Owe for Filing or Paying Your Taxes Late
The penalty for not filing on time depends on how late your return is. The fine for filing up to 60 days late can be as much as 5% of your unpaid taxes each month or part of a month that you are late, up to 25%. After 60 days, the IRS imposes a minimum penalty of $435 or 100% of the unpaid tax, whichever is less. Taxpayers owed a refund won't be charged a fee for filing late.
The failure-to-pay penalty is 0.50% each month your IRS payment is late, up to 25%, according to the IRS. But the failure-to-file penalty can be reduced to 0.25% if the taxpayer files a return and requests an installment IRS payment plan to repay their debt in full.
If both the failure-to-file penalty and failure-to-pay penalty apply in the same month, the maximum amount charged for both penalties is 5% per month. Taxpayers can avoid these late filing penalties by filing on time or filling out the appropriate paperwork for a tax extension. But keep in mind, you must request the extension by the tax due date and you must have paid 90% of your tax bill to avoid a failure-to-pay penalty.
Find Out: Is Taking Out Loans To Pay Off the IRS a Good Idea?
Paying Back Interest on Unpaid Taxes
For a taxpayer who owes unpaid taxes, interest will accrue on the amount owed in addition to the penalties covered earlier. This interest penalty compounds daily and is charged at a rate equal to the federal short-term rate plus 3%.
As an example, consider a taxpayer who fails to file their 2020 taxes when due on May 17. Assume the taxpayer files his taxes on June 17 and owes the IRS $2,000:
This taxpayer will be assessed a failure-to-file penalty of 5% for each month.
Next, a failure-to-pay penalty will be assessed at 0.50% each month, including the partial month of June.
Last, interest will accrue on the unpaid taxes and compound daily, at a rate of 3% above the federal short-term rate, beginning the day after taxes were due.
If the taxpayer doesn't file until July 17, which is more than 60 days late, his failure-to-file penalty will be $435 — $435 being the lesser of that minimum or 100% of the tax owed.
Learn More: Everything You Need To Know About Taxes This Year
How To Avoid a Penalty for Filing Taxes Late
The IRS allows taxpayers a filing extension until Oct. 15, and all individual taxpayers can use Free File to request it. The alternative is to print and mail in Form 4868.
During this extension, the taxpayer will not incur a failure-to-file penalty. However, the failure-to-pay penalty and interest on unpaid taxes might still be charged. Even if you are granted an extension to file your taxes, you still need to pay your taxes on time.
Is There a Penalty for Filing Taxes Late If I Owe Nothing?
At the same time, there is no IRS penalty for filing late if you expect to receive a tax refund. In fact, no extension is required under this circumstance.
When Are Taxes Due in 2021?
The last day to file taxes is typically April 15, unless this date falls on a weekend or holiday. But this year, taxpayers get a temporary reprieve because the deadline for 2020 federal tax returns and tax payments has been extended to May 17. However, the extension only applies to individuals — if you're required to file quarterly, your filing and payment deadline is still April 15.
Residents of some states might have different filing and payment deadlines. For example, due to the disaster declarations following the February storms in Texas, Oklahoma and Louisiana, residents of those states have until June 15 to file their 2020 returns.
Washington, D.C.'s observance of Emancipation Day and Maine's and Massachusetts's observance of Patriots' Day give their residents an extension when the holiday falls on tax day. In those cases, residents have until the next business day to file and pay their tax. Because of this year's deadline extension, Emancipation Day and Patriots Day won't affect the 2021 deadlines.
More From GOBankingRates
Daria Uhlig contributed to the reporting for this article.
Last updated: May 11, 2021