Digital Nomads: Everything To Know About Filing Taxes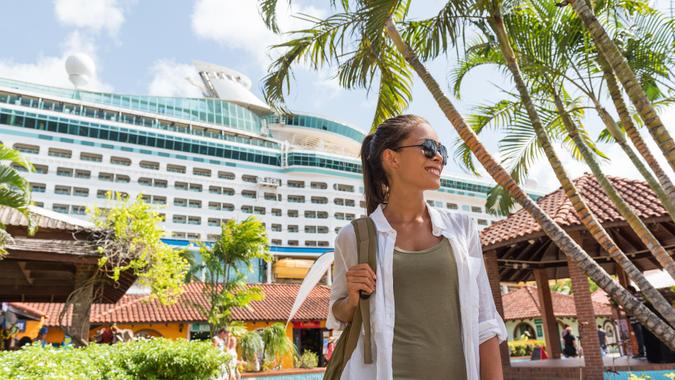 Maridav / Shutterstock.com
What should digital nomads know when it comes to their tax responsibilities? Globetrotting digital nomads might struggle to determine their tax obligations, especially for those who live and work abroad. 
Filing Taxes as a Digital Nomad: What To Do When You Have No Primary Residence
Find Out: These Are the Receipts To Keep For Doing Your Taxes
The good news is that tax filing for digital nomads isn't too complicated, no matter where in the world you are. GOBankingRates spoke with Eric Scali, Expat Region Tax Manager at H&R Block Expat Tax Services, to determine which considerations to keep in mind when filing taxes in the United States as a digital nomad. 
File and Claim All Your Income
Do not make the mistake of thinking you don't need to file taxes. Regardless of where you live and work, Scali said you still need to file and claim all your income. 
"Digital nomads abroad have the same filing obligations as U.S. citizens living and working in the United States," Scali said.
Remember that the U.S. tax filing requirement is the same whether you live in the U.S., are a digital nomad or are an expat. Scali said the threshold to file depends on your filing status and type of income. In general, a digital nomad filing as single will need to file taxes on $12,550 or more of total income. For freelancers, this is $400 or more of net earnings. 
Determine Tax Benefit Eligibility 
Digital nomads living and working abroad may be able to benefit from either the foreign earned income exclusion or foreign tax credit. These are two of the most common benefits available to digital nomads who live and work abroad. 
The foreign earned income exclusion allows you to exclude up to $108,700 of foreign earned income while living and working abroad. 
Tax Refund 2022: You Could Miss Out on $6,728 by Not Claiming the Earned Income Tax Credit
"The key to claiming this benefit is that you must meet one of two tests," Scali said. "The most common one is the physical presence test. This requires that your main place of work be in a foreign country in addition to spending less than 36 days within the U.S. during any 365-day period."
If you don't find you're eligible for the foreign earned income exclusion, you might be able to receive a foreign tax credit.
"The foreign tax credit allows for a dollar-for-dollar credit on income you earned abroad for any taxes you pay in a foreign country on that same income," Scali said. 
Consider Potential State Filings
You might be living and working in another country, but digital nomads may still need to file and pay taxes in their last state of residency.
"Each state has their own rules, so it is something that you will want to be aware of when filing," Scali said.
Be Aware of Self-Employment Taxes
Did you work as a freelancer as a digital nomad? You may be subject to self-employment taxes, consisting of Social Security and Medicare, on top of your income tax bill.
"Generally, you do not have tax withholdings taken out when working as a freelancer, so you need to remember to account for quarterly estimated tax payments to avoid a large tax bill at the end of the year," Scali said.
How Digital Nomads Can Prepare for Tax Filing
As you work and travel abroad, Scali recommends digital nomads take the following steps to properly prepare for tax filing. 
First, keep good records of your income and travel. This allows you to track the income you earn overseas and the days spent in a foreign country versus the U.S. if you are calculating days for the foreign earned income exclusion. 
In addition, digital nomads who own financial accounts in a foreign country also need to be aware of financial reporting obligations.
Find More: Top Tips for Painless Tax Prep
"You are required to file a Foreign Bank Account Report if the combined balance of your foreign accounts exceeds $10,000 on any given day during the year," Scali said.
Take care to file this form by its deadline. "There are steep penalties for not filing this form on time, so you want to ensure you get that filed timely along with your taxes," Scali said.
Finally, freelancing digital nomads need to keep track of their expenses. Scali said keeping track helps reduce your overall bill come tax time.
Tax Forms for Digital Nomads
Which key tax forms do digital nomads need? Review the following forms below and keep them in consideration come tax time. 
Form 1040: The form each American files during tax season to report income to the IRS. Download it here.
FBAR (FinCEN Form 114): Your Foreign Bank Account Report, used to report any assets in foreign financial institutions to the Financial Crimes Enforcement Network of the U.S. Treasury. Download it here.
Foreign Earned Income Exclusion Form 2555: One of two methods digital nomads can use to avoid being double-taxed on income earned abroad. Download it here.
Foreign Tax Credit Form 1116: One of two methods digital nomads can use to avoid being double-taxed on income earned abroad. Download it here.
FATCA Form 8938: The form U.S. citizens file to report certain foreign financial assets to the IRS. Download it here.
Schedule C and SE: These forms are specific to freelancers and are used to calculate taxable net earnings and self-employment tax. Learn more about Schedule C and Schedule SE through the IRS.
State taxes: Each state has its own rules for "residency," and you may need to consider what the rules are for the last state you lived in.
More From GOBankingRates