How To Do Taxes in the Gig Economy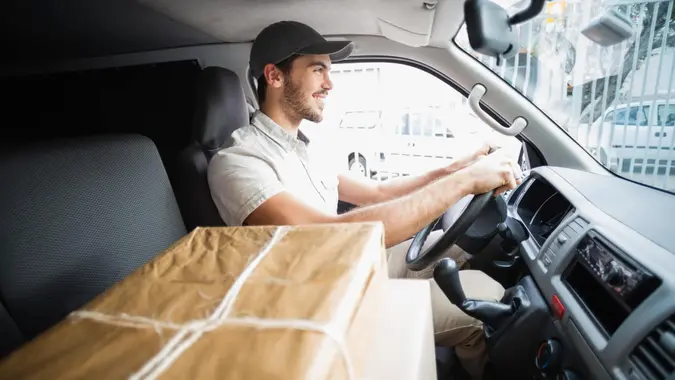 ESB Professional / Shutterstock.com
Working in the gig economy has its ups and downs. You set your own hours, but you're also responsible for deducting and paying your own taxes. More and more people are finding themselves in this position. In 2020, a record 4.3 million people started new businesses. If you make more than $400 from self-employment as a gig worker, you're one of these people who has embarked on starting a new business. Though there are tax payments and penalties you need to be aware of, there are tax benefits as well. Here's your guide to doing taxes in the gig economy.
See: 11 Best Lucrative Side Hustle Ideas: Earn More
Discover: 20 Hot Jobs That Pay More Than $150,000
First Of All, What Exactly Qualifies as Gig Work?
As stated above, if you make $400 or more from your job, and it isn't taxed, that's taxable income. The IRS defines gig work as driving a car for rideshare or deliveries, renting out property or parts of it on sites like Airbnb, getting paid for running errands or completing tasks, selling items online, renting out equipment, providing creative services or other temporary, on-demand or freelance work. This is just an initial list, and the IRS states other jobs could be considered gig work. If you're not sure, it's best to follow the $400 guideline above. 
Discover: See the Full List of Money's Most Influential and More
How Do I Prepare To Do Taxes for Gig Work? 
It's important to keep receipts related to your business so you can deduct those expenses come tax time. These expenses can include meals, travel, office supplies, necessary subscriptions for your business and health insurance. You can also take a home office deduction–but there are specific steps you need to follow. Measure the amount of square footage of your home is used solely for your office (i.e. your desk can't also be your living room couch). Multiply that number by $5, for a maximum deduction of $1,500. Another method gig workers use it to figure out the percentage of your home is used for your business, then prorate expenses like utilities, insurance, rent, and property taxes. 
You should also track how much you're bringing in each month using a spreadsheet or tools like Stride, which helps keep track of your miles so you can deduct the cost of gas used for your job. Hurdlr and QuickBooks both track business expenses and mileage as well. Hurdlr even helps you create invoices for your clients. 
Read: Best Side Hustles for People Over 50
Do I Need To Pay Quarterly Taxes?
If you're getting most of your income from self-employment: yes. If you expect to owe more than $1,000 in taxes, the IRS requires that you make quarterly tax payments. When you work a regular full-time job where you get a W-2 at the end of the year, taxes have already been taken out of each of your paychecks. If you overpaid, you get them back in the form of your tax refund. When you're self-employed, you're still on the hook for those taxes, but you need to pay them yourself. To figure out how much you owe, you can use the IRS' tax withholding estimator or the Keeper Tax Quarterly Tax Calculator. A good rule of thumb is to set aside 30% of your income to pay quarterly taxes. This will most likely cover the social security, medicare and state taxes you need to pay as a gig worker. 
Check Out: 50 Cities Where You Need a Side Hustle To Get By
What Happens If I Don't Pay Quarterly Taxes?
You'll end up owing a pretty substantial large sum come tax time, plus fees based on how late your payment is. Basically, it's much cheaper to pay over time, rather than all at once.
See: 45 Jobs That Can Make You a Millionaire Before Retirement
When Are Quarterly Taxes Due?
Taxes are due April 15 for payment period January 1-March 31, June 15 for payment for period April 1-May 31, September 15 for for payment period June 1-August 31, and January 15 for payment period September 1-December 31. If these dates fall on a Saturday, Sunday or legal holiday, the payments are due the next business day.
Your Best Options: These Side Jobs Will Be the Most Popular in the US
Are There Any Other Deductions or Credits I Qualify For?
There is a "qualified business income" deduction that you receive if you make under a certain amount. In 2021, that amount was $164,900 in total taxable income for one person or $329,800 for those filing together. When you file your taxes, file a Form 8995 or 8995-A to claim this. 
Be Aware: 6 Career Mistakes To Avoid During an Economic Downturn
How Do I File at Tax Time?
If you're self-employed and working for a business, you'll probably receive a 1099 form by February 1. You'll then file a 1040 (U.S. Individual Income Tax Return) or 1040-SR if you're a senior. You can file these through IRS Free File, authorized e-file services, by mail, or by a tax professional. Depending on how much you make, you might be eligible for free tax preparation services. The IRS has resources to check if you qualify and how to get your taxes filed for free.
More From GOBankingRates