IRS Free File for Your State Tax Return is Available in These Locations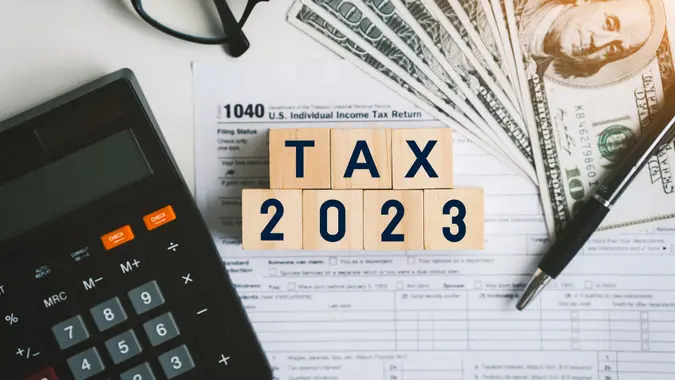 Khanchit Khirisutchalual / Getty Images/iStockphoto
Do you dread having to pay money during tax season just to file your taxes? Don't worry, the IRS has you covered. With its Free File program, the IRS makes tax preparation easier and cheaper than ever for millions of eligible taxpayers in the United States.
Learn: What Is the Standard Deduction for People Over 65 in 2023?
Find Out: If Your Credit Score Is Under 600, Make These 3 Moves ASAP
Who is Eligible to Use IRS Free File?
The main requirement for eligibility is that your adjusted gross income (AGI) must be $73,000 or less as reported on your 2022 tax return. However, participating software providers may have additional eligibility rules that take into account income, age and state residency.
If you meet eligibility requirements, you may Free File your federal and state taxes. You are usually required to complete your federal return before starting your state tax return.
The following tax preparation services offer Free File for federal taxes:
1040Now
ezTaxReturn.com
FileYourTaxes.com
On-Line Taxes
TaxAct
FreeTaxUSA
TaxSlayer
State Free File offering providers vary by state.
What States Offer Free File?
22 states and the District of Columbia offer a Free File program for state tax returns. The best way to get details on how to take advantage of the Free File program for your state is to visit your state's tax agency website. Keep in mind that some partner services will charge a fee to file your state tax return unless it is specifically stated that it will be free.
States with Free File offerings include:
Arkansas
Arizona
Georgia
Idaho
Indiana
Iowa
Kentucky
Massachusetts
Michigan
Minnesota
Missouri
Mississippi
Montana
New York
North Carolina
North Dakota
Oregon
Rhode Island
South Carolina
Vermont
Virginia
West Virginia
Washington D.C.
Residents of Alaska, Florida, Nevada, South Dakota, Texas, Washington and Wyoming can't get state-level Free File because their states do not have an income tax. Residents in these states are still able to take advantage of federal Free File if they meet the eligibility requirements.
Take Our Poll: How Much of a Tax Refund Do You Expect in 2023?
Write Off Your Mileage? The IRS Expands the Deduction for Fuel Costs in 2023
File Free Today
IRS Free File offers eligible taxpayers access to free online tax preparation and filing services through a variety of commercial partners. These programs offer free e-filing options that will walk you through your tax preparation process.
More From GOBankingRates