IRS2Go App Review: Useful Free App for Tax Season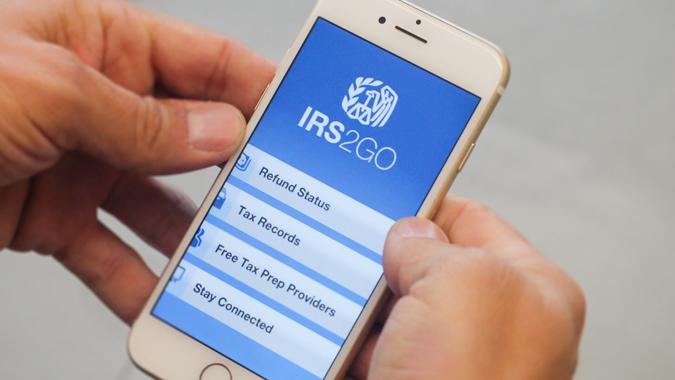 ©GOBankingRates
You can choose from a ton of tax filing software and mobile apps, but if you'd rather go straight to the source, the IRS has its own mobile app available to download for free called IRS2Go. The app allows you to find free tax software for filing your return and set up a bank account to settle any payments with electronic transfers, and can even offer tips or connect you to programs that could get you help filing.
Don't Forget: The 6 Most Important Tax Deductions You Need To Claim
Here's a look at the pros and cons of the IRS2Go app so you can decide if it's one of the finance apps you should download.
IRS2Go Mobile App Features
The features offered on IRS2Go are designed to fulfill your tax filing and IRS payment needs. They include:
Free Tax Help: The app provides access to free tax software that allows you to save money by filing your taxes yourself. Also, if you qualify for help through the Volunteer Income Tax Assistance (VITA) or Tax Counseling for the Elderly (TCE) programs, the app can connect you to the nearest resource so you can get free tax help.
Make a Payment: If you owe money after completing your return, you can make your payment through the app, either by setting up an electronic bank transfer or by using a debit or credit card.
Check Your Status: You can check the status of your return so you know when you can expect your refund or just to confirm that your return was received and is being processed.
Tax Tips: You can also sign up to receive IRS tax tips during tax season through the app or use it to follow the IRS on social media.
Find Out: What Are the 2020-2021 Federal Tax Brackets and Tax Rates?
Pros: Free Help Direct From the IRS
The app appears to offer a straightforward, bare-bones mobile platform with the basics you need to complete your tax returns and check your refund status. Among its best features is its price, as it's available for free to anyone with a smartphone. The access to options for free tax filing services could be especially important to anyone with tight finances who can't afford to spend money on an online tax filing software or a certified public accountant.
Read: What To Do When You Can't Pay Your Tax Bill
Cons: Limited Features
The utility of the IRS2Go appears to be somewhat limited to tax season. After you've paid your bill and confirmed that your return was accepted, this is an app that likely won't provide much — if any — actionable information. And after you've checked your refund status and received your refund, you wouldn't need this app again until you start working on your next tax return.
Online IRS2Go app reviews include complaints about the app failing to find people's returns even after multiple attempts to enter their information. The app has a 3-star review in the iTunes store, but almost a third of the reviews have one-star ratings. The Google Store reviews are much more positive overall, however — a 4-star rating across over 52,000 reviews — but include similar complaints from people unable to access the update on their return.
Don't Miss: 10 Signs You Really Do Need Professional Help Filing Your Taxes
Who Is the IRS2Go App Right For?
For anyone ready to do the legwork necessary to avoid paying an accountant or online service to file their taxes, the IRS2Go app offers a serviceable, free solution.
Freelancers and contract workers might also find the app to be especially useful. If you're paying estimated taxes once a quarter, having the app could make it much easier.
More From GOBankingRates