Necessary Tax Tips for People With Side Hustles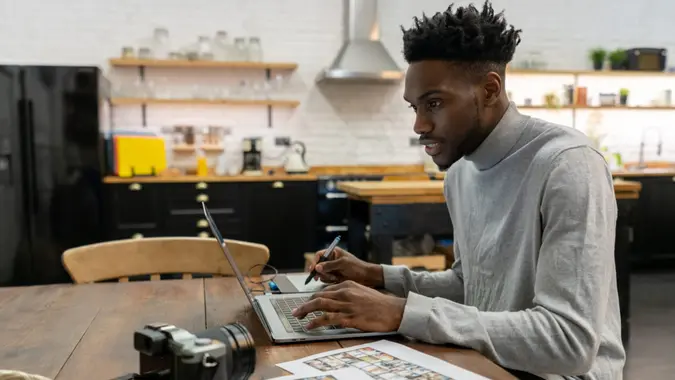 andresr / Getty Images
Your side hustle gives you financial freedom, but freedom comes with responsibility. Employers withhold taxes from the paychecks of W-2 wage earners before they ever see the money. Usually, they overpay and are owed a refund at the end of the year. W-9 contractors get no such courtesy and certainly no such refund. Nothing is withheld from the money you earn from your side hustle, so it's on you to keep track of it, report it and pay taxes on it. Also, since nothing is withheld, there's nothing to refund when you file your returns. In fact, in most cases, you'll be sending the IRS a payment instead of the other way around. Here's what you need to know about settling up with the IRS for your gig on the side.
Report All Your Side Income
You'll use Schedule C (Form 1040) to report any cash from your side hustle or hustles. Report all qualifying income no matter how insignificant whether you think you'll have to pay taxes on it or not. If you received a 1099-misc, assume the IRS knows about that income.
Read More: What Are the 2020-2021 Federal Tax Brackets and Tax Rates?
Get Used To Making Quarterly Payments
You're required to make income tax payments throughout the year even though the IRS doesn't withhold taxes from the money you make as it comes in. If your tax bill will be $1,000 or more, you're required to pay estimated taxes on the money you're projected to earn that year every three months. You'll be hit with a penalty on top of whatever you owe if you don't. Estimated quarterly tax payments are due on the following dates:
Jan. 15

April 15

June 15

Sept. 15
Be Prepared: These Are the Receipts To Keep for Doing Your Taxes
If You Didn't Make Payments, Brace For a Bill
If this is your first year with a side hustle and you missed some or all four quarterly payments in 2020, expect a potentially big tax bill. If you can't pay it, file your returns by April 15 no matter what, pay whatever you can, and, if need be, work with the IRS to set up a payment plan for the rest.  
Take the Standard Deduction Unless Itemizing Is Really Worth It
Self-employed side hustlers can deduct all kinds of expenses to reduce their taxable income. It's a benefit that long came with the headache of keeping track of expenses, documenting those expenses and itemizing them on your tax returns. The 2017 Tax Cuts and Jobs Act nearly doubled the much easier, much simpler standard deduction to $12,000 for individuals and $24,000 for joint filers. The thresholds are now $12,400 and $24,800. If your itemized deductions will really add up to more than that, by all means, itemize your auto mileage, home office, supplies and the rest. Otherwise, do yourself a favor and take the simple, easy and audit-proof standard deduction — no receipts needed.
Did You Know: All the New Numbers You Need To Know for Planning Ahead on Taxes
Prepare For the Dreaded Unemployment Tax
Being your own boss comes at a cost. Prepare to pay a stiff tax of 15.3% — 12.4% for Social Security and 2.9% for Medicare — to run your side business. Ordinarily, employers each pay half of that — 6.2% and 1.45% — but the self-employed must pay for both parties, which is why it's called the self-employment tax.
Find Out: 8 New or Improved Tax Credits and Breaks for Your 2020 Return
But Don't Panic, There's Good News
You can deduct the portion of the self-employment tax that would normally be paid by the employer when calculating your adjusted gross income. This doesn't lower the amount of self-employment tax you'll pay, but it reduces your taxable income. You can also claim half of what you pay in self-employment tax as an income tax deduction.
More From GOBankingRates