Should You Pay Taxes With Your Credit Card?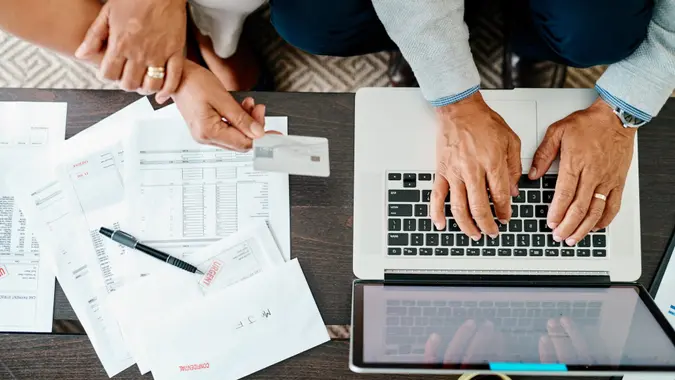 katleho Seisa / Getty Images
The IRS gives you the option of paying your taxes by credit card — as long as they get theirs, the delivery method is up to you. What's to be gained, however, by transforming a tax bill into an equal amount of high-interest revolving debt? In most cases, a whole lot of nothing. In a handful of rare exceptions, however, charging your tax bill might just make sense. 
Find Out: What Are the 2020-2021 Federal Tax Brackets and Tax Rates?
You Can Do Better With a Payment Plan
If you're considering charging your tax bill so you can stretch it out into payments on your credit card, not so fast. You'll almost always do better setting up a payment agreement with the IRS, which serves the same end at a fraction of the cost. The IRS charges interest to the tune of the federal short-term rate plus 3%. The average credit card interest rate, on the other hand, is 14.65%.
Read More: Tax Year Deadline Dates You Need To Know
There's Also a Processing Fee
Even if you don't have to worry about finance charges because you plan on paying your credit card balance in full, charging your tax bill will cost you. The IRS authorizes three companies to accept federal credit card tax payments, each of which charges a fee: 
PayUSAtax:

1.96%, minimum fee of $2.69

Pay1040:

1.99%, minimum fee of $2.58

ACI Payments, Inc:

1.99%, minimum fee of $2.50
Learn More: New or Improved Tax Credits and Breaks for Your Return
That's about $100 on a $5,000 bill — just to run the transaction.
Rewards Points Could Outweigh the Fee, but Just Barely
A payment to the IRS should count as a purchase for the purposes of most credit card rewards programs. The problem is, the best flat-rate cards — like Citi Double Cash — top out at 2% cash back, which would be negated almost exactly by the above-stated credit card processing fee. The very best you can hope for is four cents on the dollar. Rotating category cards go all the way up to 5% or 6% cash back, but only for specific purchases like gas, entertainment or groceries — not tax bills.
Did You Know: All the New Numbers You Need To Know for Planning Ahead on Taxes
It Can Make Sense in a Few Rare Cases, but Be Careful
It almost never makes sense to charge your tax bill, particularly if it's a desperate move — but there are a handful of exceptions. 
Be Prepared: These Are the Receipts To Keep for Doing Your Taxes
One is for new rewards cards that require you to spend a lot of money shortly after opening the card in order to unlock a big rewards points or travel miles payday.  
The Chase Sapphire Preferred Card, for example, offers 80,000 bonus points ($1,000) to cardholders who spend $4,000 in the first three months — on top of the regular rewards rate of one time to two times points. That kind of incentive might justify charging your tax bill to your credit card — but only if you're certain you can pay your balance in full that very same billing cycle.
Make a Plan: 11 Steps for Paying Off Credit Card Debt in 2021
Another scenario where it could make sense is if you open a balance transfer card with a zero-percent introductory rate for 18 months or whatever the offer is. That could let you pay the bill off slowly over time without paying any interest at all, which is better than a payment plan with the IRS. Even better, you wouldn't be charging the card. You'd be submitting a payment voucher from the issuer of your balance transfer card, which might not incur any processing fee at all.
Be Aware: Economy Explained: Tax Fraud and Tax Evasion Penalties
More From GOBankingRates
Last updated: Apr. 14, 2021