Tax Filing: IRS Recommends This April Deadline to Pay Your Taxes (Even With an Extension)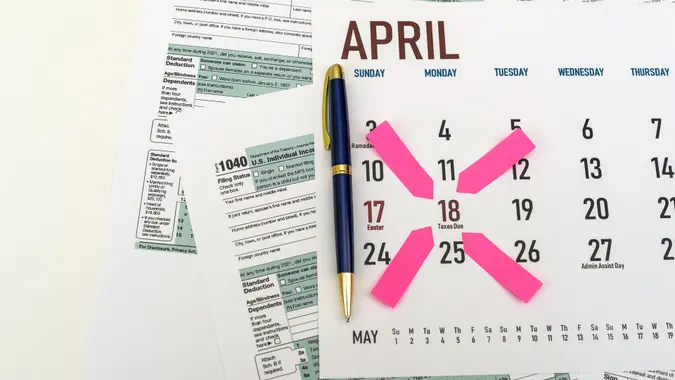 alfexe / Getty Images/iStockphoto
For most Americans, filing taxes is a dreadful obligation that comes with much frustration, little reward, and, in some cases, a penalty.
Refunds: The IRS Has Refunded $15.7B as of Feb. 3 — Here's How Much the Average Taxpayer is Getting Back
Discover: 3 Signs You're Serious About Raising Your Credit Score
Taxes are necessary, yet unpopular, so when it comes to the prework and your return, it's better to start the daunting task early or face the emotional strain that accompanies waiting until the last minute to file.  
As the IRS reports, tax season opened on January 23 and it recommends getting your tax return submitted as soon as possible, despite having a few extra days to file this year. Even if you have been granted a free six-month extension or are a perennial procrastinator, filing early is always encouraged.
A recent Chamber of Commerce study found that 31% of Americans put off filing their taxes until the last minute and a whopping 68% of those surveyed didn't know that Tax Day was April 18 instead of April 15 this year.
Taxpayers have until April 18 to file their taxes in 2023 instead of the traditional April 15 deadline because the 15th falls on a weekend and the District of Columbia's Emancipation Day holiday is on Monday, April 17. Storm victims living in Alabama, California and Georgia have until May 15 "to file various federal individual and business tax returns and make tax payments," per the IRS.
By filing early, you'll be able to ensure all information on your return is accurate and complete, you'll get any applicable tax refund earlier and you'll avoid potential delays caused by submitting your return to your tax preparer or the IRS at crunch time.
Despite adding more than 5,000 new telephone assistants and customer service representatives due to the passing of the Inflation Reduction Act in Aug. 2022, the agency will be working to capacity in April.
Take Our Poll: What Do You Plan To Use Your Tax Refund For?
Learn: What Is the Standard Deduction for People Over 65 in 2023?
"We continue to increase IRS staffing to help provide taxpayers with the information and assistance they need," said IRS Acting Commissioner Doug O'Donnell in a January news release. "The IRS reminds taxpayers to take some important steps when filing their tax returns for a smoother process. They should gather their necessary tax records, file an accurate return electronically and choose direct deposit to get their refunds faster."
More From GOBankingRates