Two Weeks Until Tax Day 2023: File in 10 Minutes with New AI-Generated 'Express Lanes'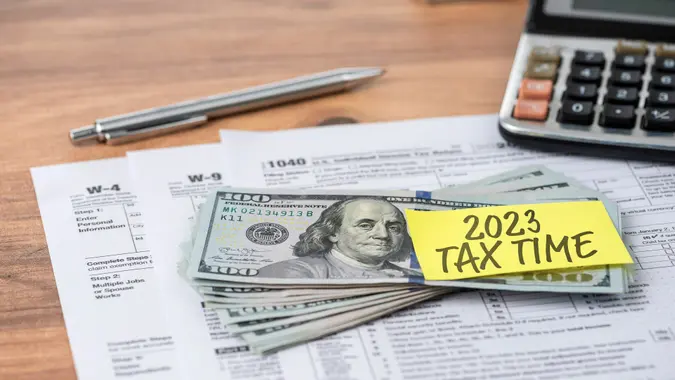 turk_stock_photographer / Getty Images/iStockphoto
For many, there are few things more serious and boring than doing your taxes, but with two weeks to go until Tax Day 2023, artificial intelligence might help some taxpayers get through the chore of filing in mere minutes.
Embracing machine intelligence at a time when industry leaders are penning open letters requesting a pause to the "AI arms race," tax preparation software giant TurboTax and its parent company Intuit have provided the means to complete one's taxes in as little as 10 minutes using an AI-guided "express lane," according to Fast Company.
Building upon current AI-based tech used in its customer service operations, TurboTax's service has been tested out with filers with simple tax situations, like processing a W-2 Form, says Varun Krishna, executive vice president and general manager at Intuit's Consumer Group.
For now, the technology is being offered to taxpayers for whom TurboTax already has data and personal information to reference and will "only ask the relevant questions that apply to them, then leverage AI, automation capabilities, and machine learning to dramatically reduce the amount of work they need to do to file," Krishna says.
The way forward for tax AI will involve creating new working models by harnessing technology and so far, the results have been positive for TurboTax's "express lanes." According to Krishna, the average time to complete the process on their phones is 11 minutes but there are some filers who have done it in three or four minutes.
There are other AI-powered tax preparation apps on the market, like AiTax and FlyFin, but Intuit and TurboTax are well positioned to grab the bull by the horns and take it to the bank given its existing foothold in the tax preparation market.
Among tax prep services, TurboTax held 73% of the market share as of May 2021, per Bloomberg Second Measure and the global tax preparation services market is expected to be worth $44.7 billion by the end of 2033, per research provider Fact.MR.
Take Our Poll: What Do You Plan To Use Your Tax Refund For?
Rapid technological changes affect all areas of life, including the areas of finance and tax. As AI emerges as a force it will only be a matter of time before it takes the human mind out of the tax equation entirely.
"We're excited about it," Krishna says. "We're relentlessly trying to innovate, and we're not done yet."
More From GOBankingRates