W-2 vs. W-4: How To Manage Your Taxable Income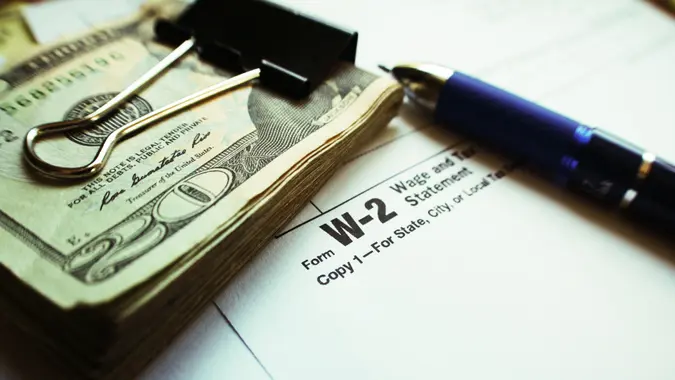 Darren415 / Getty Images/iStockphoto
When you work for an employer, your company is responsible for withholding a portion of your paycheck for federal taxes, as well as reporting your income and withholding to the government for tax purposes. But with all the different tax forms, it can be difficult to remember the difference between a W-2 and a W-4.
See: Tax Mistakes Everyone Makes — and How To Avoid Them
Form W-4 helps an employer calculate how much to withhold, and Form W-2 tells the employee and the IRS how much the employee earned and how much was withheld during the year. Understand how to use these IRS forms so that you can ensure you file your taxes correctly.
What Is a W-4?
The W-4 is the form that an employer uses to determine how much to withhold from an employee's paychecks for federal taxes. The form gives your employer two vital pieces of information: your filing status — married or single — and the number of allowances you claim. Each allowance the employee claims reduces the amount of their paycheck that is subject to withholding. If you have too much withheld, you'll get the excess back in the form of a tax refund.
Find Out: How To Fill Out a W-4
What Is a W-2?
The W-2 form contains an employee's annual wages and the amount of taxes withheld from their paycheck. At the end of the year, the employer sends both the employee and the IRS a copy of the employee's W-2 form so that all applicable parties have correct information concerning taxable income, as well as how much was withheld for the year.
Learn: What To Do If You Lost Your W-2
W-4 vs. W-2: What Are the Differences?
The main difference between a W-2 and a W-4 is who fills out each form. A W-4 form is a form an employee fills out that helps their employer decide how much in taxes to withhold from the employee's paycheck. The W-2 form is the form filled out by the employer to report the employee's annual wages and amount of taxes withheld from the employee's paycheck. Your employer will also send you your W-2 for your records, which you must attach to your tax return. Understanding the details of your W-2 and W-4 are key if you want to file your taxes successfully.
Claiming Exemption From Withholding on Your W-4
In some cases, you might qualify to claim an exemption from withholding for federal income tax, which means your employer will not reduce your salary for any federal income tax. You can claim an exemption from withholding on your W-4 if both of the following are true:
You had no income tax liability in the prior year and,
You do not expect to have any tax liability in the current year.
Read: All the New Numbers You Need To Know for Planning Ahead on Taxes
Updating Your W-4 for Your Income Tax Return
You can, and should, update your W-4 over time as your personal circumstances change.
Examples of when you need to file a revised W-4 include:
Getting married, as you might need to

change your filing status

.

Getting divorced or if your spouse dies, as you might need to change your filing status.

Having or adopting a child, so you can claim at least one additional allowance,

if not more, for certain child-related tax credits.

Starting a second job or side hustle;

you can request an additional amount to be withheld from your main job so that you don't have to

make estimated tax payments

.
If you want to change your tax withholding, the IRS has provided a Withholding Calculator for you to determine if you should.
How Does Your W-2 Affect Your Tax Refund?
Your W-2 form is important in determining the amount of your tax refund. After you calculate your tax liability for the year, subtract the withholding amount your employer reported on your W-2, according to TurboTax. This amount will help you see if you can expect a tax refund.
When Do You Receive Your W-2?
You should receive your W-2 by the end of January every year for the previous year of work. That means for the 2020 calendar year, you should receive your W-2 from your employer by Jan. 31, 2021.
Read more about the receipts you should keep for doing your taxes.
More From GOBankingRates
Taylor Bell contributed to the reporting for this article.