What To Do Now for Next Tax Season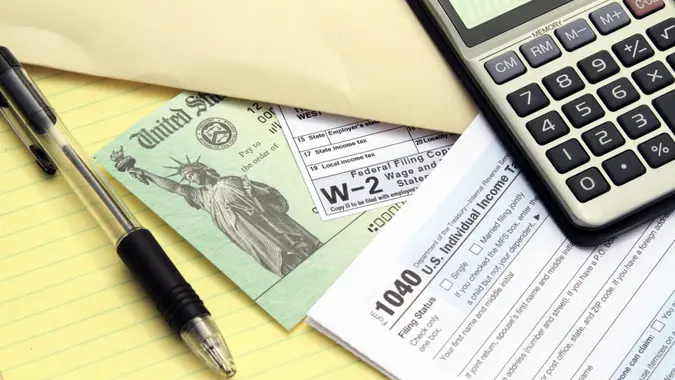 NoDerog / Getty Images/iStockphoto
The waning days of tax season are here and, unless you're a last-minute procrastinator, you've put your returns to bed, paid the IRS its due and hopefully already collected your refund. Naturally, the last thing on Earth you want to think about right now is next year's taxes — but you should.
Advice: 9 Bills You Should Never Put on Autopay
Good Question: What Is the Chase Cashier's Check Fee?
What you do today can make 2023 a whole lot easier or a whole lot rougher. While you don't need to bust out the calculator or call your accountant, a little general administrative housekeeping can go a long way toward making this time next year as painless as possible.
Here's what you can do now to prepare for next tax season.
Adjust Your Withholdings
If you received a big refund, that's money that you — not the IRS — should have been spending, saving or investing all year long. Don't worry. There's a relatively simple fix to avoid overpaying the government throughout the year again this time around. All you have to do is adjust your withholdings and submit a new W-4 to your employer to try to get as close as you can to breaking even.
"The easiest way to tell how much you should withhold is to use the IRS's withholding calculator," said Carter Seuthe, CEO of Credit Summit Consolidation. "You'll need information about your current income as well as your spouse's, if applicable, and any additional income sources, including things like dividends."
POLL: How Much Do You Expect Your Tax Refund To Be This Year?
Organize and Keep This Year's Documents in a Safe Place
Most people know to keep a copy of their tax returns, but don't let your recordkeeping stop there. You should keep copies of all pertinent documents that you referred to while filing — including receipts for deductions, financial statements from your bank or brokerage, important letters from the IRS and W-2s and 1099s from anyone who paid you income. You might need them if you're audited or if you need to file an amended return.
"Start organizing for next year," said CPA Tatiana Tsoir. "Keep any IRS letters on file. You might need to refer to them again in the future."
The IRS asks taxpayers to keep their documents for three years after filing their returns.
Keep Track of Every Unemployment Check
If you collected even one unemployment check this year, or if you do so before year's end, it's important to keep a tally of every single dollar you receive. If your jobless spell doesn't last long, after all, a few payments will be easy enough to forget by April of next year.
"Many people forget that they may have collected even just one or two checks," Tsoir said. "These still need to be accounted for."
Also Discover: 10 Things Most Americans Don't Know About SNAP
Did You Launch a Side Hustle? Pay Quarterly Estimated Taxes
If you joined the gig economy this year, you're required to pay your income taxes as you go, the same as you do when your regular employer pulls money from your paycheck every month to pass along to the IRS on your behalf. Small-time side hustlers and other self-employed people don't have to worry about it; but, if you believe you'll owe the IRS $1,000 or more, you have to pay estimated quarterly taxes four times per year. If you don't, you'll be hit with an underpayment penalty.
The following are the quarterly deadlines for 2022:
April 18
June 15
Sept. 15
Jan. 17, 2023
Plan a Tax Loss Harvesting Strategy
If you're an investor, start planning to offset your capital gains by strategically selling other securities at a loss — it's a perfectly legal but underutilized plan of action.
"The tax loss harvesting strategy is a great last-minute tax-saving method that you may not be aware of," said Mikkel Jensen, U.S. director of Ageras, an online marketplace that connects business owners with accountants. "The tax loss harvesting strategy involves selling some investments at a loss to offset gains realized by selling other stocks at a profit. So, you only pay taxes on your net profit, which is the amount you gained minus the amount you lost, reducing your tax bill."
Again, now is the time to start planning and preparing. When the clock strikes midnight on New Year's Eve, it will be too late.
"You have to complete sales transactions before the end of the tax year in order to harvest losses and reap their benefits," Jensen said.
Keep Up With Changes to the Tax Code
One of the best things you can do between this year and the next is to stay up to date on changes to the tax code and IRS alerts and bulletins. The tax code is always evolving; and, with 2021 being such a strange tax year, you can bet that doing your taxes in 2023 will be a much different experience than it was this year.
To keep up with all the important changes you'll need to know, the IRS recommends subscribing to its IRS Tax Tips newsletter and signing up for news releases from IRS Newswire. You can also follow @IRSnews on Twitter.
More From GOBankingRates