Why You Should Use a Tax Pro This Year — Even If You've Never Needed One Before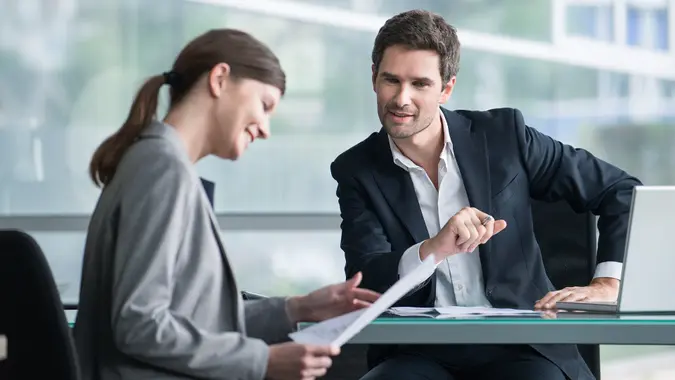 PhotoAlto / Eric Audras / Getty Images
For some people, having a good accountant is like having a good doctor. They leave their taxes to the pros, pandemic or no pandemic, and there's plenty of wisdom to that logic.
Find Out: Pros and Cons of Living in a State With No Income Tax
Read More: Top Tips for Painless Tax Prep
"It's always a good idea to use a tax professional," said Shelli Woodward, an analyst with Merchant Maverick with more than 16 years of tax experience. "Tax pros are up-to-date on the latest tax laws and can help you find deductions that may have been overlooked. If you are new to owning a business or a side gig, you could be missing out on several tax deductions, and having someone to ask questions will help you identify potential savings. In addition, there may be state-specific deductions that could really help save on taxes."
So for all you people who get by just fine filing your own taxes most years, just be aware — 2021 wasn't most years. Here's why you should consider hiring a tax professional in 2022, even if you never have before.
The Pandemic Forced Major Changes That Are Unique to 2021
If you didn't use a tax professional last year, you might not need to again next year, and that's probably just fine. "The truth is, a lot of people can handle their tax returns on their own," said Kari Brummond, a tax preparer with TaxCure. "If you just have some W2 income, it's easy enough to use tax prep software."
However, tax year 2021 had a whole lot going on that never happened before and likely won't happen again in the foreseeable future. If you're ever going to enlist the help of a CPA, a tax attorney, an enrolled agent, or a similar professional, this should be the year. 
First of all, some protections from 2020 expired that could trip you up on your 2021 returns. Older filers, for example, are required to restart required minimum distributions from their retirement accounts. Then there were leftovers from 2020 that didn't expire, like changes to charitable deductions that could result in hundreds of dollars in tax savings for certain donations, even if you don't itemize.
Related: Didn't Get Your Child Tax Credit? Here's How to Track It Down
There were plenty of new changes to contend with, as well, including the expanded Child Tax Credit, which filers must reconcile if they received advance payments. Those who earned more money than they expected in 2021 might have to pay some or all of it back. The health insurance exchange capped premiums at 8.5% of any given household's income, but here, too, filers who earned more than expected might have to repay some of the benefits that were credited to them.
This list is by no means exhaustive — these are just some of the biggest changes that affect the most people. But it shows just how unusual tax year 2021 turned out to be and how much there is to keep track of.
Taxes Got More Complicated for New Entrepreneurs and Side Hustlers
The gig economy broke all records in 2021, as millions took on side hustles to make ends meet or as pursued entrepreneurial ventures after they quit their jobs in the Great Resignation. In doing so, they left the cozy comfort of W2 paycheck work and the paint-by-number tax preparation that goes with it.
"As your situation gets more complicated, you should reach out for professional help," said Brummond. "In particular, this applies to small business owners, anyone with freelance or gig economy income, or day traders with investment income. A tax professional can ensure your return is filled out correctly. They help you avoid errors that could lead to processing delays and ensure you get all the credits you're entitled to."
Pay Attention: If You Did Gig Work in 2021, the IRS Says You Owe Taxes
New freelancers and other contractors have to learn how to do more than just keep track of W-9 gig income. By enlisting professional help during their inaugural year, they can learn how to estimate quarterly tax payments and take advantage of benefits they might not have known existed.
"They should be able to help you determine if you qualify for deductions that you're overlooking like the home office deduction or the health insurance deduction for self-employed people," Brummond said. "They can also help you deal with issues like converting personal assets into business assets — for example, if your personal computer is now exclusively your business computer, you can claim depreciation based on its value. Even if you bought it years ago, you can essentially sell it to your business and claim the deduction."
Learn: 5 Things You Should Discuss During Your First Meeting With a Financial Advisor
Small Businesses Risk Leaving a Lot of Money on the Table
If the pitfalls of 2021 could force individual taxpayers to forfeit credits or overpay their taxes, small business owners stand to lose even more. Crystal Stranger, EA, author of "The Small Business Tax Guide" and international tax director for the corporate tax and bookkeeping firm GBS Tax, offers just one example of why business owners can't afford to go it alone this year, even if they have in the past.
"The Economic Recovery Tax Credit (ERTC) was made available for 'startup recovery businesses' for the last two quarters of 2021 only," said Stranger. "Many people are confused if they can qualify for this as the infrastructure bill rescinded the credit for the fourth quarter for most businesses, but left startup recovery businesses to be able to collect this massively valuable credit. The ERTC gives a credit for up to 70% of the wages paid in Q3 and Q4 by businesses that started after Feb. 15, 2020, up to a total credit of $100,000."
If this is hard to comprehend, definitely find a tax pro to help you out.
More From GOBankingRates