Is Paying Off Debt or Bills With Your Tax Refund Good for the Economy?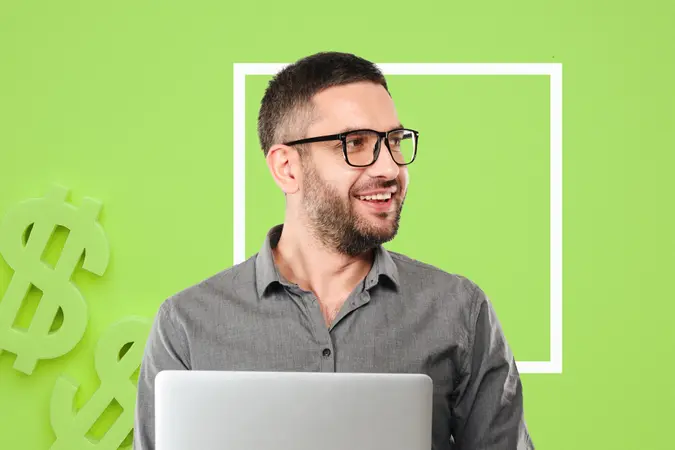 The IRS will start issuing tax refunds as early as mid-February. For many Americans, it will be the only windfall of 2022 — and how they plan to spend it speaks volumes about the toll the last two years have taken.
Taxes in 2022: Find Out Everything You Need To Know About Filing, Refunds and More
Important: Major Tax Changes for 2022 You Need To Know
GOBankingRates surveyed 1,000 American adults, and the results revealed that for most people, this year's refund won't translate into jet skis or European riverboat cruises. Most people have plans for their refunds that are much less exciting and far more pragmatic. And this year, that's good news — mostly.
This Year, Bill Collectors and Lenders Will Get Most of America's Refund Checks
The study revealed that almost 20% of respondents plan to splurge and about 10% plan to travel. Another 15% or so will invest their refunds and nearly 45% will put it into savings. Three out of four, however, are planning to use their refunds to pay bills or pay down debt, and they're doing both in roughly equal percentages — 38.2% and 37.4%, respectively.
The younger sets through middle age demographics are more likely than older Americans to dedicate their refunds to satisfying their lenders and paying the bills. Women are more likely than men to do either.
Find Out: Reasons You Might Not Get a Tax Refund This Year
The Pandemic and Inflation Are Still Here, but Stimulus Is Not
2021 was a hard year, but one that came with $1,400 stimulus checks, thousands in advance Child Tax Credit payments, expanded unemployment and rent protections that have all since expired.
In 2022, most people are on their own again — and the results of the study show that the masses are taking it seriously, and that's positive news.
"This is absolutely a good sign," said Ayelen Osorio, content editor and finance blogger with the crypto-trading platform Netcoins. "Using tax refunds to pay off debt or make room in their budget is a very good strategy. It shows that people are responsible with their money and have been making wise money management decisions."
More: Should You File Early This Year?
If You Have Credit Card Debt, You Already Spent Your Refund
Your refund isn't a stimulus payment. It's income that the government siphoned from your paycheck throughout the year, forcing you to overpay your taxes. If you have a lot of credit card debt, your employer might be withholding too much money from your paycheck, which could be forcing you to charge purchases that you might have been able to cover with cash if you had kept more of your money.
Consider adjusting your withholdings, but in the meantime, treat your refund as owed money — paying off debt, after all, is an investment in yourself.
"Eliminating credit card debt is a particularly smart move because that effectively generates a return of 13% or more annually," said Sean Fox, president of Freedom Debt Relief. "Think of it this way: If your credit card charges 15% interest, and you pay it off, you avoid losing 15%, which is, in effect, making a 15% return. Plus, you have that money to save or invest, meaning it can earn more money for you. Or, think about what happens if you have credit card debt of $3,000 with an 18% interest rate. A standard minimum payment of 3% would be $90 per month. Paying just that, which does decrease over time, will amount to $2,698.44 in interest and take almost 16 years to pay off. That means the item you bought will cost you almost double its purchase price — and, you won't have the chance to invest that money and earn something on it."
Important: Tax Mistakes Everyone Makes — and How To Avoid Them
'This Is One of Those Years'
The results of the study could be interpreted to mean that people are wising up and thinking about their own financial futures — but it could also mean that they're desperate and afraid.
"Unfortunately, people could be spending their tax refunds responsibly because they are feeling financially insecure," said Brittany Kline, a personal finance expert and co-founder of The Savvy Couple. "This may not be a good sign for the economy, which is still feeling the effects of a two-plus-year-long pandemic."
Learn: Best and Worst States for Taxes — Ranked
Andrei Vasilescu, co-founder and CEO of DontPayFull, agrees.
"I'd love to say that this is normal, usual behavior I always see during tax season," he said. "But I'm afraid it's not a great sign of financial literacy and responsibility among the population, but one of financial insecurity. In previous years, most people would indulge a little bit with their tax refunds, but knowing that the money is going towards debt means that people are feeling the need to use even their 'fun' money for practical things. I'm not saying people are never responsible with their tax refunds, but, you know, there are leaner years and fatter years — years when you feel confident blowing your money on non-essentials and years when you're keeping your wallet tightly against you. This is one of those years."
More From GOBankingRates
Methodology: GOBankingRates surveyed 1,000 Americans aged 18 and older from across the country between January 31 and February 1, 2021, asking six different questions: (1) How do you plan on filing your taxes for this year?; (2) When do you expect to file your taxes this year?; (3) How much do you expect to receive in a tax refund?; (4) What do you plan to do with your refund? (Select all that apply); (5) Do you feel confident you are receiving all the deductions you feel qualified for?; and (6) If you received the Child Tax Credit this past year (2021) how do you feel it will affect your taxes? All respondents had to pass a screener question of: Do you plan to file taxes in 2022?, with an answer of "Yes". GOBankingRates used PureSpectrum's survey platform to conduct the poll.