Lack of Stimulus Not Only Reason for Smaller Tax Returns — How You Spend Refund Amid Inflation Matters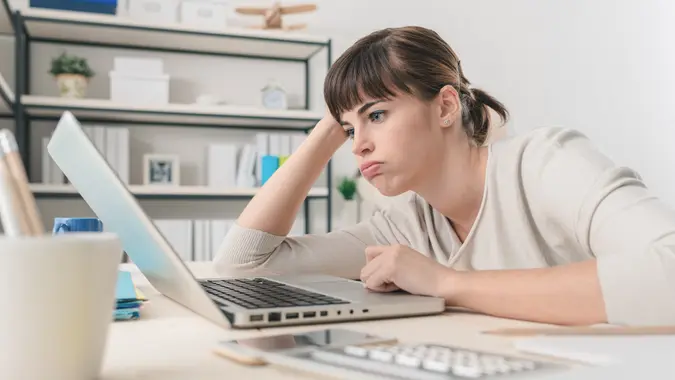 cyano66 / iStock.com
Roughly 75% of all Americans received a tax refund in 2022. The average refund, according to IRS data reported by CBS News, was nearly $3,200. This was a 14% increase over the prior year.
But American taxpayers awaiting the same windfall this year may be in for disappointment. The IRS warned in a news release in late 2022 that tax refunds in 2023 may be smaller.
Additionally, due to increased inflation in 2023, the refund you do receive may not stretch as far. Essentially, this tax season may give people less reason to celebrate. Here are some things that could go wrong — and how you can make the best of it in this uncertain economic climate.
Your Refund Could Be Smaller This Year
Last year, Americans received an enhanced Advanced Child Tax Credit. Those who didn't take the additional funds upfront in 2021 were able to claim it on their federal income tax returns in 2022. When the federal government let the enhanced CTC expire — which had previously resulted in hundreds of additional dollars for many families — it meant that tax refunds might be smaller.
Additionally, the government also let an enhanced tax break for charitable deductions expire in 2022.
Your Refund Could Take Longer to Process
The IRS has stated that most tax refunds are processed within 21 days for taxpayers who file electronically and choose direct deposit. But any errors on your tax return can delay your refund. If you claim the Earned Income Tax Credit (EITC), the IRS cannot issue your refund until mid-February.  
Your Money Won't Go As Far Due to Inflation
Even if everything goes right and you receive your refund as expected, that money may not stretch as far due to inflation.
How you spend your tax refund could matter for your financial future. With a recession on the horizon, experts are recommending people use their tax refunds to pay down debt or bolster their emergency savings account. You want to have a few months worth of living expenses in there, plus cash to cover insurance deductibles or emergency expenses such as unexpected home repairs.
See: 3 Big Reasons You Could See a Smaller Tax Refund This Year
Discover: 20 Items Costco Superfans Say To Stop Buying Due to Inflation
If you're in good shape with savings, consider adding to your 401(k) retirement plan, opening a Roth IRA, or even investing in stocks while the market is still down.
More From GOBankingRates