Stimulus Update: One State Issues $500 Refund Checks to Tax Filers — Do You Qualify?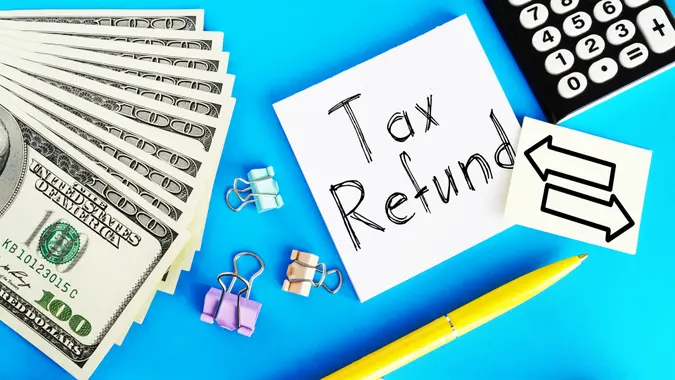 Andrii Dodonov / Getty Images/iStockphoto
Many grateful Georgians may have already received extra money as the state began issuing its first round of surplus tax refund checks yesterday.
For a second consecutive year, lawmakers approved Governor Brian Kemp's request to issue income tax refunds to eligible state taxpayers. These refunds will cost a projected $1 billion of the $6.6 billion in surplus revenue held over from its last budget year, Fox 5 Atlanta reported.
"Georgia is once again in a position to issue surplus tax refunds thanks to years of responsible, conservative budgeting and because we chose to protect both lives and livelihoods during the pandemic," Kemp said, per the Athens Banner-Herald.
Both the income tax rebate and a separate $950 million property tax rebate are fulfilled campaign promises made by Kemp during his successful re-election run last year.
In March, Gov. Kemp signed House Bill 162, a bill for taxpayers who have filed returns for both 2021 and 2022. Those eligible should receive rebate checks of $250 for single filers or married taxpayers who filed separately, $375 for heads of households, or $500 for married joint filers.
Residents qualify for a refund if they filed taxes in both the 2021 and 2022 tax years, though no one can get back more than they paid in state income taxes in 2021. Eligible recipients will be sent a check or have funds directly deposited.
Those without a tax liability, including many retirees who don't owe state income taxes, won't get any money. However, taxpayers who were claimed as a dependent and had a tax liability in 2021 also are eligible for the refund.
Since the last of the three federal stimulus checks were distributed in 2021, many states have been using surpluses to issue tax rebates, relief checks or stimulus payments to their residents to aid in the fight against high inflation.
Georgia residents can review the status of their refund online two to three weeks after filing their tax return. You'll need to know an expected amount of your refund and provide your Social Security number. You can also call the Georgia Tax Center telephone service at 1-877-423-6711.
Taxpayers who filed by the Apr. 18 deadline should expect to receive their refunds by the end of June. Refunds will not be issued until a taxpayer's 2022 returns have been processed. Taxpayers who received a filing extension will not get their refunds until their returns have been filed.
More From GOBankingRates