Bernie Sanders Wants To Make It Impossible To Be a Billionaire: How the Ultra-Rich Legally Pay Less Tax Than You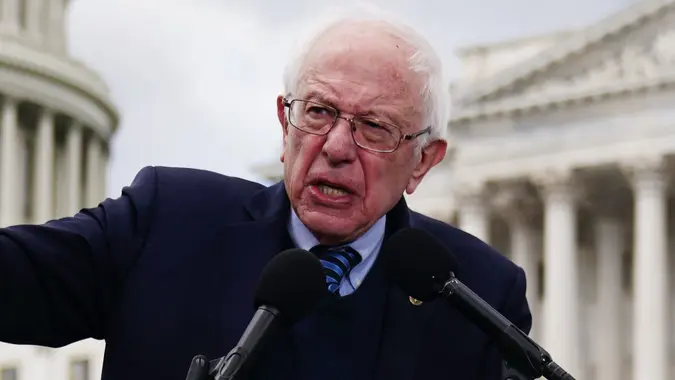 WILL OLIVER / EPA-EFE / Shutterstock.com
Sen. Bernie Sanders isn't against any particular billionaire, but thinks that the United States government should confiscate some wealth over the billion-dollar threshold. In a recent CNN interview with Chris Wallace, Sanders said, "…I think people can make it on $999 million. I think they can survive just fine."
The long-time Vermont senator has been outspoken about tax reform and has stated a desired emulation of the Eisenhower administration — when the country had "a very progressive tax policy." That way, the ultra-rich are forced to pay their fair share.
What's Happening Now
Currently, the 25 wealthiest people in America are paying little to no tax relative to their fortune. The non-profit investigative journalism organization ProPublica conducted research into this and published these statistics in 2021:
Investor George Soros paid no federal income tax for three years in a row.
Tesla CEO Elon Musk paid no federal income tax in 2018.
Amazon CEO Jeff Bezos paid no federal income tax in 2007 and 2011.
ProPublica also revealed that the billionaires' true tax rate during the period studied was 3.4%. And world-renowned investment guru Warren Buffett's true tax rate came in at just 0.1%. Meanwhile, the typical wage-earning American household paid 14% in federal income taxes.
Take Our Poll: Are You Concerned About the Safety of Your Money in Your Bank Accounts?
How You Can Benefit From Tax Loopholes
Fortunately, you can reduce what you pay in taxes. Did you know that the average person can benefit from the same tax loopholes as the members of the billionaire's club? While the term "loophole" may sound dishonest, discovering ways to make the country's tax code work for you is perfectly legal.
You can lower your tax liability and build wealth by:
You can also invest in real estate using crowdfunding platforms like Realty Mogul.
More From GOBankingRates