Paid Family Leave at a Cost: How Much Coloradans Will Be Taxed in 2023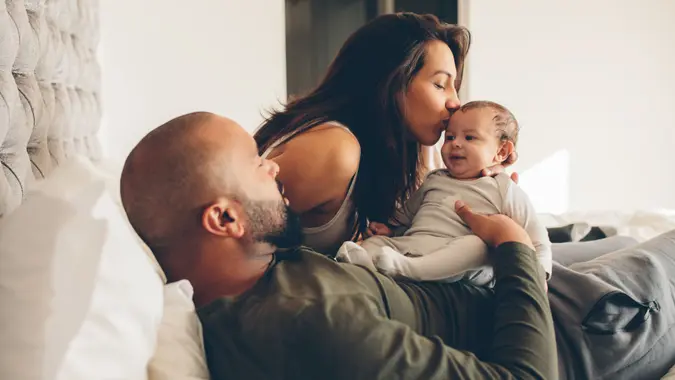 jacoblund / Getty Images/iStockphoto
As compared to other developed nations, critics often claim that the U.S. government does not offer enough support in the form of paid leave for new parents or those caring for ill, injured or disabled relatives. While the decades-old Family Medical Leave Act provides job protection to new parents, adoptive parents or foster parents within the first year of the event — and to those caring for relatives — it doesn't provide pay.
See: 6 Shakeups to Social Security Expected in the New Year
Food Stamps: What Is the Maximum SNAP EBT Benefit for 2023?
It is typically left to employers to decide if they want to offer paid family leave, maternity leave, or paternity leave to employees. According to ABC, the U.S. is the only country in the developed world that does not offer maternity leave.
However, state legislatures are working to change that. Currently, a handful of states have paid family leave programs in place, with more on the way.
Colorado Introduces Paid Family and Medical Leave Insurance
Colorado legislators signed the Family and Medical Leave Insurance (FAMLI) Act into law in 2022. The mandatory program will pay employees between 37% and 90% of their weekly wages, depending on their income, up to a maximum annual benefit of $13,200 for those in the top tiers (those earning a weekly wage of $2,000 or more).
Employers with 10 workers or more are required to provide this insurance. Self-employed individuals can choose to opt in.
But the benefit doesn't come without a cost. Premium payments equal 0.9% of an employee's salary, with that cost split down the middle between the employer and employee. According to the state of Colorado FAMLI website, deductions are taken from post-tax dollars, so they don't reduce an employee's tax liability. The state has provided a premium and benefits calculator to the public.
Who Does Colorado's FAMLI Plan Cover?
Colorado FAMLI covers employees who are caring for a new infant (or a new adopted or foster child), caring for a family member's serious health condition, arranging for the deployment of a family member in the military, or addressing immediate needs resulting from domestic violence or sexual assault. FAMLI claims can also be filed as paid medical leave for an employee's health condition, as long as the injury or illness did not occur as a result of their job. In that case, worker's compensation would pay for leave.
Take Our Poll: How Long Do You Think It Will Take You To Pay Off Your Credit Card Debt?
More: 10 Things To Stop Buying in 2023
Given the maximum benefit limits, it's unlikely Colorado workers can live exclusively on FAMLI benefits if they need to take leave. Supplemental insurance or savings will be required in most cases. It's also important to note that workers will not be able to claim benefits until Jan. 2024, when the law goes into full effect. In the meantime, Colorado workers can expect a slightly smaller paycheck beginning with the first pay cycle of 2023.
More From GOBankingRates