Tax Brackets vs. Flat Tax Structure: Pros and Cons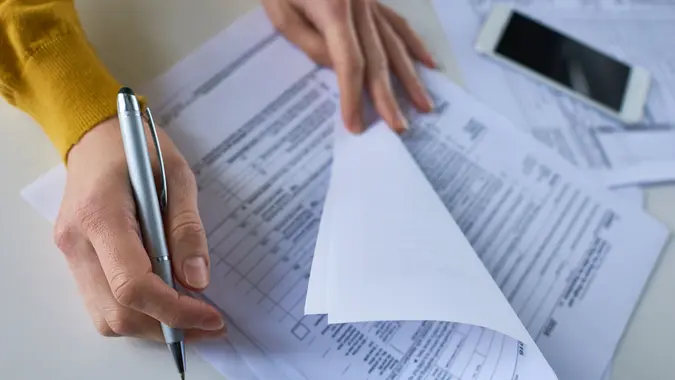 mediaphotos / Getty Images/iStockphoto
When it comes to taxation, there are two primary schools of thought as to how it should be done. The first, which is currently used in the United States, is a progressive tax schedule. The second is a flat tax schedule. The differences between the two are fairly significant, and choosing one over the other is the subject of endless debate among economists, politicians and taxpayers alike. But, how exactly are progressive and flat taxes different, and what are the pros and cons? Here's a quick overview.
Find Out: How 2023 Recession Will Differ From 2008 and How You Should Prepare Differently
See: 3 Ways Smart People Save Money When Filing Their Taxes
Do You Have a Tax Question? Ask a Tax Pro 
Progressive Tax Schedule
Under a progressive tax schedule, the more that you earn, the higher the tax rate that you pay. But it's important to note that in a progressive tax system, different tax rates apply to different levels of your income. 
For tax year 2022 (2023 filers), there are seven tax brackets, ranging from 10% to 37%. Everyone pays 10% tax on their first $10,275 of income ($20,550 for joint filers). At the top of the tax bracket range, those with taxable income over $539,900 ($647,850 for joint filers) will pay a 37% tax on each extra dollar of income that they earn above those levels.
Under a progressive tax system, various deductions or credits are allowed that can reduce the amount of tax that someone ultimately pays. The net effect of all these is that about 40% of Americans are projected to pay no federal income tax at all for tax year 2022.
Take Our Poll: How Do You Think the Economy Will Perform in 2023?
Flat Tax Schedule
As the name suggests, under a flat tax system, everyone pays the same rate on all of their income. For example, under a 24% flat tax system, all Americans will pay 24% on all of their income, no matter how much or how little they earn. Under a strict flat tax system, no deductions or credits are allowed.
Pros and Cons of Using Tax Brackets
The ongoing debate about progressive vs. flat taxes isn't likely to end, as what some view as a pro for a certain system is seen as a con by those on the other side of the argument. Here are the main characteristics of each system, along with brief descriptions as to why each may be seen as either a pro or a con:
Progressive taxes are more advantageous for lower-income individuals.
Under a progressive tax system, the more you earn, the higher the rate you pay. This helps protect lower-income taxpayers, as taxes represent a much higher proportion of their disposable income. 
Progressive taxes hit higher earners harder.
Some view the large jumps in the tax rate for higher earners to be a penalty for earning more money. 
Progressive taxes allow tax loopholes for higher earners.
Deductions and credits can help the lowest-income taxpayers pay no federal income taxes at all. However, they also allow for extensive tax breaks for the highest-income earners that aren't very accessible to those earning lower incomes. 
A flat tax doesn't penalize high earners.
Under a flat tax system, taxpayers owe the same rate whether they earn $10 or $10 million. This appeals to the sense of fairness for those who believe higher earners shouldn't be penalized for being financially successful.
A flat tax disproportionately affects lower-income Americans.
For lower-income Americans, taxes represent a much larger portion of their disposable income than higher earners. Without deductions and credits to protect their income, a flat tax will raise taxes on lower earners at a disproportionate rate. 
The Bottom Line
Both progressive and flat tax systems have pros and cons. Economically, a progressive tax reduces the burden on those who can least afford it. However, this does transfer some of the burden to those earning higher incomes, which some see as a disincentive to earn higher wages — or even a punishment for those who are more successful financially. 
More From GOBankingRates