Is the Real Estate Market Ready for a Comeback? It Depends on Who You Ask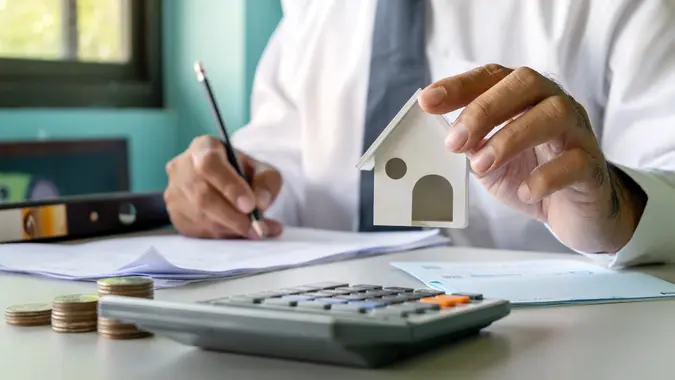 arthon meekodong / iStock.com
If you want a definition of "mixed bag," look at how different experts view the U.S. real estate and housing markets in 2023. On the one hand, mortgage rates have been nudging lower amid signs that the Federal Reserve will ease back on its interest rate hikes. That's a good sign for the housing market.
See: 3 Things You Must Do When Your Savings Reach $50,000
Explore: What Is the Current State of the Housing Market in Your State?
Mortgage applications are up by about 25% since the end of 2022, the Wall Street Journal reported. Signed real estate contracts increased in December following six months of declines. Meanwhile, the number of people who are contacting real-estate agents to start the buying process has rebounded from a November low, according to Redfin Corp.
On the downside, mortgage rates are still high compared with the last couple of years (although low from a historical perspective). And while home prices in many markets have been falling, they're still historically high.
Existing home sales in the U.S. fell 1.5% to a seasonally adjusted annual rate of 4.02 million in December, according to National Association of Realtors (NAR) data. It was the 11th straight month of declining sales — the longest such streak in more than 20 years.
Given these trends, it's not surprising that different housing experts have varying opinions about whether the real estate market is ready for a comeback. Here's a look at how some of them view the market.
Economists
Economists at Zillow forecast that U.S. home values will decline 1.1% from November 2022 to November 2023, Fortune reported. "In the standoff between buyers and sellers, neither side has fully capitulated, but more sellers have been accepting lower offers," Zillow economists wrote.
Fannie Mae economists estimate that U.S. home prices will decline 1.5% in 2023 and another 1.4% 2024. Fannie Mae recently modeled an average 30-year fixed mortgage rate of 6.3% in 2023 and 5.6% in 2024. Lower prices and mortgage rates should help home sales in many U.S. markets.
Take Our Poll: What Are Your Financial Priorities in 2023?
Home Builders/Realtors
In a January meeting with analysts, executives at No. 1 U.S. home builder D.R. Horton said they saw heightened sales activity during the first few weeks of 2023, the WSJ reported. The builder expects net sales to rise significantly from the first quarter to the second, when the spring selling season kicks off.
An analysis from the NAR found that pending home sales rose 2.5% in December, helped by gains in the South and West. In parts of southern California, contracts signed in January rose for the first month since August.
Falling home prices might contribute to an uptick in sales. In a recent interview with Fortune, Keller Williams Realty Chief Economist Ruben Gonzalez said he expects median home prices as tracked by the NAR to fall 10% from top to bottom, with a possible trough during the first half of 2023.
But economists at Realtor.com have a different take, predicting that the median price of existing homes will rise 5.4% in 2023 while mortgage rates average 7.4%.
Analysts
Last month, analysts at Goldman Sachs revised their U.S. housing market outlook upward, projecting that U.S. home prices will fall only 2.6% in 2023 after previously forecasting a 4.1% dip. On a regional basis, Goldman expects larger declines across the Pacific Coast and Southwest regions and more modest declines across the Mid-Atlantic and Midwest, where homes tend to be more affordable.
Bank of America analysts have a less upbeat outlook for home prices, predicting that prices will decline by about 10% peak-to-trough. "We expect a home price correction (down 10%) rather than a crash (down 15-20%)," BofA researchers wrote in a Jan. 11 report.
Find: Why Mortgages Become More Costly After Fed Rate Hikes
Housing Market Crash: What Cities Could Be Impacted the Most?
That outlook is similar to the one recently published by Moody's Analytics. A lot depends on what the economy does. If the U.S enters a recession, Moody's expects a top-to-bottom home-price drop of 15% to 20%. But If mortgage rates turn out to be lower and/or household income growth stronger, "then the house price declines won't be as severe," Moody's Chief Economist Mark Zandi told Fortune.
More From GOBankingRates