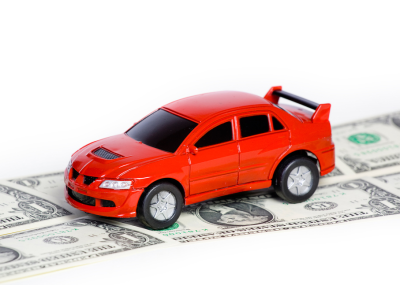 Those who are lucky to be receiving a tax refund this year have a tough decision ahead; that chunk of cash can be tucked safely away in a savings account, used to pay off nagging debt or — most enticing — splurged on a big purchase. However, taxpayers could find that there is no better opportunity than now to use that big tax refund as a down payment on an auto loan.
Top 5 Hidden Costs of Buying a Car >>
Tax Refunds and Car Buying
An eBay study from April 2013 found that about a third of U.S. taxpayers who were expecting a refund that year planned to use the money for vehicle-related purchases. According to the study, of those respondents who claimed they will be using their refunds on car-related expenses, 25 percent planned to purchase either a new or used vehicle.
Ricky Beggs, editorial director for used-car pricing guide Black Book, told MarketWatch that the period between February and April is actually known as "tax buying season," when car dealers can make up to 45 percent of their total used car sales.
While the IRS is still processing tax returns, it estimates the average refund is about $3,034 this year. That would equate to a 20 percent down payment on a $15,170 car loan.
So why is the idea of using a tax refund to purchase a car so attractive? As the Fed rolls back on its quantitative easing initiative, which kept interest rates artificially low for more than five years, rates will begin to rise again, making the cost of borrowing increase as well. In fact, mortgage rates have already begun their slow ascent from historic lows, and some believe it wouldn't be surprising if they reached 5% by the end of 2014.
But what about auto loan rates? While we're seeing long-term interest rates climb in response to present monetary policy, short-term rates like car loans have barely budged. Today, the average three-year auto loan rate in the U.S. is just 3.26%, and many institutions are offering rates under 1% to top-tier borrowers.
Of course, like mortgage rates, car loan rates won't stay this low for too much longer. Eventually, auto lenders will need to increase the cost of borrowing to match the national rising rate trend. For anyone considering a vehicle purchase, this tax season might be the last chance to get in on an auto loan at a rock-bottom rate.
Average Auto Loan Rates in the United States
Below are average auto loan rates in each state. Rates are new cars with 3-year, 4-year and 5-year terms.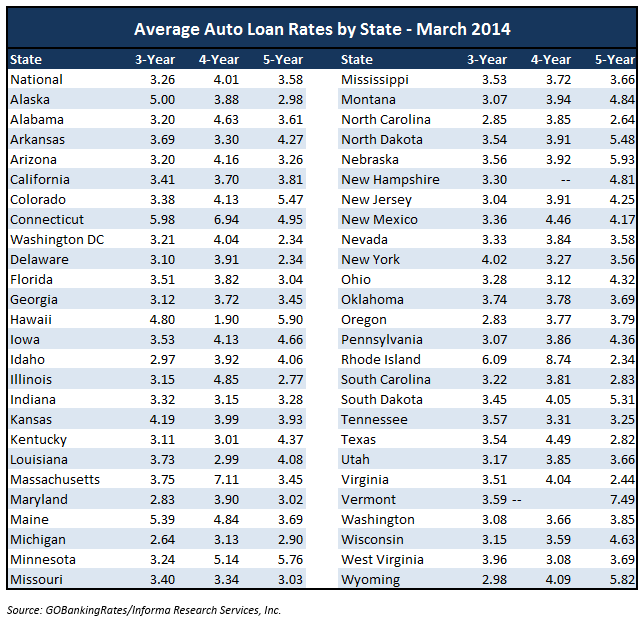 5 Cheapest States for Financing a New Car
Hawaii: 4-Year New Auto Loan, 1.9%
Delaware: 5-Year New Auto Loan, 2.34%
Rhode Island: 5-Year New Auto Loan, 2.34%
Washington, D.C.: 5-Year New Auto Loan, 2.34%
Virginia: 5-Year New Auto Loan: 2.44%
Average Auto Loan Rates – Top 50 U.S. Cities

5 Cities with the Lowest Auto Loan Rates (3-Year)
Detroit: 2.67%
Long Beach: 2.71%
Oakland: 2.72%
Portland: 2.80%
New York: 2.81%
About This Auto Loan Rate Survey
This study surveyed base auto loan rates for three-, four- and five-year terms from banks and credit unions located in the United States as of March 3, 2014. Data was compiled from the GOBankingRates interest rate database, which in partnership with Informa Research Services Inc., aggregates banking and interest rate information belonging to more than 6,000 U.S. banks and credit unions. Rates listed above do not consider short-term, promotional offers or relationship discounts.
Please note that interest rates are subject to change at any time at the discretion of individual banks and credit unions. Other terms and conditions could apply. Informa Research Services cannot guarantee the accuracy.