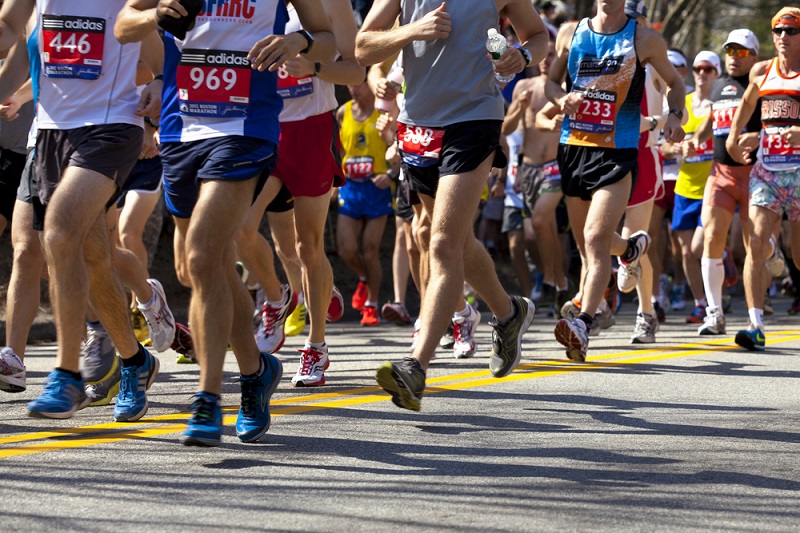 The Boston Marathon, taking place April 20, is arguably the most popular and competitive running event annually in the United States. While other major metropolitan areas have their own marathons as well — there's the L.A. Marathon, The ING New York City Marathon and the Bank of America Chicago Marathon, to name a few — they don't quite match the excitement surrounding Boston's event.
Though runners who've endured a competitive 26.2-mile run before understand the physical toll a marathon takes, the financial costs for runners are often overlooked. If running a marathon is a goal of yours, you'd better start saving early.
Registering for the Boston Marathon
As always, the Boston Marathon field will be limited to runners who meet the infamously stringent qualifying time limits based on age and gender. United States residents have to pay a $175 registration fee this year, while international runners pay $225.
For runners that don't qualify under the time limit, they can choose to participate through a charity. Most organizations make you agree to raise at least a few thousand dollars for their causes to run on their teams. Therefore, if you're thinking about running next year, you better get a head start on a strategy for obtaining donations.
Also, most charities do charge additional processing fees along with the minimum fundraising amount, and the Boston Athletics Association requires an application processing fee, too. On the bright side, those donations are tax deductible.
Flights to Boston

Though it's located in Boston, the race draws participants from all over the world. In 2013, Lelisa Desisa of Ethiopia won the men's division at two hours, ten minutes and 22 seconds. According to TripAdvisor, a round trip from Addis Ababa Airport in Ethiopia to Boston's Logan International would run $921 minimum for middle-of-the-night flights.
For domestic runners, last year's winner Meb Keflezighi traveled from San Diego. A round trip flight from San Diego to Boston would run around $647 at this point, though booking earlier could save roughly $300 in travel costs.
Lodging in Boston
If you're a runner who's taking the race seriously, then that means you'll need a good night's rest. According to TripAdvisor, rooms in Boston for the race week range from $297 to $609 per night. It's no wonder why most runners stay with others to save money.
Race Prep Costs
Running is free, but if you need a little help, you can get marathon training plans through E-books on Running Planet for around $10. You could also opt for a personal trainer at the gym, which can cost anywhere between $20 and $300 per hour. And even if you just opt for the gym, that membership runs around $25 per month on the low end.
Keep reading: 10 Cheap Fitness Apps to Replace Your Gym Membership
In addition, you will also need proper equipment like running shoes. You can get a decent pair for around $50 or cheaper at your local shoe store bargain bin. However, if you need the perfect pair for your feet, they could cost as much $150 or more. They might only seem like a pair of shoes, but if you're pounding the pavement for three to five hours, the last thing you want is any discomfort on your feet.
While there are other costs that need to be factored in, such as nutritional regimen, health checkups with your physicians and other variable costs, this is just a basic breakdown of what you'd need to run the race. If we average the costs for registration, lowest-cost airfare, personal training, one night at a local hotel and running shoes, that's about $1,697 to run in the 2015 Boston Marathon, not including donations if you're running through a charity.
Photo credit: Marcio Jose Bastos Silva / Shutterstock.com