13 Best PayPal Games That Pay Real Money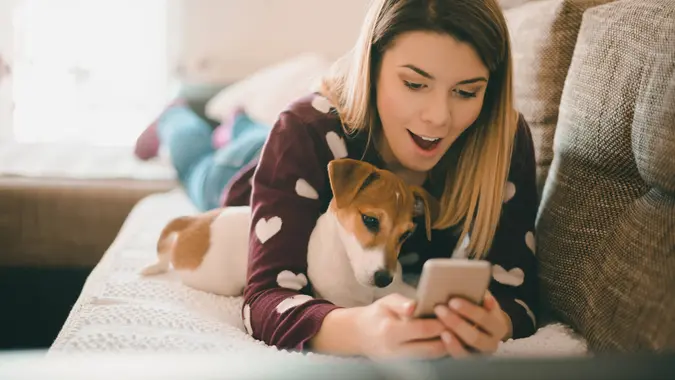 Georgijevic / Getty Images
You probably play games on your phone, but did you know you could get paid for it? Some gaming apps pay real money through PayPal when you play — and win — their games. You won't get rich playing games, and you probably shouldn't quit your day job just yet, but you might be able to pick up a little extra cash playing these games.
Learn: If Your Credit Score is Under 740, Make These 4 Moves Now
Top 13 Games That Pay Through PayPal
There's a game for everyone on this list, from math and word games to casino and matching games — here are 13 PayPal games that pay real money.
1. Mistplay
Genre: Variety
Available for Android only, Mistplay bills itself as "The #1 Loyalty Program for Mobile Gamers." There are multiple games to play, with new contests added every week. The last contest of the month offers a big grand prize. When you win, you earn units, which you can redeem for Amazon, Google Play or PayPal gift cards. This app has a rating of 4 stars on Google Play.
Make Your Money Work for You
2. Wealth Words
Genre: Word games
Word nerds will want to check out Wealth Words, which has crosswords, stories, slots and more. You buy tokens and use the tokens to play games. If you win, Wealth Words deposits funds in your wallet. You can cash out your wallet via PayPal once you have $20 or more in your account. Wealth Words has a rating of 2.6 stars on the App Store and is also available for Android.
3. Solitaire Cube
Genre: Cards
Love solitaire? Why not get paid for it? Solitaire Cube is Klondike — classic — solitaire that you play against one other player, head-to-head, or in tournaments with multiple players. Cash prizes are awarded to the player who finishes with the most points. This one may be more appealing to iPhone users: Solitaire Cube has a rating of 2.9 stars on Google Play and 4.6 stars on the App Store.
4. Pool Payday
Genre: Pool
Pool Payday offers free matches and cash matches, and you can play by yourself or with friends. There's also a player chat and live events. Pool Payday has a rating of 4.6 stars from Apple users and 4.5 stars from Android users.
5. Brain Battle
Genre: Math
Brain Battle pays you to play math video games. You play a game to collect tickets, each of which gets you an entry into a prize drawing for cash. The more games you play, the more tickets you earn and the better chance you have of winning a cash prize. Brain Battle has a rating of 4.1 stars on Google Play and a rating of 4.7 stars on the App Store.
Make Your Money Work for You
6. Long Game Rewards
Genre: Savings
Long Game is a savings app that partners with banks to earn you extra money on your savings. You open an account with a partner bank and deposit money into a savings account. You can set up automatic savings, so money gets transferred to your savings account every week or month, or at the frequency you select. It's more of a rewards app than a gaming app, although there are games included.
Long Game has a 4.1-star rating on Google Play and a 4.3-star rating on the App store.
7. AppStation
Genre: Variety
AppStation pays out cash for playing games but is only available for Android users. You get rewards in the form of coins for playing games, and you can exchange them for gift cards or cash payouts. It has a 4.4-star rating on Google Play.
8. Match To Win
Genre: Matching
Play match-3 puzzle games and win scratch-off prizes like vacations and cash in this game that combines the skill needed to play the puzzle games with the lottery-type luck of winning the scratch-off games. Match To Win has a rating of 4.3 stars on Google Play and 4.5 stars on the App Store.
Make Your Money Work for You
9. Swagbucks
Genre: Variety
Swagbucks is more of a rewards app than a gaming app, and there are lots of ways to earn cash. You can take surveys and quizzes, earn rewards for purchases and more. But there are games, as well — you can earn Swagbucks for playing games like Wheel of Fortune, Trivial Pursuit, Solitaire TriPeaks, 2048 and other popular games. You can get a $10 bonus when you join, and you can earn gift cards to Amazon, Walmart, Target, PayPal and other merchants.
Swagbucks has a rating of 4.2 stars on Google Play and 4.4 stars on the App Store.
10. InboxDollars
Genre: Variety
Similar to Swagbucks, InboxDollars pays you money for playing games, but also for shopping online, taking surveys, reading emails, watching videos and buying groceries. You can play games like Mahjong Solitaire, Candy Jam, Outspell, Monkey Bubble Shooter and more. If you spend money on GSN games, you earn InboxDollars, or you can earn money by watching the videos and ads that are shown in the games. You can earn gift cards or get paid cash through PayPal.
Google Play users rate Inbox Dollars 4.1 out of 5 stars, while App Store users give it 4.5 out of 5 stars.
11. WorldWinner
Genre: Variety
WorldWinner pays cash to winners, but it also requires you to pay to play. You put down a deposit and use that money to enter tournaments. The entry fee can be as low as 25 cents, and you can practice for free. Games include perennial favorites like Yahtzee, Bejeweled, Bingo, Scrabble, Trivial Pursuit, Dominos and more. There are no minimum requirements to cash out, which is an improvement over many games that require you to have $5, $10 or more in your account in order to cash out.
WorldWinner is rated 4.6 out of 5 stars on the App Store, and is also available on the Galaxy Store for Android.
12. Blackout Bingo
Genre: Bingo
Another pay-to-play game, Blackout Bingo is bingo with a twist. Games last just two minutes, and the object is to get as many bingos within that time as you can. There are free games and cash games, although cash games are not available in all states. Apple and Android users both give this game 4.5 stars out of 5.
13. Golden Tee Golf
Genre: Golf
If you can't get out to the golf course, you can play golf on your phone and maybe even win some money doing it. Golden Tee Golf lets you customize your equipment and your clothing, choose from different courses and even monitor the weather conditions and make adjustments to your play. Play daily golf challenges or select campaign mode or challenge mode. You can play against your friends and check your scores against others on the leaderboard.
On Google Play, Golden Tee Golf is rated 4.6 out of 5 stars, and on the App Store, it has an impressive 4.9 stars out of 5.
Final Take
Since there's no such thing as a free lunch, the developers of these games have to make money somehow. For games that don't require you to pay to play, you may be subjected to ads, either for purchases you can make in the app, for other games or for other products that may be related to the game.
Developers also need to make more money than they pay out in prizes, so the odds of winning a prize are usually pretty slim. The prizes may also be small, and you may have to accrue a certain amount in order to cash out and actually see any money in your PayPal account.
All that said, these games can be a lot of fun, and may put a little money in your pocket if you are skilled or lucky — or both.
FAQ
Are there any PayPal games that pay real money?

Yes, there are several games that pay real money through PayPal. However, they typically offer small prizes, and any bigger ones are difficult to earn.

What games pay real money instantly?

Most games require you to meet a minimum threshold before you can cash out, but some

– like WorldWinner – have no minimum, so you can claim your cash as soon as you've earned it.

What is the best PayPal earning app?

The best app to earn money on PayPal depends on the kind of game you like, but Golden Tee Golf, WorldWinner and Brain Battle are among the highest-rated.
Make Your Money Work for You