Best High-Yield Savings Accounts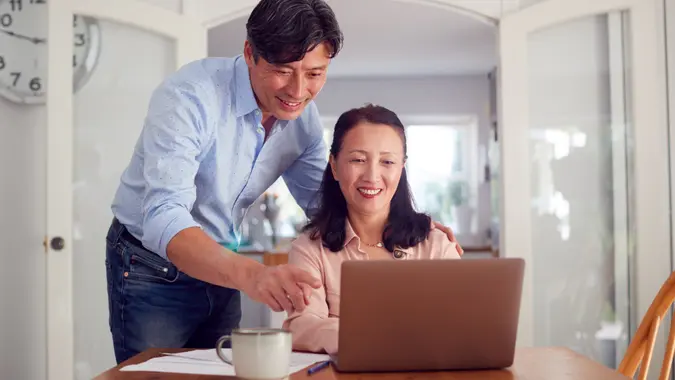 monkeybusinessimages / Getty Images/iStockphoto
Interest rates are a hot topic these days. Inflation is high, and when that happens, the Federal Reserve Board of Governors often raises the primary interest rate to slow it down. The most recent rate hike took place in May when the Fed raised rates half a percentage point — the highest rate increase in more than two decades.
When the Fed raises rates, banks often follow. This doesn't mean that your savings account that's now paying 0.05% APY will be paying 1.55% APY by the end of the year, but banks could raise rates a bit to stay competitive. In the meantime, opening a high-yield savings account now will get you started making money on your money.
GOBankingRates looked at the savings accounts that pay the highest interest rates. In this comparison, there's a comparison of rates, minimum opening balances, fees and other features or restrictions. Here are some of the best high-yield savings accounts to consider.
The Best High-Yield Savings Accounts
Take a look at some of the top high-yield savings accounts available.
Bread Savings High-Yield Savings Account
2.15%

APY
$100 minimum opening balance
No monthly maintenance fees
Bread Savings offers an online account, and there are no maintenance or other monthly fees. You will be charged for paper statements — $5 each, official checks — $15 each and outgoing wire transfers — $25 each, however.
TAB Bank
3.64%

APY
No minimum opening balance
No monthly service fees
TAB Bank offers an online-only high-yield savings account with no minimum — or maximum — deposit requirements.
CIBC Agility Online Savings Account
APY
No monthly account maintenance fees
$1,000 minimum opening balance
The CIBC Agility Online Savings Account is an online-only account, but CIBC Bank USA has some brick-and-mortar locations for personal banking in Illinois, Michigan, Missouri, and Wisconsin. The bank also has commercial banking locations in 17 states.
American Express High-Yield Savings Account
3.00%

APY
No monthly fee
No minimum balance
On the High-Yield Savings Account from American Express National Bank, Member FDIC, there is a limit of nine withdrawals or debits per statement cycle — higher than many banks which limit you to six withdrawals a month.
Marcus Online Savings Account
3.00%

APY
No fees
No minimum deposit
With the Online Savings Account from Marcus by Goldman Sachs, you can transfer money same day to or from other banks, up to $100,000.
Synchrony Bank High-Yield Savings Account
APY
No minimum balance
No monthly fees
With a Synchrony Bank High-Yield Savings account, you can request a debit card so you can access your funds from an ATM. Synchrony does not charge ATM fees, and refunds up to $5 per month in other banks' ATM fees.
Vio Bank High Yield Online Savings Account
1.00%

APY
$100 minimum to open
No monthly fee
This account limits depositors to six free withdrawals per month. If you exceed that number, you'll pay $10 for each withdrawal after six. There is a $5 fee per month if you opt for paper statements.
Bank5 Connect High-Interest Savings
1.50%

APY
$10 minimum to open, $100 to earn interest
No maintenance fees
Bank5 Connect offers Depositors Insurance Fund insurance for balances above the FDIC limit of $250,000 per depositor.
BrioDirect High-Yield Savings
3.75%

APY
$25 minimum to open
No monthly maintenance fee
BrioDirect also offers a Money Market Account that pays 0.70% APY, with a monthly limit of six transactions.
Capital One 360 Performance Savings Account
APY
No minimum balance
No monthly or maintenance fees
Capital One has brick-and-mortar locations and ATMs, but you can also open your account online.
FNBO Direct Online Savings Account
2.15%

APY
$1 minimum to open
No monthly maintenance fees
FNBO Direct offers Popmoney as a peer-to-peer money transfer service.
How To Open a High Yield Savings Account
Generally, the highest interest rates are paid by online banks. They don't have the expenses of brick-and-mortar banks, so they can pay higher interest. Opening an online savings account is a little different than walking into your neighborhood bank to open an account, but it's not difficult. Here's what you need to know.
You Need Identification
You'll be asked to provide your name, address, email address, social security number and phone number. You may also be asked the name and address of your employer. You'll need a government ID — most people use a driver's license, but if you don't have one, you can use a state-issued ID or a passport.
Deposit Funds
Once you've provided all the required information, you'll need to deposit some money into the account. To do this, you'll need to move money from somewhere else, so you'll need the information for the account you're moving the funds from. You'll link this other account, which can be a checking, savings, or another account at the same or another bank, to your new savings account.
Once you've linked your accounts, you can move funds from one to the other whenever you want. If you've linked a checking account into which you have your paycheck direct deposited, you can set up a recurring transfer to put a little money into savings each time you get paid. Then watch your money grow!
Watch Your Rate
While rising interest rates usually mean that savings account interest rates will also go up, there's no guarantee. And most high-yield savings accounts have a provision in the account agreement that says the bank can change the rate at any time. So watch your statement so you'll know how much you're earning.
High-Yield Savings Account FAQ
Here are the answers to some of the most frequently asked questions regarding high-yield savings accounts.
Is a high-yield savings account worth it?

If you are looking for a safe place to park some money, either for the short or long term, then a high yield-savings account is a good way to go. You will get access to your money any time you want it, unlike a CD, which has a penalty if you withdraw money before the term is up, or an investment account, which could lose money if your investments decline in value. Just be sure you're not paying fees that will erode the interest that you earn.

Can you lose money in a high-yield savings account?

As long as your account is in a bank or a credit union that's insured, you won't lose your money. Savings account deposits in banks are insured by the Federal Deposit Insurance Corporation, and those in credit unions are insured by the National Credit Union Administration for up to $250,000 per depositor.

How much interest can I earn on $1,000 in a year in a high-yield savings account?

Savings account interest rates are described as an annual percentage yield. This is the amount that your account will earn in a year, based on the interest rate and how often it is compounded. To figure out how much you will earn, multiply the amount of your deposit by the APY. For example, if you deposit $1,000 in an account that pays 0.50% APY, at the end of a year, your account will be worth $1,005 (1,000 x 0.005 = 1,005). If you leave the money in the account without adding any more, at the end of year two, you'll have $1,010.
Cynthia Measom contributed to the reporting for this article.
Rates are subject to change; unless otherwise noted, rates are updated periodically. All other information on promotions is accurate as of June 7, 2022. Additional requirements may apply. Offers and terms are subject to change.
GOBankingRates is a personal finance and consumer interest rate website owned by ConsumerTrack Inc., an online marketing company serving top-tier banks, credit unions and other financial services organizations. Some companies mentioned in this article might be clients of ConsumerTrack Inc., which serves more than 100 national, local and online financial institutions. Rankings and roundups are completely objective, and no institution, client or otherwise, paid for inclusion or specific placement. Any opinions, analyses, reviews or recommendations expressed in this article are those of the author alone and have not been reviewed, approved or otherwise endorsed by the companies included in the article. All fees and rates are subject to change at the issuers' discretion. Some interest rates might be short-term or promotional offers only, and it is possible additional terms and conditions must be met to obtain the interest rates listed. Rates and availability might vary by region. Verify terms and conditions before opening an account.
GOBankingRates bases its assessment of "best" and "top" products on the above-stated parameters to create a baseline for comparison. This assessment is an approximation of "best" and "top" designed to help consumers find products that might be appropriate for them. There could be other options available as well. Consumers should consider various options appropriate for their circumstances.
Editorial Note: This content is not provided by American Express. Any opinions, analyses, reviews, ratings or recommendations expressed in this article are those of the author alone and have not been reviewed, approved or otherwise endorsed by American Express. American Express credit card products are not available through GOBankingRates.com.
Our in-house research team and on-site financial experts work together to create content that's accurate, impartial, and up to date. We fact-check every single statistic, quote and fact using trusted primary resources to make sure the information we provide is correct. You can learn more about GOBankingRates' processes and standards in our editorial policy.