The Best Neobanks of 2023
Why you can trust GOBankingRates
At GOBankingRates, we're deeply invested in the quality of our content. Our reporters produce fresh and accurate content that is objective and ethically sound. Any product recommendations on GOBankingRates are independent and based on research and product testing.
Neobanks are steadily growing in popularity among tech-savvy consumers as a banking option. Also known as challenger banks, neobanks are tech firms that offer online-only financial services and transactions through online and mobile banking.
Those who choose to bank with a neobank will receive many of the same financial products and services as traditional banking institutions along with the added benefit of lower fees and higher interest rates due to the lower overhead costs of online banks.
To determine the best available neobanks, GOBankingRates ranked 15 online bank accounts based on a number of factors, including:
Monthly fee
Minimum balance
Checking fee ratio
Minimum balance needed in account to earn APY
Savings APY
Mobile app ratings
GOBankingRates' Best Neobanks of 2023
Best for online banking

Why we like SoFi
With a full range of services, high interest rates on a combined checking and savings account and a partner network of more than 55,000 fee-free ATMs, SoFi is a solid choice for those looking to do all their banking at one online bank. The bank also entices potential customers with bonuses and rewards.
SoFi hands out a cash bonus of up to $250 to those who open a new checking and savings account, as long as customers sign up for direct deposit.
Pros
High interest rates on checking and savings
Rewards for using the app
No fees or minimums
All your banking and investing in one place
Cons
For customers looking for a one-stop shop for all their financial business, and who don't need to talk to a teller, SoFi is an ideal choice. The annual percentage yields are quite high, you have access to an extensive network of fee-free ATMs and you can earn rewards and discounts by keeping all your accounts in one place.
Best for investing

Why we like Acorns
Acorns offers basic, low-cost deposit accounts that encourage saving and investing. It's likely to appeal to anyone who is banking for the first time and prefers to manage their accounts online. The account prioritizes micro-investing, which makes Acorns a good choice for first-time investors as well.
Acorns has a non-interest-bearing Emergency Fund that's separate from your Acorns Checking and Invest accounts.
Pros
No monthly maintenance fees
Automated saving
Solid range of perks
Cons
Non-interest-bearing accounts

Subscription fees
Because Acorns is not itself a bank, it provides banking services through Lincoln Savings Bank and NBKC Bank, both of which are FDIC members. Those banking services work with Acorns' subscription-based investing products to provide a solid solution for managing and investing your money.
Best for no fees

Why we like Betterment
As a pioneer in the robo-advisory world, Betterment has done a great job honing and refining its core products. Its checking and savings account options may be limited, but they are completely fee-free.
The savings account APY is 15x higher than the national average, which makes it an attractive option for maximizing savings.
Pros
Savings APY above national average
Lack of fees
Cash-back rewards options
Cons
One particularly strong account is Betterment's Cash Reserve. It is a high-yield savings account that can be opened with as little as $10. This account comes with an APY of 3.75% and no minimum balance requirements or monthly service fees. Customers can make unlimited withdrawals from the account penalty-free. Individual Cash Reserve accounts are insured up to $1 million or up to $2 million for joint accounts.
Best for digital banking

Why we like Chime
The Chime app is working on removing all the objections that hold people back from going fully digital. You can make cash deposits at participating retailers, pay friends and bills without the need for checks and open an account even if you have less than stellar credit.
The Chime Checking Account has no monthly fees, minimum requirements or opening balances to meet.
Pros
No service fees
Round up debit card transactions to the nearest dollar and the spare change goes to your savings account
24/7 customer service via phone or chat
Cons
Out-of-network ATM fee of $2.50
Limited account options
The Chime app is working on removing all the objections that hold people back from going fully digital. You can make cash deposits at participating retailers, pay friends and bills without the need for checks and finally have an account even if you have bad credit.
Best for budgeting tools
Why we like Current
A fintech company with a robust mobile app and a wealth of budgeting tools to help customers stay on top of their savings, Current will certainly appeal to the tech-savvy saver. You can earn outstanding yields on your money, and Current also lets you buy and sell cryptocurrency with no trading fees.
Savings Pods allow you to earn up to 4.00% APY, while also helping you organize your savings goals.
Pros
No minimum opening balance or account balance requirement
Free budgeting tools available in the app
Can get points redeemable for cash back by using debit card at select merchants
Savings Pod balances earn high APY
Cons
Low spending limit on debit card
No physical locations
For customers who embrace technological advances as well as generous interest rates, Current is an intriguing option. Those willing to take full advantage of Current's budgeting tools will likely be on their way to more structured savings. Current checking comes with a debit card that earns cash-back rewards, but be aware that there are daily spending limits on withdrawals and purchases.
Best for high APY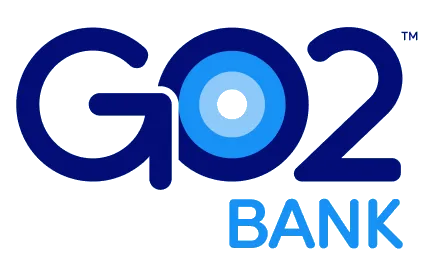 Why we like GO2bank
The GO2bank Savings Account offers 4.50% APY on all balances up to $5,000. With direct deposit, you can avoid monthly maintenance fees and if you do all your banking electronically, you can avoid fees for cash deposits and withdrawals, and other transactions.
Earn up to 7% cash back when you buy eGift Cards from nearly 100 merchants in GO2bank's app.
Pros
4.50% APY on all balances up to $5,000
No monthly maintenance fees
Free ATMs nationwide
Cons
Fees for cash deposits and withdrawals, transfers, etc.
GO2bank's 4.50% APY is 10x the national savings rate. Plus, there's overdraft protection available for up to $200 if you sign up for direct deposit.
Best for rewards

Why we like LendingClub Bank
LendingClub is an online bank that excels at rewarding its customers. From cash-back debit cards to high-yield savings accounts and CDs, LendingClub is a solid choice for customers who want to put their savings to work.
High-Yield Savings allows you to earn 4.00% on your entire balance. There are no monthly service fees and just a $100 minimum deposit needed to open an account.
Pros
Rewards account pays interest
Free checking and savings accounts
High rates for savings accounts and CDs
Cons
Only one physical branch
Mobile app is not highly rated
LendingClub is ideal for those looking to earn high rates on their savings or rewards on their purchases. You'll need to get used to working with an app and debit card for withdrawals and payments, but the benefits are worthwhile.
Best for foreign exchange

Why we like Revolut
Revolut is not a bank per se, although it offers banking services, such as savings and checking-type accounts, and credit cards through Metropolitan Commercial Bank and Sutton Bank. It offers investments, including ETFs, stocks and cryptocurrency, as well as foreign exchange and money transfer services.
With Revolut you can hold or send money in over 25 different currencies, including U.S. dollars, British pounds, Canadian dollars, Mexican pesos, euros and more.
Pros
No-commission stock trades
Worldwide money transfer services
Fee-free crypto trades
Cons
No traditional checking account
Savings interest is low for an online-only bank
Revolut offers three different plans: Standard, Premium and Metal. The Standard plan is free and pays 2.50% APY on savings balances and free crypto trading up to $200,000 per month. The Premium and Metal Plans have monthly fees of $9.99 and $16.99, respectively, but pay 3.50% APY on savings.
Best for savings APY
Why we like Upgrade
Upgrade is an online-only financial technology company, with checking and savings accounts, credit cards and personal loans. It has no fees for its deposit products and offers higher-than-average interest rates on savings. Its Rewards Checking account pays up to 2% cash back on debit card purchases.
The Upgrade Premier Savings account pays 4.13% APY interest on balances of $1,000 or more, and there are no monthly fees.
Pros
Earn cash back on debit card purchases
Earn 4.13% APY interest on $1,000 or more in savings
No monthly fees
Free same-day transfers offered
Cons
No physical branches or ATMs
Upgrade offers a Rewards Checking account that gives you cash back on debit card purchases, which is unusual. But what's even rarer is the amount of cash back you get. You'll get 2% cash back on purchases you make at convenience and drug stores, gas stations and restaurants.
Best for no fees

Why we like Varo Bank
Varo Bank is a simple-to-use digital bank option that provides some great benefits. It offers FDIC-insured checking and savings accounts with no hidden fees.
Varo offers three basic account types: checking, savings and a credit-builder secured credit card account.
Pros
No monthly fees or minimum balance requirements
Highly competitive rates on savings
Plenty of fee-free ATMs
Favorable terms with Believe credit-builder card
Cons
Limits on cash deposits and external transfers
No physical branches, so you must deposit cash through third parties
Varo Bank provides checking, savings and credit-building opportunities for its members. It charges few fees and offers highly competitive savings interest rates and over 55,000 fee-free ATMs.
---
What To Know About Neobanks
A neobank is a tech firm that offers online-only financial services through mobile and online banking. Nearly all financial transactions can be performed online with a neobank, including transferring money, paying bills and depositing mobile checks. A neobank does not have a brick-and-mortar presence or physical branches.
How Do Neobanks Work?
Essentially, neobanks are online replicas of traditional banks and credit unions. Convenience is one of the greatest benefits of a neobank, as customers may set up their accounts within minutes and begin financial transactions. Some of the most popular services available from neobanks include mobile money transfers, online check deposit and checking and savings account services.
Benefits of Neobanks
While neobanks are a bit limited in their services, there are benefits that come with using this form of banking:
Ease in Access: You can access your funds easily through a neobank's mobile app or website.
Ease To Set Up: Setting up an account with a neobank is much less time-consuming than it is with a traditional bank. Some neobanks, depending on the financial institution, do not conduct credit checks. This gives your account a higher chance of approval and may make it easier to set up your account.
Competitive Rates: Unlike traditional banks, neobanks do not have branch locations. Due to not having to pay for physical premises, their cost of operations is low. This gives neobanks the chance to offer competitive rates and better interest rates with banking customers.
Are Neobanks the Same as Online Banks?
The simple answer to this question is no. While neobanks do offer online banking services, this does not qualify them to be online banks. Online banks have FDIC insurance. Neobanks do not. If you wish to bank with a neobank, it is recommended you make sure the neobank is recognized by the FDIC or is partnered with an FDIC-insured bank.
Best Banks 2023
Best Checking Accounts of 2023
Best Online Bank and Neobank Savings Accounts of 2023
Methodology
To determine the Best Neobanks of 2023, GOBankingRates looked at the following factors: (1) monthly fee; (2) minimum balance; (3) checking fee ratio; (4) minimum balance needed in account to earn APY; (5) savings apy; (6) the average mobile app rating between the Android and Apple stores. All data is up to date as of Nov. 9, 2022. Rates and fees are subject to change.
FAQ
Although the basic idea behind a neobank can be simple to understand, there are still many common questions surrounding them. Here are the answers to some of the most frequently asked questions regarding neobanks.
What are the biggest neobanks?

Learn more about the biggest neobanks by reviewing our Best Banks list.

Is neobanks a fintech?

Best described as a niche fintech, a neobank helps bridge the gap between traditional banks and customers by offering digital banking alternatives. A neobank may operate solely through digital means, but it can accomplish most financial transactions like that of a physical bank branch. 

What is the best digital bank?

There are several digital banks that are ranked the best for your financial needs including those with competitive interest rates, low to no fees, convenience and user-friendly access and customer service. Review our Best Banks list to determine which neobanks are ranked accordingly.

Are any neobanks profitable?

While neobanks hold 1 billion accounts around the world, according to a 2022 Forbes report, less than 5% are profitable. Where neobanks face the greatest competition is disruption in their space by big banks with digital offerings, described as "disrupting the disruptors."