8 Best Credit Unions for Car Loans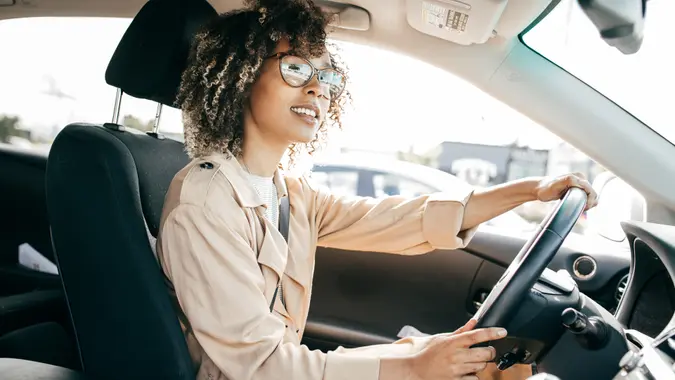 kate_sept2004 / Getty Images
Credit unions often provide more favorable auto loan rates compared to banks or dealerships, making them a smart choice for car financing. Their not-for-profit structure allows for lower rates and more flexible terms, especially benefiting those with fair or poor credit scores. Keep reading to learn about the best credit unions for car loans.
Best Credit Unions for Car Loans
Before choosing which credit union to take out an auto loan with, take the time to compare the APRs and loan terms. Most credit unions require you to meet certain qualifications to apply for a loan, so be sure you qualify before applying.
Here are eight of the best credit unions for car loans. 
BECU
BECU, originally established for Boeing employees, now serves a broader community. BECU provides automatic enrollment in their Reprice Program, offering an opportunity to lower your rates further as your credit score improves. Plus, the convenience of BECU financing directly at participating dealerships makes the car-buying process smoother and more efficient.
Why it stands out: BECU sets itself apart with its member-centric approach, offering exceptionally low-interest rates and fewer fees.
Pros:
Convenient on-site BECU financing is available at many participating dealerships

New auto loan interest rates apply to cars up to 2 years old, offering more flexibility for buyers
Members are automatically enrolled in the Reprice Program, which can lead to lower rates
Cons:
While BECU has expanded its membership beyond Boeing employees, it still may have some geographic or association-based restrictions
What to look for: BECU's rates are highly competitive and start at 6.49% for new vehicles and 6.99% for used vehicles.
Pentagon Federal Credit Union
PenFed Credit Union offers its members substantial options for car financing. The good news is that anyone can join. In addition to standard financing, this credit union also offers an online car-buying service tool.
Why it stands out: Their unique car-buying tool allows members to search for new or used cars and get a variety of information such as their value compared with the asking price, as well as an alert showing any PenFed discounts available. Interest rates on auto loans drop to as low as 5.24% APR on cars purchased through PenFed's car buying service.
Pros: 
Loan amounts up to $150,000
Discounted rates through PenFed's car buying service
Cons: 
Its standard APR rates aren't as attractive as rates some other credit unions offer.
What to look for: PenFed Credit Union offers auto loan terms from 36 to 84 months on new vehicles with APRs from 5.24% to 7.29%.
SchoolsFirst Federal Credit Union
SchoolsFirst Federal Credit Union has partnered with companies like Autoland and Enterprise to bring customers exclusive savings. To become a member, you must be a current or retired school employee or part of their family.
Why it stands out: Along with all the different ways to save, SchoolsFirst offers Guaranteed Asset Protection insurance with deductible assistance.
Pros: 
Offers school employees an auto loan with "Summers Off," which allows qualifying members to defer one or two consecutive auto loan payments during the summer
Allows you to finance a car from a private seller
Cons: 
"Summers Off" program is only available on auto loans with original terms of 60 months or less
Membership is restricted to members of educational communities
What to look for: SchoolsFirst Credit Union offers new and used auto loans from 36 to 84 months. APRs for new cars start at 6.39% and APRs for used cars start at 6.59%.
Navy Federal Credit Union
Navy Federal Credit Union offers excellent car loans for financing new cars with terms up to eight years. You can join if you are affiliated with the military, Department of Defense, Coast Guard or National Guard.
Why it stands out: Borrowers can expect convenience while applying for a loan online and will get a decision in seconds. Other benefits available to members include access to GAP — guaranteed auto protection — insurance.
Pros: 
New vehicle terms up to eight years
Starting APRs under 6% for both new and used vehicles
Cons: 
You or one of your family or household members must have military ties to join
What to look for: Navy Federal offers starting APRs as low as 4.54% for new vehicles and 5.44% for used vehicles. Auto loan preapprovals and interest rates are good for 90 days from the approval date.
NASA Federal Credit Union
Membership at NASA Federal Credit Union is open to individuals with various affiliations to NASA. This includes current and retired employees of NASA Headquarters, any NASA Center or Facility, or NAS. Additionally, family members of existing NFCU members are also eligible to join. This credit union offers flexible terms and competitive rates for both new and used car financing, as well as auto loan refinancing.
Why it stands out: One of its features is the ability for members to apply online and get preapproved quickly. By having financing already in place, members have the advantage at the car dealership because they can focus on negotiating the car price instead of the loan terms.
Pros: 
No payment required for the first 60 days
Check your rate with no impact to your credit score
Cons: 
Terms only extend to 84 months
What to look for: NASA Federal offers the same rates for both new and used vehicles — rates start at 6.24% APR. 
Suncoast Credit Union
This Florida credit union serves up a variety of vehicle-related products to help its members save money. You can join this organization if you live in one of the eligible Florida counties listed by the credit union, you're an alumnus of Florida College or a family member of someone who does qualify.
Why it stands out: Suncoast will preapprove you for a loan online so you know what your budget is when you walk into a dealership. In addition to financing and selling cars, Suncoast's Mechanical Repair Coverage includes rental reimbursement, 24-hour roadside assistance and travel expense reimbursement.
Pros: 
Special savings on eco vehicle loans

Online approval, buying and delivery options
Cons: 
Maximum term is 72 months
What to look for: Suncoast Credit Union offers new and used car loans with APRs as low as 7.50% for up to 72 months.
Randolph-Brooks Federal Credit Union
Membership at RBFCU is accessible through various avenues, including your employer, place of worship, community organizations or educational institutions. Additionally, you can qualify for membership if you have immediate family members already part of the credit union. No matter if you're buying a new car, used car or refinancing your current vehicle, you'll get the same great rate at RBFCU.
Why it stands out: This credit union provides online help to members who are preparing to buy a used car or new car, with online calculators to help determine how much they can afford to borrow and whether a new or used car is the best financial choice. Randolph-Brooks also offers mechanical repair coverage and GAP Plus.
Pros: 
Rates are the same whether you buy new, used or refinance 
Streamlined title and loan recording process
Cons: 
Branch locations are only in Texas
What to look for: You can easily apply online for an RBFCU auto loan if you aren't near a branch or don't prefer to visit one. For auto loans of 24 to 72 months, RBFCU offers a starting APR of 6.29%. For loans with a term of 73 to 84 months, the starting APR increases to 7.25%.
Alliant Credit Union
Alliant Credit Union will let you join if you are an employee or family member of a qualifying company, live or work in certain Chicago communities or donate to become a member of Foster Care to Success.
Why it stands out: Alliant Credit Union offers both new and used auto loans with same-day approval and refinancing options. Alliant also has a car-buying service, which saves members an average of $2,019 off MSRP.
Pros: 
0.50% rate discount when you use Alliant Car Buying Service

Same-day approval in most cases
Cons: 
Rates aren't as low as some other credit unions offer
What to look for: New vehicle rates start at 6.75% APR and used vehicle rates start at 7.37% APR. APRs as low as 6.69% for new Tesla financing.
Final Take
Before choosing a credit union to finance your next vehicle, you first have to make sure you'll qualify for membership. Next, you'll need to compare auto loan rates and terms. The make and age of the vehicle and the term length you want will all influence the rate you'll be offered, but not every credit union will make the same offer. Therefore, it's wise to rate shop several credit unions to find the best deal. 
FAQ
Here are the answers to some of the most frequently asked questions regarding car loans.
Which credit union has the best car loans?

The best credit union for car loans can vary based on individual needs and eligibility, but credit unions like BECU and Randolph-Brooks Federal Credit Union are often recognized for their competitive auto loan rates and flexible terms. It's essential to compare offers from multiple credit unions to find the best fit for your specific financial situation.

Which bank is best for car loans?

The best bank for a car loan depends on your credit profile, loan terms and interest rates offered. Large banks like Chase and Wells Fargo are popular choices due to their wide range of options and nationwide availability. However, local and regional banks can also offer competitive rates, especially for customers with strong banking relationships.

What credit score gets you the best car loan rates?

Typically, a credit score of 720 or higher is considered excellent and can help you secure the best car loan rates. Borrowers with this credit score are often eligible for the lowest interest rates and favorable loan terms, as they are perceived as low-risk by lenders.
Gabrielle Olya, Barri Segal and Ruth Sarreal contributed to the reporting for this article.
The article above was refined via automated technology and then fine-tuned and verified for accuracy by a member of our editorial team.
Data is accurate as of Nov. 21, 2023, and is subject to change.
GOBankingRates is a personal finance and consumer interest rate website and an online marketing company serving top-tier banks, credit unions and other financial services organizations. Some companies mentioned in this article might be clients of GOBankingRates, which serves more than 100 national, local and online financial institutions. Rankings and roundups are completely objective, and no institution, client or otherwise, paid for inclusion or specific placement. Any opinions, analyses, reviews or recommendations expressed in this article are those of the author alone and have not been reviewed, approved or otherwise endorsed by the companies included in the article. All fees and rates are subject to change at the issuers' discretion. Some interest rates might be short-term or promotional offers only, and it is possible additional terms and conditions must be met to obtain the interest rates listed. Rates and availability might vary by region. Verify terms and conditions before opening an account.
GOBankingRates bases its assessment of "best" and "top" products on the above-stated parameters to create a baseline for comparison. This assessment is an approximation of "best" and "top" designed to help consumers find products that might be appropriate for them. There could be other options available as well. Consumers should consider various options appropriate for their circumstances.
Our in-house research team and on-site financial experts work together to create content that's accurate, impartial, and up to date. We fact-check every single statistic, quote and fact using trusted primary resources to make sure the information we provide is correct. You can learn more about GOBankingRates' processes and standards in our editorial policy.