When Will You Get Your Tax Refund? Here's When to Expect That Check
Find out when you can expect to get your tax refund in 2019.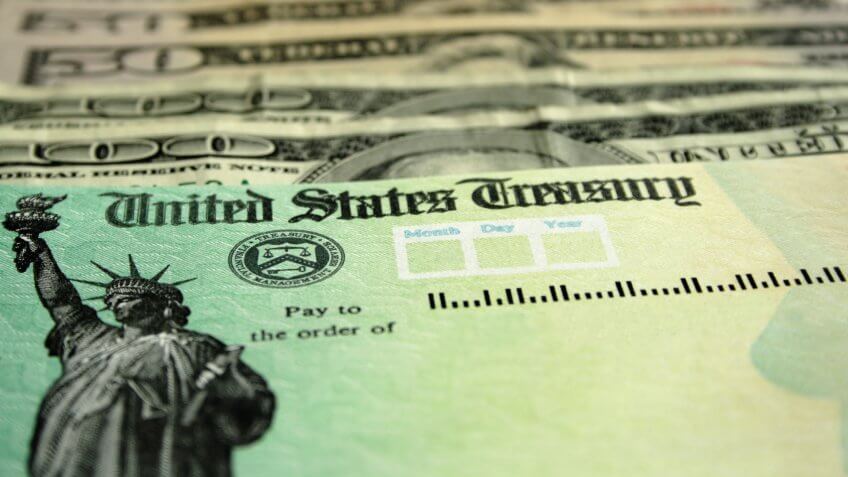 One of the top tax refund questions many filers ask is, "When will I get my tax refund?" Unfortunately, it's impossible to know the exact date of when you'll receive your tax refund — the answer depends on when you file your tax return.
However, you can estimate when you'll receive your funds. The IRS issues most refunds in fewer than 21 days after filing, according to the agency. So generally, you can expect to get your tax refund about three weeks after you file your tax return.
In the past, some taxpayers have had to wait a bit longer to receive their tax refunds. During the previous tax season, for example, the IRS could not issue refunds before mid-February for those who claimed the Earned Income Tax Credit (EITC) or the Additional Child Tax Credit (ACTC). At the time of writing, the IRS had not released any new information about tax refunds being delayed in 2019 if you claimed either tax credit. However, this might change as the 2019 tax season approaches.
But for now, keep reading to learn what you need to know about refunds — and when you can expect your tax refund in 2019.
In This Guide:
IRS Tax Refund Schedule for 2018 Returns
If you're asking yourself, "When will I receive my tax refund?" keep this in mind: The IRS issues nine out of 10 refunds in less than 21 days, according to its website. Based on this 21-day time frame, here's a look at when you can expect to receive your tax refund in 2019:
2019 IRS Tax Refund Calendar: When Will I Get My Tax Refund?
Date the IRS Receives Your Return
Date You Can Expect Your Tax Refund

Jan. 29, 2019 – Feb. 2, 2019

Feb. 19, 2019

Feb. 3, 2019 – Feb. 9,  2019

Feb. 24, 2019

Feb. 10, 2019 – Feb. 16, 2019

March 3, 2019

Feb. 17, 2019 – Feb. 23, 2019

March 10, 2019

Feb. 24, 2019 – March 2, 2019

March 17, 2019

March 3, 2019 – March 9, 2019.

March 25, 2019

March 10, 2019 – March 16, 2019

March 31, 2019

March 17, 2019 – March 23, 2019

April 7, 2019

March 24, 2019 – March 30, 2019

April 14, 2019

March 31, 2019 – April 6, 2019

April 21, 2019

April 7, 2019 – April 13, 2019

April 28, 2019

April 14, 2019 – April 15, 2019

May 5, 2019
Estimates are based off the less than 21-day return window for e-filing, measured from the earliest date in each cell under the "return" column.
Because the IRS has not yet disclosed when it will begin accepting tax returns for the 2019 tax filing season, we used last year's start date (Jan. 29) to create the tax refund schedule above.
Please note that these are only estimates, as the IRS does not provide a tax refund calendar. And the dates you see above might conflict with other IRS tax refund schedules you might see online.
Another important thing to note: If your tax return requires additional review, you might have to wait longer to receive your tax refund.
How to Track Your Tax Refund: Use the 'Where's My Refund?' IRS Tool
The IRS website offers a "Where's My Refund?" tool that allows you to track your refund after you've filed your income tax return. You can also track your refund through the IRS2Go app with the same information. The site will tell you the stage of your return:
Return received
Refund approved
Refund sent
To track your refund, you'll need your Social Security number, your filing status and the exact amount of your refund. Typically, you can start tracking your return one day after you file if you submit your return electronically. But if you mail in a paper tax return, it takes about one month.
Learn More: Here's the Average IRS Tax Refund Amount
How to Get Your Tax Refund Faster
To improve your chances of getting your tax refund sooner rather than later, there are a few steps you can take. Here's what you can do to get your refund faster:
File early. In general, the sooner you file, the sooner you will get your refund. But returns claiming certain tax credits might not get processed sooner than late February.
Check your return for errors or omissions. When the IRS needs to contact you for additional information, it slows down how quickly you receive your refund.
Opt to use e-file to have your refund directly deposited into your bank account. With direct deposit, it might take a few days for the refund to show up in your account, depending on your financial institution. But with a paper return, it can take up to four weeks after it has been mailed.
Make sure your direct deposit account is in your name. The IRS can only deposit a check into an account in your name, your spouse's name or a joint account. If your account has others named on it or is in someone else's name, the IRS will mail you a paper check instead.
What If You File Your Taxes Late?
Filing taxes earlier is generally a good thing. Besides releasing yourself of the burden, you can expect an earlier tax refund. The longer you wait to file your taxes, the longer it will take to get your refund.
Plus, filing late might incur some expensive consequences. If the IRS owes you a tax refund, filing late generally won't hurt you. However, if you owe taxes, you will be penalized for both filing late and paying late.
Some people need more time to file taxes. If you're e-filing, you can file for an extension for free using the IRS' Free File. Paper filers will need to submit Form 4868 to get a six-month extension on their tax deadline. This is a useful strategy to avoid paying taxes late, but note that the form doesn't extend the time to pay taxes. If you wind up owing taxes after the extension, you will still be penalized.
Click to See: These Are the Penalties for Filing Taxes Late
Why Your Tax Refund Might Be Delayed
The IRS lists the following issues that might extend the processing time and delay your refund:
Amended return refunds take about 16 weeks
You're filing an injured spouse claim
You're renewing an individual taxpayer identification number (ITIN)
There's also a three refunds-per-year limit on the number of direct deposits going into a single account or prepaid debit card. If you exceed this limit, it might take up to 10 weeks to receive your refund check.
When to Call the IRS to Check Tax Refund Status
Still feeling a bit anxious about when to expect your return? The IRS recommends you only call them if:
It's been more than 21 days since you e-filed
It's been six weeks or more since you mailed your returns
The "Where's My Refund" tool tells you to contact the IRS
Make sure you have your Social Security number or your ITIN handy when you contact the IRS.
Click through to see the No. 1 thing Americans do with their tax refund.
More on Taxes
We make money easy. Get weekly email updates, including expert advice to help you Live Richer™.
Ruth Sarreal and Michael Keenan contributed to the reporting for this article.