Financial Advisor Near Me: How To Find an Advisor Nearby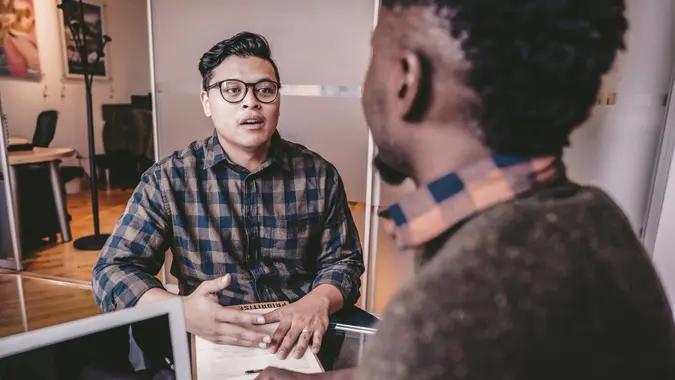 kate_sept2004 / Getty Images
You may have reached a point where everything with your finances gets much more complex every day, from budgeting, saving, investing, and building wealth to planning for a comfortable retirement.
Working with a financial advisor is perhaps what you're thinking of right now, which is a good thing. These professionals can help you navigate your financial situation and eventually attain your financial goals.
Finding a Financial Advisor Near Me
To find a financial advisor in your area, do a simple online search for "financial advisors near me." Your search will probably result in a long list of advisors in your community. You'll want to interview multiple advisors to find one that meets your needs and has a financial philosophy that aligns with yours. You'll also want to check their credentials, expertise and fee structure.
This Google map can also help you find a financial advisor closest to you.
To ease the process, ask for referrals from family and friends. It may take time to find the right financial advisor, but the wait is worth it when it comes to the peace of mind you've always wanted.
Virtual Financial Advisors
If you can't find a financial advisor in your area, you can opt for online advisors. Virtual financial advisors can provide the help you need, just like local advisors. The only difference is, you can't meet in person to discuss your finances.
Here are some of the best online financial advisors you may want to consider.
Betterment
Betterment is one of the leading robo-investing platforms in the industry, offering various competitive accounts and wealth-building services, including automatic rebalancing, tax-loss harvesting and cash management.
Betterment connects clients with professionals who hold certified financial planner designations. So whether you need a financial check-up, getting started with investing, planning for college, marriage or retirement, Betterment network advisors have got you covered.
The robo-advisor has three account options: checking, digital and premium. Betterment Digital has no account minimum and charges 0.25% per annum of your assets under management. Unfortunately, it doesn't offer free access to CFPs, but you can purchase the package separately, with prices ranging from $199 to $399.
For Betterment Premium, the minimum balance is $100,000 and charges a 0.40% annual fee. The good thing about this type of account is that you can access Betterment's network of CFPs for free.
SoFi
SoFi is another investment platform where you can find virtual financial advisors. The platform outshines its peers with free management and access to financial advisors at no cost. Provided that you're a SoFi client, you can schedule an appointment with a financial planner, who can analyze your financial situation and walk you through some steps to achieve your financial goals.
Vanguard
Vanguard provides both virtual planning tools and human financial advisors. The majority of these advisors are fiduciaries, meaning they act in the client's best interest. Vanguard charges an annual fee of 0.30% of assets under management with a $50,000 account minimum.
Banks That Provide Financial Advisory Services
You can also get financial advisory services from banks. Here are two to consider.
TD Bank
TD Bank is one of the largest investment banks in the U.S. that offer financial advisory services through TD Private Client Wealth. In addition, it offers private banking, investment management, retirement planning, estate planning and more.
The firm connects you with a financial advisor based on the kind of investment help you need. Network advisors include certified financial planners, chartered financial analysts, personal financial planners and other professionals. In terms of pricing, you'll pay a bundled fee through TD's "wrap" fee program.
Chase
Chase offers access to financial advisors to meet your changing financial needs. The firm's advisory program charges an annual fee of 0.35% when you invest a minimum balance of $500. Whether it's investing, retirement planning, education planning or complex financial needs, Chase's network of financial advisors is available Monday through Friday from 9 a.m to 6 p.m EST to offer the help you need.
4 Things To Keep in Mind When Looking for a Financial Advisor
If you decide to work with a financial advisor within your area, there are several things to keep in mind.
1. Know the Services You'll Need
Before you speak to a financial advisor, make sure you know the kind of financial help you need. Keep in mind that financial advisors offer more than just investment advice. The best financial advisor is the one who can help you meet your long-term financial goals.
Whether you need investment advice or assistance with budgeting, debt management, retirement planning or estate planning, ensure that you know the services you need before meeting an advisor. This is crucial because not all financial advisors are experts in all areas.
2. Verify Credentials
"Financial advisor" is a blanket term that anyone can use. That's why it's prudent to seek advisors with reputable certifications, so you can be sure to get the help you need. Usually, financial advisors carry different designations. For financial advisory services, look for a certified financial planner, or CFP. For investments, find a chartered financial analyst, or CFA. You can verify credentials on the corresponding licensing board's website.
3. Ask Important Questions
It's a good idea to ask questions before committing to work with any financial advisor. After all, you're paying for the service, so if there's anything you want to know, you have a right to ask. Whether it's anything related to expertise, fees, if they're bound by a fiduciary duty or any other concern, you have the right to get answers to help you make an informed decision.
4. Check Fees Structure
One last thing to keep in mind is how their fee structure works. There are fee-only financial advisors and commission-based financial advisors. However, many advisors charge a percentage of your assets under management.
Takeaway

Finding and working with a financial advisor is a great idea. A financial advisor will help keep track of your finances and assist you in attaining your financial goals. While finding the right one can be overwhelming, you can decide to work with a financial advisor in your community or a virtual one.
Our in-house research team and on-site financial experts work together to create content that's accurate, impartial, and up to date. We fact-check every single statistic, quote and fact using trusted primary resources to make sure the information we provide is correct. You can learn more about GOBankingRates' processes and standards in our editorial policy.