What Is Wealth Management and Is It Worth the Cost?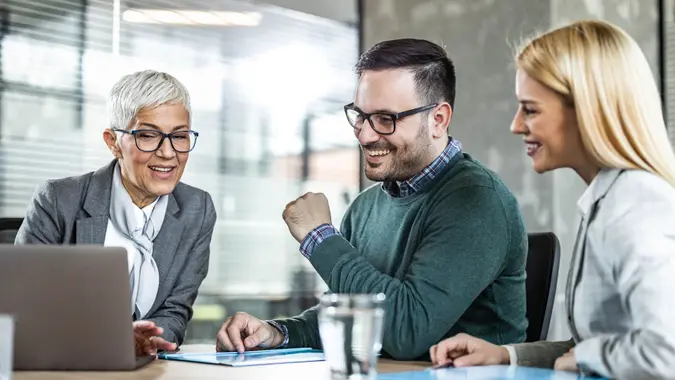 skynesher / Getty Images
Wealth management often gets confused with investment management, but they are technically different things. Investment management is actually a subset of wealth management, which adopts a holistic approach to a person's complete financial picture. For that reason, not all individuals actually need a professional wealth management firm, but some would definitely benefit from the service.
So, what exactly does wealth management involve, and how can you tell if it's something you need? Read on to learn more.
See: How To Build Your Savings From Scratch
What Does Wealth Management Do?
A wealth manager looks at a person's complete financial picture and works with additional financial experts to provide a comprehensive financial plan. Some of the services that a wealth manager usually provides include the following:
Investment management
Estate planning
Insurance services
Retirement planning
Accounting and tax services
Some advisors categorize the five types of wealth management into financial planning, asset allocation, asset management, estate planning and tax accounting. However, regardless of how it is labeled, wealth management always has the same goal: to integrate every aspect of a person's finances into a comprehensive plan that functions in the best possible way. 
When Do I Need To Call a Wealth Manager?
Not all individuals will need every single aspect of a comprehensive financial plan, and some may prefer to work with different experts rather than having a single wealth manager. But whether you work with a single wealth manager or integrate the different aspects of your finances yourself, you'll generally need some type of wealth management once you reach a certain level of financial success. Generally, if you need help in one of these areas, you'll need help in all of them. 
For example, if you have enough assets to need estate planning services, you also generally need investment advice as to the best way to manage your portfolio while you're still alive. And if you need investment advice, you'll generally want a comprehensive retirement plan, tax advice, and insurance to help protect those assets. This is particularly true if you have a spouse and/or children.
What Is an Example of Wealth Management?
Wealth management involves integrating your entire financial life into a single plan. A wealth manager will ask you about your financial objectives and risk tolerance, your family/marital situation and if you anticipate any future changes, your desired retirement lifestyle, and your plans to leave money to your heirs, charities or other beneficiaries. You'll also be asked about your housing situation and your insurance needs. Financial statements, from your bank and brokerage accounts to your tax returns, will also be collected.
In conjunction with your expressed desires, a good wealth manager will assimilate all of this information into a financial plan that makes sense, protects your assets and maximizes your chances for long-term wealth generation.  
However, while the development of a comprehensive plan is the general goal of wealth management, any single aspect can also be considered wealth management. For example, if all you're interested in is getting the best possible risk/return out of your investments so that you build a sufficient nest egg, that is also wealth management. The idea behind creating a comprehensive plan, however, is that when you integrate each individual aspect, you increase the chances for the best overall outcome in your financial life as a whole.
How Much Does Wealth Management Cost?
Wealth managers typically charge clients an annual fee equal to a certain percentage of their assets. There are a number of reasons for this. 
First, it tends to align the interests of wealth managers and their clients, as advisors only earn more when their clients generate more wealth. 
Second, unlike with a strict investment manager who can earn money from commissions on trades, a wealth advisor often has to farm out transactions to colleagues in other industries. For example, a wealth advisor might work with insurance agents and accountants to handle portions of a client's financial plan, and any transactions they perform would not benefit the advisor. A wealth manager may work out a deal with these outside specialists so that they can all benefit from a fee-based arrangement. 
Typically, a fee-based wealth manager will charge between 1% and 2% of a client's assets per year. For example, on a $500,000 account, annual fees will generally range from $5,000 to $10,000. However, some advisors may charge more or less, so it's important to ask before you begin a relationship. 
Is It Worth Paying a Wealth Manager?
Whether or not you should pay for a wealth manager is a very personal choice. On the one hand, a wealth manager doesn't technically do anything that you can't do on your own. For example, it's never been easier — or cheaper — to manage your investments online, and you can file your own taxes every year fairly easily by using tax software. But you may not have the skills and insight regarding investments, taxes, retirement planning and so on that a professional wealth manager brings to the table.
If your wealth manager can eke out a higher return on your investments, save you money on your taxes, pick the right insurance for you and plan your estate so that your heirs get the most money possible, a wealth manager can prove far more valuable than the fees you pay out.
On the other hand, if you are paying out tens of thousands of dollars per year and feel you aren't getting sufficient value, it's time to find another manager or handle things on your own.
The Bottom Line
Wealth management generally takes a comprehensive approach to a person's financial life, integrating every aspect from investments and insurance to tax, retirement and estate planning. These services can prove costly when working with a professional, but depending on your financial situation, they may be worth far more than they cost. If you're not ready for a complete financial plan, you can apply wealth management principles to individual aspects of your financial life as well.
Our in-house research team and on-site financial experts work together to create content that's accurate, impartial, and up to date. We fact-check every single statistic, quote and fact using trusted primary resources to make sure the information we provide is correct. You can learn more about GOBankingRates' processes and standards in our editorial policy.