What Does a Wealth Manager Do and Should You Hire One?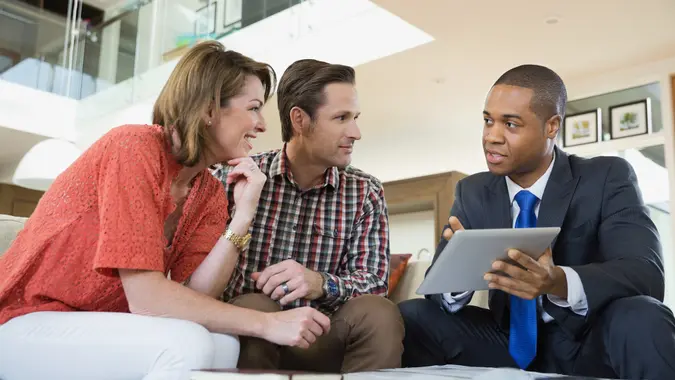 Hero Images / Getty Images
A good financial advisor can help you achieve your monetary goals, while a good wealth manager can help turn your pile of money into an even bigger pile. It's best to choose an advisor who specializes in the type of planning you need. If you've accumulated a significant amount of assets, consider working with a wealth manager.
Read on to learn more about wealth managers and how they work.
What Does a Wealth Manager Do?
A wealth manager specializes in working with high-net-worth clients. While wealth managers often manage their clients' investments, that's typically just one part of what they do.
Many wealth managers take a holistic approach to financial planning. They get to know you and your goals, which might include paying for your kids' college education, planning for retirement or buying a second home. They look at your current financial situation and help you develop a strategy for achieving your fiscal goals and increasing your wealth.
Make Your Money Work Better for You
Wealth Managers vs. Financial Planners
A wealth manager tends to take a hands-on approach with clients, whether it involves providing ongoing financial advice and management or meeting with a client's attorneys and accountants. Wealth managers also put a big focus on building and maintaining wealth. A financial planner will typically work with a wider range of clients, but won't meet with them as often as a wealth manager. Financial planners provide advice, but the client is expected to put that advice into action.
You might meet with a wealth manager several times a year to review how you're progressing toward your goals, whether it's keeping your stock portfolio well balanced or looking for new business opportunities. With financial planners, you might have an initial meeting and a couple of follow-up meetings to talk about reducing debt or building an emergency fund.
When Should You Get a Wealth Manager?
You should get a wealth manager when you have a high net worth and need one or more of the services wealth managers provide. These services typically include the following:
Investment advice and management. The focus here is on developing a strategy that aligns with your investment goals and helps grow your wealth.
Legacy and estate planning. This might include setting up trusts to pass money on to heirs and charities with minimal tax consequences.
Education planning. A wealth manager can help you determine how much to set aside for education and the best vehicles to use for your investments.
Risk mitigation. Insurance can be a powerful tool for preserving wealth, lowering risk and minimizing taxes. A wealth manager can help you determine which strategies can accomplish these goals.
Tax planning. A high net worth often comes with a high tax bill. Wealth managers work with you to ensure you take advantage of all the tax savings vehicles available.
Coordinating with other advisors. Many of the planning areas listed above require working with other professionals, including attorneys and accountants. A wealth manager can help ease the burden by serving as a point person with other professionals.
Make Your Money Work Better for You
Is It Worth Paying a Wealth Manager?
You might find the cost of a wealth manager worthwhile if you prefer complete financial management rather than a piecemeal approach. It might also be beneficial to work with one person who has an in-depth understanding of your financial and personal goals, and who is knowledgeable about the needs of high-net-worth individuals.
Wealth Manager Fee Structures

Different wealth managers have different fee structures. Some charge an hourly fee, some charge an annual fee, some charge a percentage of the assets they're managing, and some charge a combination of all three.
Wealth managers who charge a percentage of assets under management often use a tiered structure for fees. For example, you might pay 1% for the first $1 million under management, then 0.75% for the next million and 0.50% for anything above $2 million. If you had $3 million in assets under management with this fee structure, you would pay $10,000 in fees for the first million, $7,500 for the next million and $5,000 for the third million, for a total of $22,500 per year in fees.
Make Your Money Work Better for You
How To Find a Wealth Manager
Choosing a wealth manager requires research and due diligence. It's best to speak with at least two or three before making a final decision. Here are some considerations:
Do you meet their minimum investment requirements? Wealth managers typically require minimum account sizes that can range from $250,000 to $5 million or more.
What are their rates? Consider whether you prefer paying a flat fee, hourly fee or percentage of your assets.
What certifications do they have? At a minimum, a wealth manager should be a certified financial planner or chartered financial analyst, but you might prefer a Certified Private Wealth Advisor. Look for one with a minimum of five years of financial planning experience.
Who have they worked with? Try to find a wealth manager who comes highly recommended by your colleagues or other advisors.
You can also review lists of highly-rated wealth management firms to find a qualified advisor.
Our in-house research team and on-site financial experts work together to create content that's accurate, impartial, and up to date. We fact-check every single statistic, quote and fact using trusted primary resources to make sure the information we provide is correct. You can learn more about GOBankingRates' processes and standards in our editorial policy.
Make Your Money Work Better for You